After a month without tropical cyclone activity, Tropical Storm Danielle formed in the far North Atlantic Ocean on September 1st, quickly becoming a Category 1 Hurricane by the morning of September 2nd.
Danielle is taking advantage of anomalously warm sea-surface temperatures in the North Atlantic Ocean and is near-stationary due to a weak steering pattern.
According to the National Hurricane Center's latest 11:00 PM advisory on September 2nd, the center of Hurricane Danielle was located near latitude 37.9°N and longitude 43.5°W and a minimum central pressure of 988 millibars. Danielle is forecast to generally drift westward through early Sunday, then northward by Monday.
Currently, maximum sustained winds are near 120 KM/H with higher gusts. Some slight strengthening is forecast during the next few days though the NHC does not explicitly forecast Danielle exceeding Category 1 strength. While the hurricane remains stationary in a generally favorable environment, cooler waters from deeper below the ocean's surface may rise as showers and thunderstorms agitate seas, leading to convection struggling to maintain. Danielle is expected to move over colder waters after Monday, which should induce some weakening by early next week.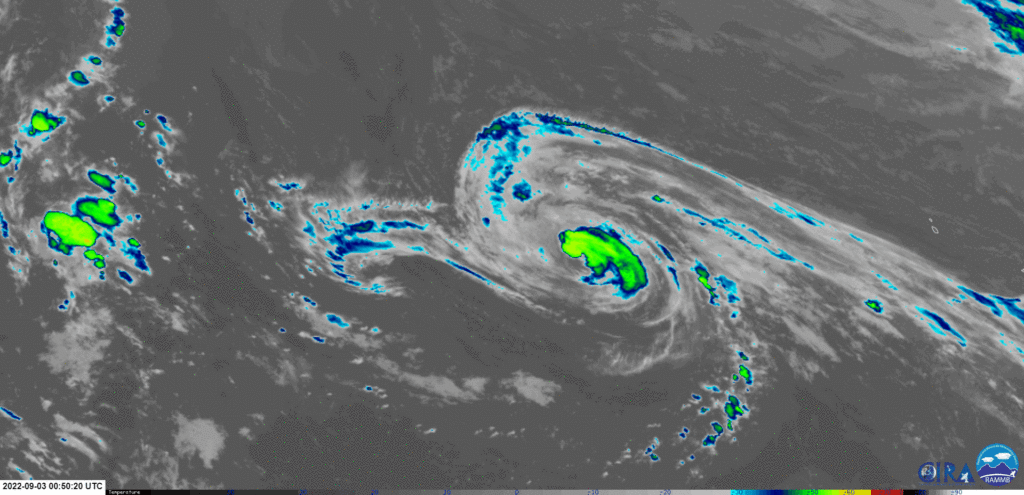 Hurricane-force winds extend outward up to 30 kilometers from the center and tropical-storm-force winds extend outward up to 205 kilometers.
On the current forecast track, Danielle is not forecast to directly affect any landmasses over the next five days, with no hazards affecting land at this time. There are no tropical storm or hurricane watches or warnings in effect for any coastal areas. Hurricane Danielle is not forecast to affect Trinidad, Tobago, or the Lesser Antilles.
With the strengthening of Hurricane Danielle, the Atlantic's 332-day streak without a hurricane formation has broken, marking the third longest period in the Atlantic Basin without a hurricane forming.