A funnel cloud is a cone-shaped cloud associated with a rotating column of wind extending from the base of a cloud. Generally, funnel clouds extend from a cumulonimbus (thunderstorm) or cumulus cloud base. A funnel cloud does not reach the ground or water surface.
These types of clouds in Trinidad and Tobago are not unheard of, with several sightings reported and documented over the last few years. Funnel clouds, though, for the most part, are harmless. However, it can become damaging and life-threatening if it touches down on land (becoming a tornado) or on water (becoming a waterspout.)
The Origin of Funnel Clouds, Tornadoes, and Waterspouts
There is an updraft within showers and thundershowers (all convective showers), where warm air rises.
However, when there is a change of wind speed or direction as the air rises (wind shear), this updraft begins to rotate. This rotating updraft is called a mesocyclone. As this mesocyclone, or rotating air, moves closer to the earth's surface, this may cause a funnel cloud to form.
A tornado is formed if this rotating updraft touches the earth's surface (land). Alternatively, if the updraft touches the ocean's surface or a waterbody, it is considered a waterspout.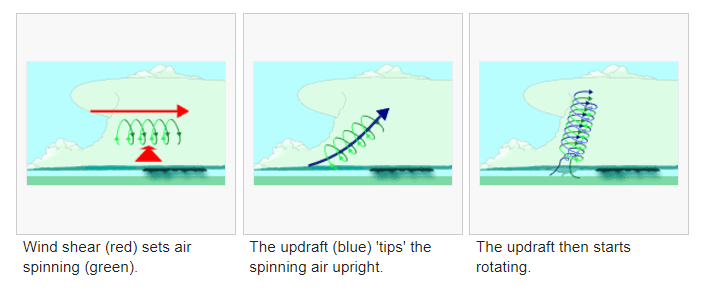 Funnel Cloud Formation
Classic Funnel Clouds
Similar to the formation of a tornado or waterspout, a rotating column of air draws in water droplets – making a region of intense low-pressure visible. This rotating column of air can be found at the base of cumulonimbus clouds, where the updraft is located. Note that funnel clouds that are produced from cumulonimbus clouds are typically associated with supercell thunderstorms, a rare thunderstorm type in T&T.
A true funnel cloud rotates but has no ground contact or debris and does not produce damage.
There is some disagreement over defining a funnel cloud and a condensation funnel. According to the Glossary of Meteorology, a funnel cloud is any rotating cloud pendant from a cumulus or cumulonimbus, and thus most tornadoes are included under this definition.

Among many meteorologists, the 'funnel cloud' term is strictly defined as a rotating cloud not associated with strong winds at the surface. The condensation funnel is a broad term for any rotating cloud below a cumuliform (convective) cloud.
Note: The term condensation funnel may refer to either a tornadic cloud or a funnel cloud aloft, but the term funnel cloud exclusively refers to a rotating condensation funnel not reaching the surface. If strong cyclonic winds occur at the surface and are connected to a cloud base, the feature is a tornado regardless of condensation.
Cold-Air Funnel Clouds
Cold-air funnel clouds, and their associated vortex of wind, are generally much weaker than the vortex produced by supercells. Although cold-air funnels rarely make ground contact, surface-level vortices sometimes become strong enough for condensation clouds to "touch down" briefly, becoming visible as weak tornadoes or waterspouts.
Unlike the related phenomenon associated with severe thunderstorms, cold-air funnels are generally associated with partly cloudy skies associated with atmospheric boundaries such as sea breezes or outflow boundaries.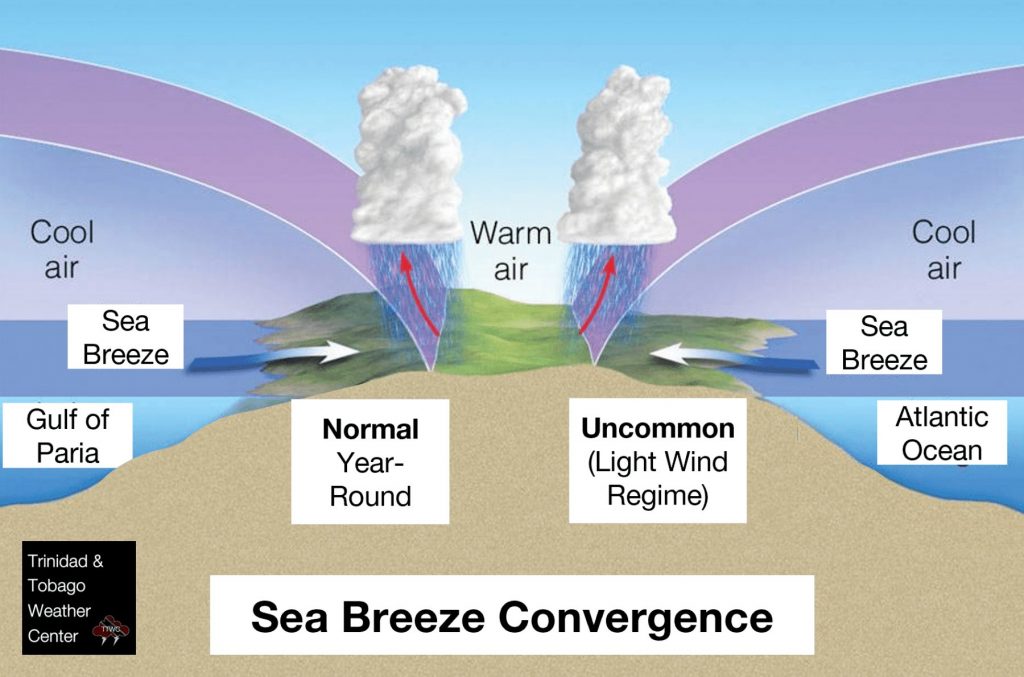 Sea breeze convergence is common along the Western coasts of both islands, particularly during days where prevailing easterly winds are light to non-existent. Funnel formation, in this instance, is usually due to cooler air aloft (higher in the atmosphere) over warmer air at the surface.
The funnels develop where atmospheric instability and moisture can support towering cumulus clouds but are typically limited to no or little precipitation. Cold-air funnels, although weak, may persist for several minutes, with areas intermittently forming funnels for tens of minutes. This is more common across western areas of Trinidad during the Wet Season.
Multiple such areas of activity may form within the same region during afternoon heating, such as earlier in 2020, where multiple funnel clouds were spotted across Southwestern Trinidad.
Cold-air funnels weaken and eventually dissipate with a loss of solar heating (heating from the sun). When precipitation does develop, the associated downdraft tends to cause the rapid demise of the cold-air funnels.
Other Funnel Clouds
Although not considered a separate kind of funnel cloud, some funnel clouds form with mesovortices associated with squall lines – the weather we experience with tropical cyclones and disturbances, which can become tornadoes but are often not visible as funnel clouds or tornadoes because they usually occur within obscuring precipitation.
Forecasting & Detection
We tend to look for light to near calm conditions in the forecasting phase, particularly along Western Trinidad, where triggering mechanisms for shower and thunderstorm development are dominated by sea breeze convergence and daytime heating.
Looking at different heights in the atmosphere, we also look to see if there is a vertically stacked low-pressure, with a noted decreasing temperature change and a clockwise turning of winds as you increase in height in the atmosphere.
However all of these conditions can occur, but it does not guarantee the formation of a funnel cloud, much less a waterspout or tornado. This is where detection comes in, as these funnel cloud events tend to be brief.
We lack the advanced Doppler Radar in Trinidad and Tobago to show us how winds move near and inside showers. This helps understand what kinds of hazards the thunderstorm might have (tornado, microburst, gust fronts, etc.) associated with it. It also helps us understand how the thunderstorm is "feeding" itself with warm, moist air.
However, even if we had an advanced Doppler Radar, there would be difficulty in recognizing the small low-level circulations associated with cold core events on Doppler radar. The velocity signatures are minimal and usually blend in with background noise. Reflectivity is also minimal (0-30 dBz), making cold core funnel or cold-core tornado detection using radar almost impossible.
This difficulty in forecasting such events results in short, if any, warning times for the public. As mentioned earlier, these cold core funnels do occasionally touch down and cause damage and injuries.
Occurrence and Frequency
In recent years, there have been more sightings of funnel clouds across Trinidad (mainly) and Tobago – but this can largely be attributed to an increase in cameras across the country rather than an increase in frequency.
Here are a few instances of funnel cloud sightings across Trinidad and Tobago from late 2017 to early 2020:
Funnel Cloud Safety
If you spot a funnel cloud, head indoors to the lowest level of the nearest building, into a center room away from windows and doors. While some funnel clouds may never materialize into a tornado, gusty winds may still occur and can be hazardous.
Generally, funnel clouds dissipate without much impact on those on the ground. If you spot one and you are in a safe place, feel free to submit a report to us on our social media platforms or via email!