The wet season, sometimes called the rainy season, in Trinidad and Tobago is an annual period of higher than average rainfall. Our wet season can start as early as the beginning of May to as late as June. This wetter than average period continues through December and into January the subsequent year.
According to the Trinidad and Tobago Meteorological Service, "A modified moist equatorial climate characterized by low wind speeds, hot, humid days and nights, a marked increase in rainfall which results mostly from migrating and latitudinal shifting equatorial weather systems, symbolizes the wet season during June to December. Late May and December are considered as transitional periods to the wet and dry seasons respectively."
The Wet Season Declaration
There is no fixed date for the beginning of the wet season. Historically, April into May are the transitional months into a wetter climate. The Trinidad and Tobago Meteorological Service will officially declare the start of the annual wet season once one of two features move across Trinidad and Tobago, triggering rainfall, as explained below.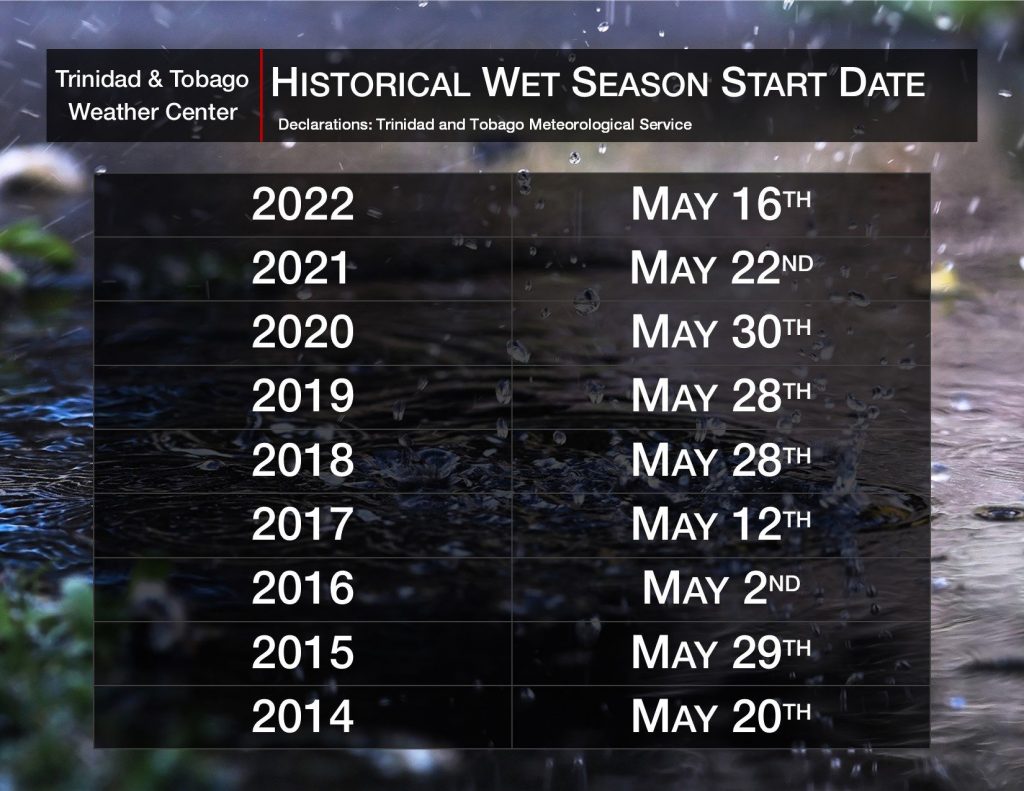 Once the assessment of criteria necessary for the onset of the wet season has been met and is entrenched, the Trinidad and Tobago Meteorological Service will release a declaration. So what are these features that trigger the start of the wet or rainy season?
Rainfall-Triggering Features to Declare the Wet Season
A tropical wave is a type of trough, i.e., an elongated area of relatively lower air pressure that is typically oriented north to south. It moves east to west across the tropical easterlies. Tropical waves are also called African Easterly Waves or Tropical Easterly Waves. These features have several points of origin, with several different meteorological offices characterizing the feature differently.
Since the Trinidad and Tobago Meteorological Service declares the beginning of the wet season, their distinction of the passage of a tropical wave is what matters for the declaration. However, an excellent tool to use is the National Hurricane Center Tropical Analysis and Forecast Branch's Unified Surface Analysis.
Tropical waves usually bring deep, tropical moisture and favorable atmospheric conditions for scattered to widespread showers and isolated to scattered thunderstorms. This somewhat prolonged rainfall event would trigger the start of the wetter than average period across the islands.
The Intertropical Convergence Zone (ITCZ) is a band of low pressure that usually circles the globe where northeasterly and southeasterly trade winds meet. This area is generally seen on satellite imagery as a narrow band of cloudiness, showers, and thunderstorms.
The ITCZ brings increased moisture which fuels overall cloudiness, showers, periods of rain, and thunderstorms. Since the ITCZ brings prolonged rainfall, ITCZ events tend to bring multi-day rainfall events that trigger street, flash, and riverine flooding. Landslides are also possible due to saturated soils. Frequent lightning and gusty winds are also a consequence of the ITCZ-thunderstorm activity.
With light and variable winds, conditions become favorable for funnel clouds, waterspouts, and even tornadoes, albeit rare.
Wet Season Impacts
It is important to note that the wet season is never without sunshine. Periods of dry weather or dry spells (a long period of abnormally dry weather that is shorter and less severe than a drought) have occurred and will continue to occur during the wet season. If an unusually dry and sunny period occurs sometime in September or early October, the span may be called a Petit Carême. These conditions are usually brought on during the El Niño years, where conditions in the region during the wet season do not favor rainfall activity.
Tropical Cyclones. The wet season coincides with the Atlantic Hurricane Season. Even peripheral impacts of a tropical cyclone can spell disaster for Trinidad and Tobago with the threat to life and property.
Flooding. With increasing rainfall and T&T's high vulnerability to flooding, short-term to long-term inundation is expected during the wet season. This can range from street flooding to riverine flooding.
Gusty Winds. As thunderstorm activity increases, the potential for gusty winds, particularly damaging gusty winds, increases. This can cause knock-on effects such as property damage, downed trees, and power outages.
Landslides. With more saturated soils, particularly in elevated areas, landslides are possible. Chances for landslides increase during multi-day rainfall events.
Funnel Clouds, Waterspouts, and Tornadoes. With conditions favorable for thunderstorm development and light winds when the ITCZ affects the region, dynamics are favorable for this kind of activity.
Hot Temperatures. Beginning in March through October typically designates our local heat season, with peak temperatures occurring in May and a secondary peak occurring in October. In Trinidad, we classify a hot day as temperatures recorded greater than 34.0°C, while in Tobago, a hot day is classified as 32.0°C. During the dry season, hot days can become frequent. Prolonged hot days can result in heat advisories, which the Trinidad and Tobago Meteorological Service in the past has issued Hot Spell Alerts and Hot Spell Watches. Note that these advisories, based on historical issuance, are only issued if there is the risk of temperatures exceeding 34.0°C during the day and minimum nighttime temperatures above 24.0°C on at least 3-5 days.
Heat Stress and Heat Stroke. With hot temperatures, periods of excessive heat can increase the chances of heat stress on persons with heat-sensitive ailments and heat exposed livestock, pets, and other animals. Practice heat safety.
Periodic Variations in Air Quality. While the threat of fires and blowing dust decreases during the wet season, severe surges of Saharan Dust following tropical waves can significantly reduce air quality across the region.
Water Storage. Increased rainfall will improve water reservoir levels and increase groundwater recharge, surface water flows, and water availability; however, water reservoirs in areas with prior rainfall shortages may require extended periods of heavy rainfall to recover fully.
Agricultural Losses. With the threat of flooding, entire fields of crops can be lost to inundation, with land unusable for a prolonged period. Heat stress can occur with crops and livestock. Increased rainfall, mixed with warm and humid conditions, promotes the rapid multiplication of some agricultural pests, diseases, and fungal growth.
Increase in Mosquito & Mosquito-Borne Diseases. An increase in surface water ponding increases mosquito breeding sites and the chance for more incidences of vector-borne diseases.
Hazardous Seas. Hazardous seas are possible with strong low-pressure systems (tropical cyclones) in the North Atlantic Ocean. These can range from long period swells from distant systems to storm surges and wind-driven rough seas from closer systems, affecting marine activities and coastal communities.
What Should You Do?
During the wet season, the public is always advised to monitor weather updates and forecasts from trusted sources, prepare your home for potential flooding if you live in a flood-prone area, restock your emergency supplies and ensure your family or personal emergency supply is in a state of readiness. The Office of Disaster Preparedness and Management of Trinidad and Tobago has prepared a guide to assist.