Tropical Wave 08 brought periods of showers and thunderstorms to Trinidad and Tobago over the last 12-18 hours, with lingering rain still ongoing across parts of eastern Trinidad and Tobago.
While additional rainfall is forecast with isolated thunderstorms possible over the next one to two days as Tropical Wave 09 approaches, the Trinidad and Tobago Meteorological Service has discontinued the Adverse Weather Alert for the country.
What you need to know
— Rainfall: Showers and thunderstorms remain in the forecast through Wednesday, as favorable upper-level conditions with abundant moisture remain in place across T&T. Higher rainfall chances will exist along eastern and southern areas as well as Tobago through Wednesday, as well as along western coastal areas during the afternoons of Tuesday and Wednesday. Over the next 48 hours, with lingering showers, rainfall totals between 15 to 35 millimeters are forecast across the country, with isolated rainfall totals up to 50 millimeters.
— Hazards: Street/flash flooding is likely in heavier showers or thunderstorms. Chances for riverine flooding remain low across most river basins, though tributaries to the North Oropuche River and eastern tributaries to the Caroni River may be elevated. Gusty winds may accompany lingering heavy showers or thunderstorms. Lightning will accompany thunderstorms.
— Alerts/Watches/Warnings: The Adverse Weather Alert has been discontinued by the Trinidad and Tobago Meteorological Service.
Alert Discontinued
The Trinidad and Tobago Meteorological Service has discontinued the Adverse Weather Alert (Yellow Level) on Monday afternoon at 2:34 PM.
Trinidad and Tobago is not under any tropical storm watch or warning at this time.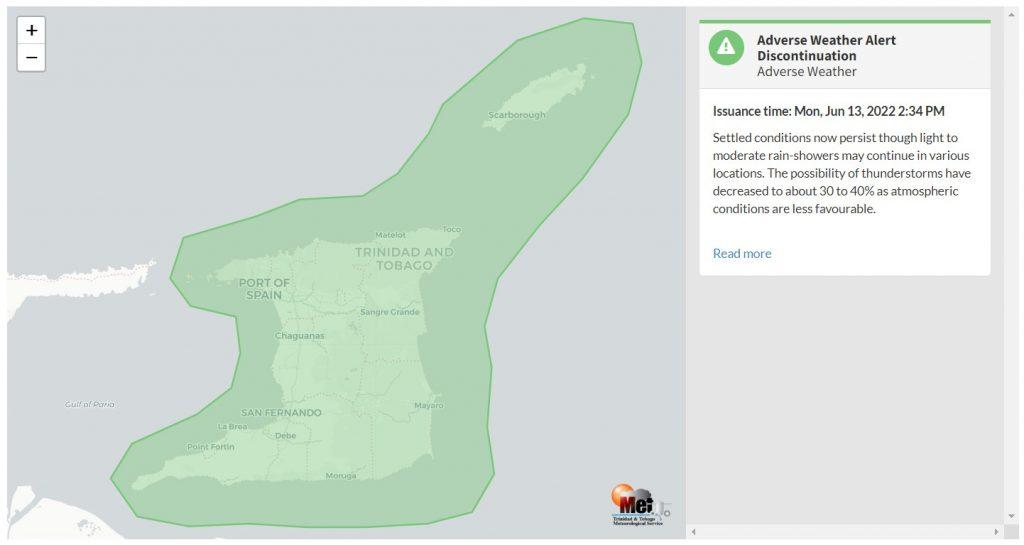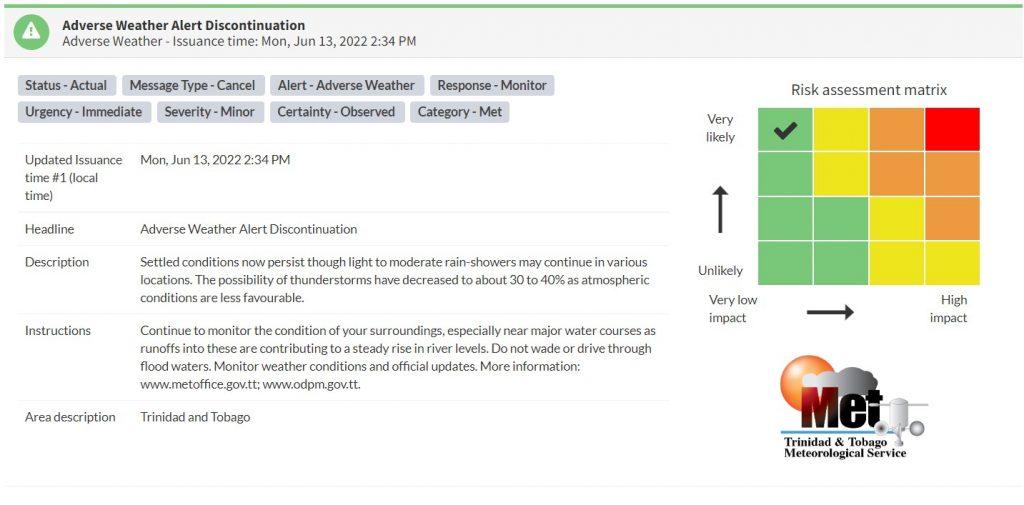 "Settled conditions now persist though light to moderate rain-showers may continue in various locations. The possibility of thunderstorms has decreased to about 30 to 40% as atmospheric conditions are less favorable." according to the Trinidad and Tobago Meteorological Service.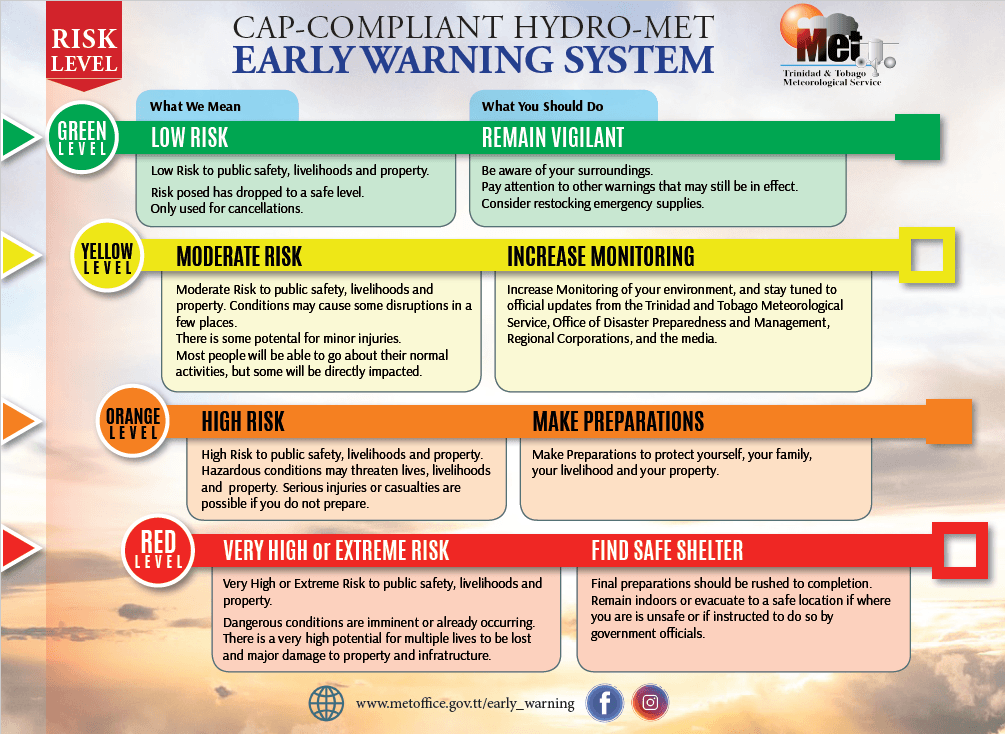 The color of the alert indicates the severity of the event and the probability of the event occurring. Currently, the alert level is at Green, as the discontinuation was issued and the certainty is very likely.
At this level, there is a low risk to public safety, livelihoods, and property.
The Met Office is advising the public to continue to monitor the condition of your surroundings, especially near major water courses as runoffs into these are contributing to a steady rise in river levels. Do not wade or drive through flood waters and monitor weather conditions and official updates.