The Trinidad and Tobago Meteorological Service has discontinued the Adverse Weather Alert for the country as activity associated with the Invest 98L gradually dissipates across the Windwards. However, elevated moisture and instability are forecast to remain present across the area overnight into tomorrow, with showers and thunderstorms still possible.
What you need to know
— Rainfall: Few isolated showers with the odd thunderstorm remain in the forecast over the next 24-36 hours as trailing moisture and instability following the passage of Tropical Wave 39/Invest 98L and localized climatic effects triggering afternoon showers/thunderstorms across western areas. Additional rainfall totals between 5 and 20 millimeters are forecast, trending higher across southern, eastern, and western coastal Trinidad with isolated totals up to 25 millimeters.
— Hazards: Chances for street/flash flooding remain high on Friday. Riverine flooding continues across the South Oropuche River Basin. Gusty winds in excess of 45 KM/H accompanying heavy showers or thunderstorms are possible. Lightning will accompany thunderstorms.
— Alerts/Watches/Warnings: A Riverine Flood Alert (Yellow Level) went into effect for the South Oropouche River Basin from 9:00 AM Thursday, September 22nd, 2022, and remains in effect through 9:00 AM Saturday, September 24th, 2022. The Adverse Weather Alert has been discontinued by the Trinidad and Tobago Meteorological Service. There are no tropical cyclone watches or warnings in effect for T&T at this time.
Adverse Weather Alert Discontinued
The Trinidad and Tobago Meteorological Service has discontinued the Adverse Weather Alert (Yellow Level) on Thursday evening at 7:33 PM.
Trinidad and Tobago is not under any tropical storm watch or warning at this time.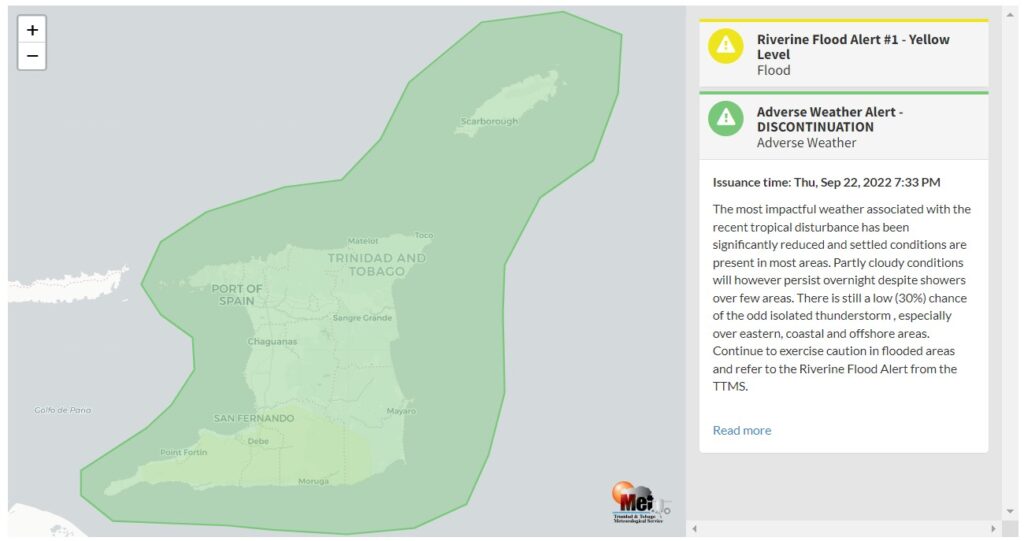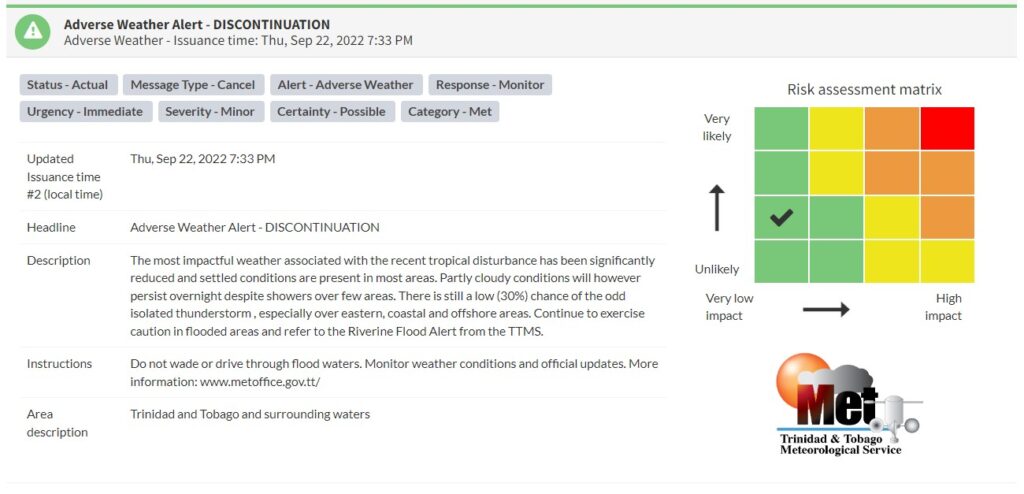 "The most impactful weather associated with the recent tropical disturbance has been significantly reduced and settled conditions are present in most areas. Partly cloudy conditions will however persist overnight despite showers over a few areas. There is still a low (30%) chance of the odd isolated thunderstorm, especially over eastern, coastal, and offshore areas. Continue to exercise caution in flooded areas and refer to the Riverine Flood Alert from the TTMS," according to the Trinidad and Tobago Meteorological Service.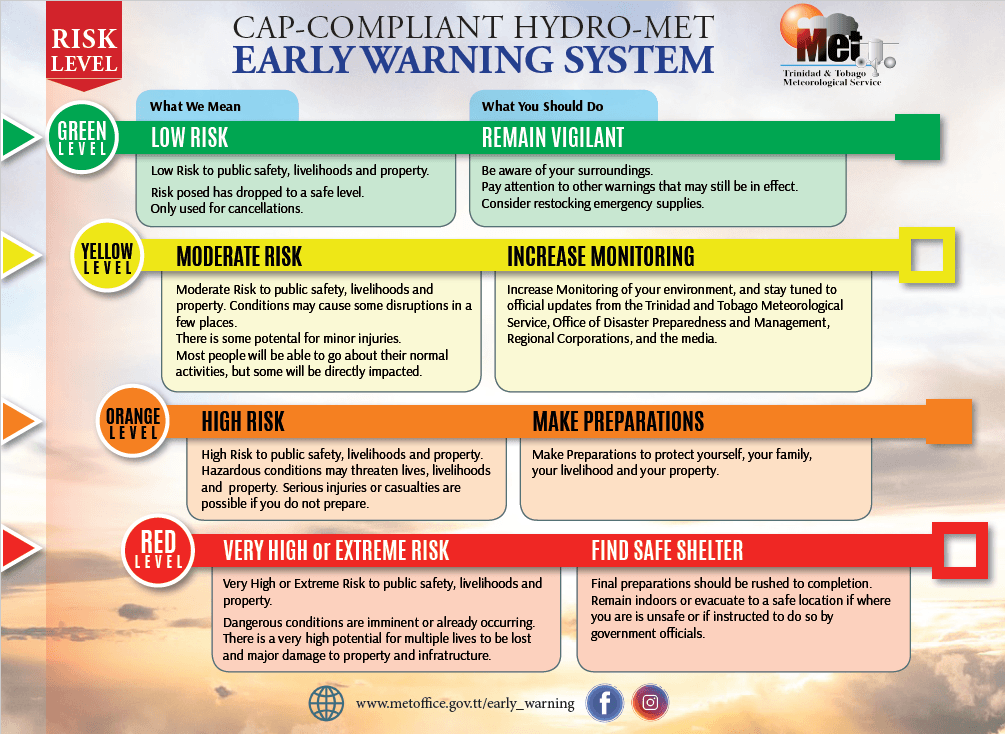 The color of the alert indicates the severity of the event and the probability of the event occurring. Currently, the alert level is at Green, as the discontinuation was issued, and the certainty is possible.
At this level, according to the TTMS, there is a low risk to public safety, livelihoods, and property.
The Met Office is advising the public to monitor weather conditions and official updates.