The 2022 Wet Season is off to a busy start, with four tropical waves moving across Trinidad and Tobago in just under two weeks since the official declaration on May 16th, 2022.
This year, the Trinidad and Tobago Meteorological Service (TTMS) has issued a "Flood Potential Outlook" as part of their overall Wet Season climate outlook, marking the second instance of such a product.
Thorugh the next six months, they are forecasting accumulated rainfall totals from 1300 millimeters in most areas of Tobago and areas along the west coast of Trinidad. Higher rainfall accumulations near 3000 millimeters in northeast Trinidad, in the vicinity of Sangre Grande, Vega De Oropouche, Plum Mitan, and environs are also forecast.
The Met Office indicates that flooding is expected to worsen and expand across the country as the 2022 Wet Season progresses.
According to the TTMS, there is an enhanced flood risk potential across the entire Wet Season this year, with the Caroni, North Oropouche, and South Oropuche river basins the most at risk. Areas not indicated in the following maps also have flood risks according to the TTMS but not as high as the ones singled out.
High Flood Risk Potential – 21 Communities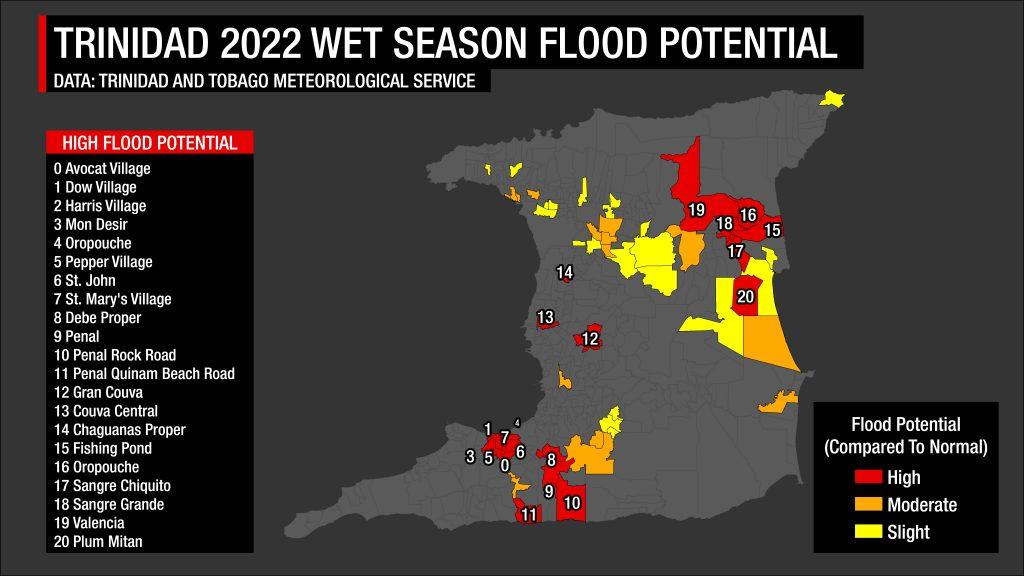 Based on the Met Office's analysis, the following communities have a much higher than normal flood potential:
Avocat Village
Dow Village
Harris Village
Mon Desir
Oropouche
Pepper Village
St. John
Penal Rock Road
Penal Quinam Beach Road
Gran Couva
Couva Central
St. Mary's Village
Debe Proper
Penal
Chaguanas Proper
Fishing Pond
Oropouche
Sangre Chiquito
Sangre Grande
Valencia
Plum Mitan
Moderate Flood Risk Potential – 16 Communities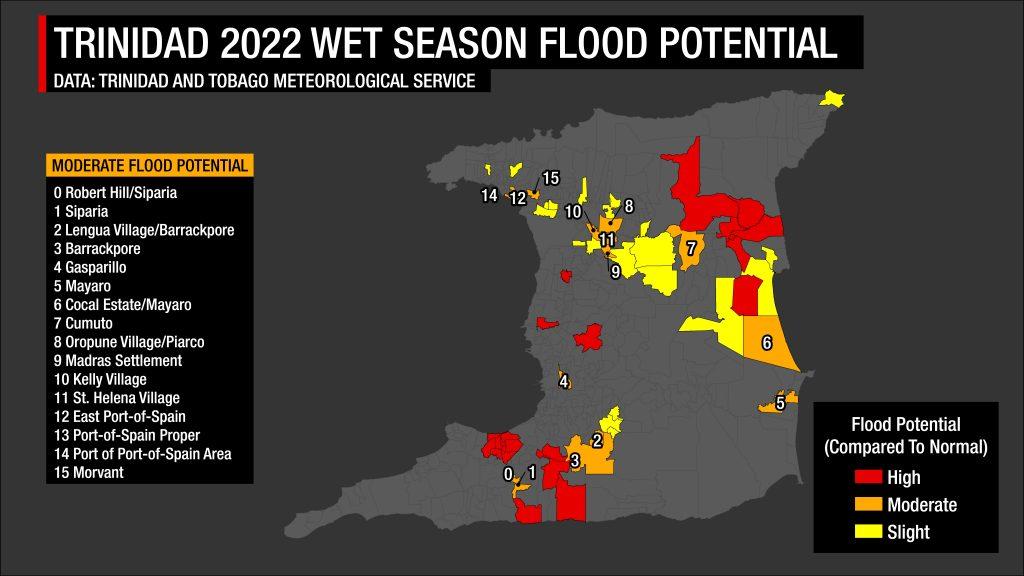 Based on the Met Office's analysis, the following communities have a moderately higher than normal flood potential:
Robert Hill/Siparia
Siparia
Lengua Village/Barrackpore
Barrackpore
Gasparillo
Mayaro
Cocal Estate/Mayaro
Cumuto
Oropune Village/Piarco
Madras Settlement
Kelly Village
St. Helena Village
East Port-of-Spain
Port-of-Spain Proper
Port of Port-of-Spain Area
Morvant
Slight Flood Risk Potential – 44 Communities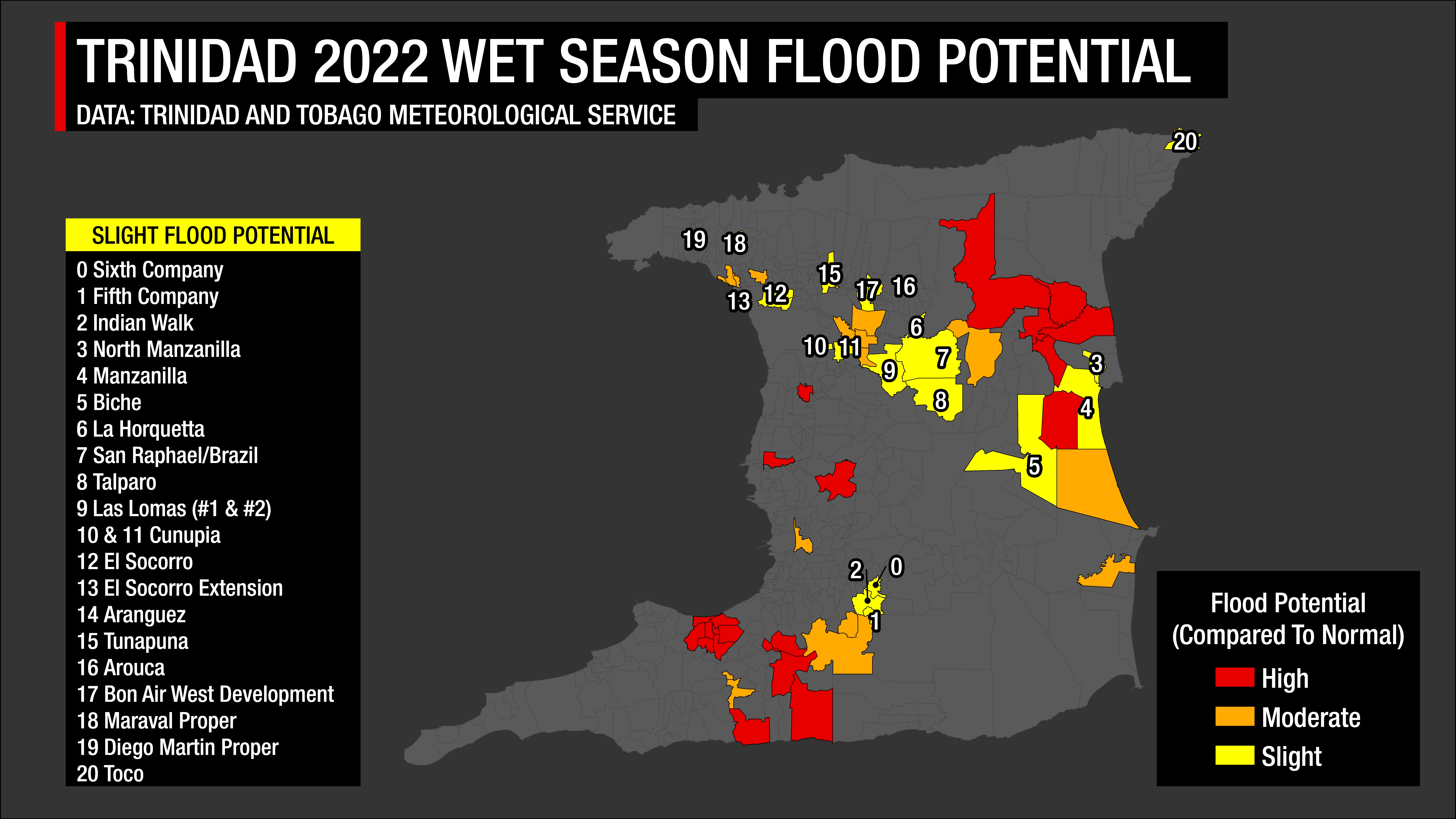 Across Trinidad, 20 communities met the Met Office's threshold for a slightly higher than normal flood potential:
Sixth Company
Fifth Company
Indian Walk
North Manzanilla
Manzanilla
Biche
La Horquetta
San Raphael/Brazil
Talparo
Las Lomas (#1 & #2)
Cunupia
El Socorro
El Socorro Extension
Aranguez
Tunapuna
Arouca
Bon Air West Development
Maraval Proper
Diego Martin Proper
Toco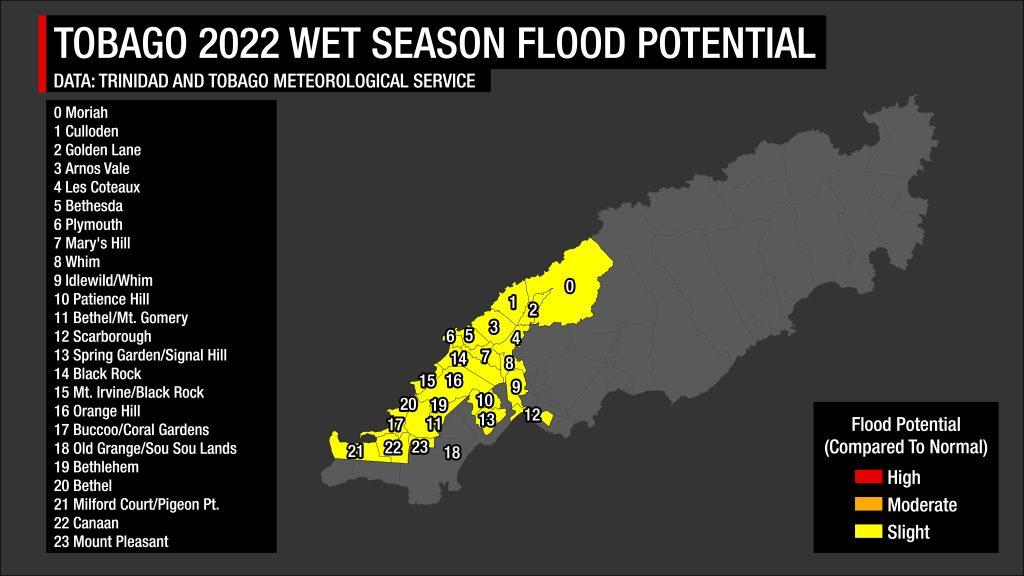 In Tobago, only communities with slightly above normal flood potential were indicated by the TTMS, totaling 24:
Moriah
Culloden
Golden Lane
Arnos Vale
Les Coteaux
Bethesda
Plymouth
Mary's Hill
Whim
Idlewild/Whim
Patience Hill
Bethel/Mt. Gomery
Scarborough
Spring Garden/Signal Hill
Black Rock
Mt. Irvine/Black Rock
Orange Hill
Buccoo/Coral Gardens
Old Grange/Sou Sou Lands
Bethlehem
Bethel
Milford Court/Pigeon Pt.
Canaan
Mount Pleasant
When can we expect to see most floods?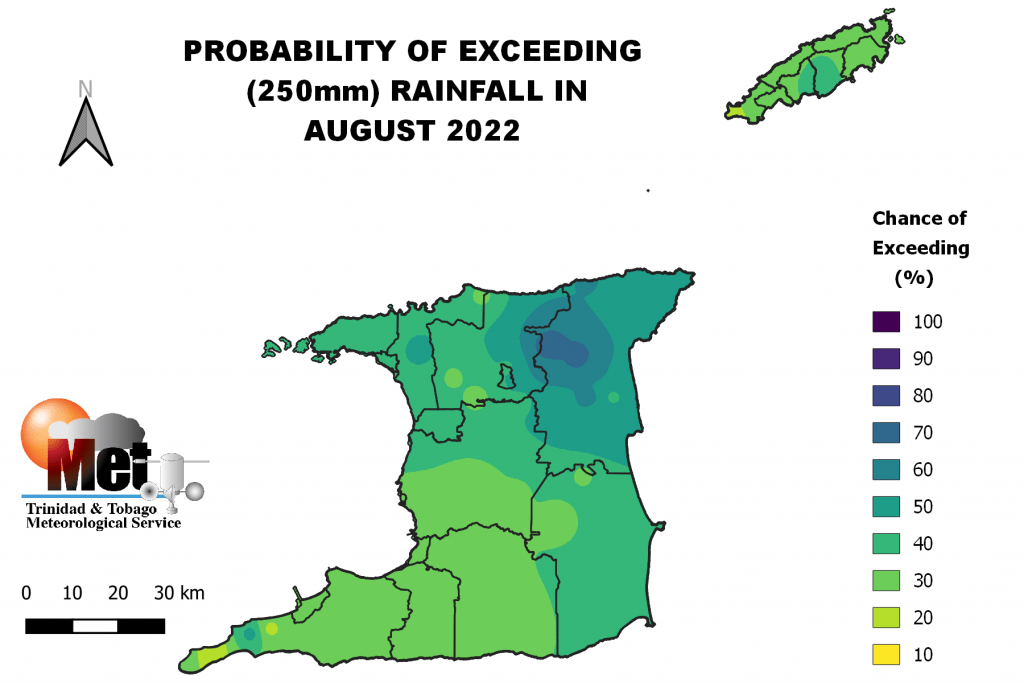 August is the wettest month of the year climatologically for Trinidad. For 2022, the chances of rainfall exceeding the monthly threshold for flooding (250 millimeters of rainfall accumulation) are high, according to the TTMS.
Their outlook shows a 20% to 50% chance of rainfall accumulation reaching and exceeding 250 millimeters, with the highest chances near Sangre Grande and its environs.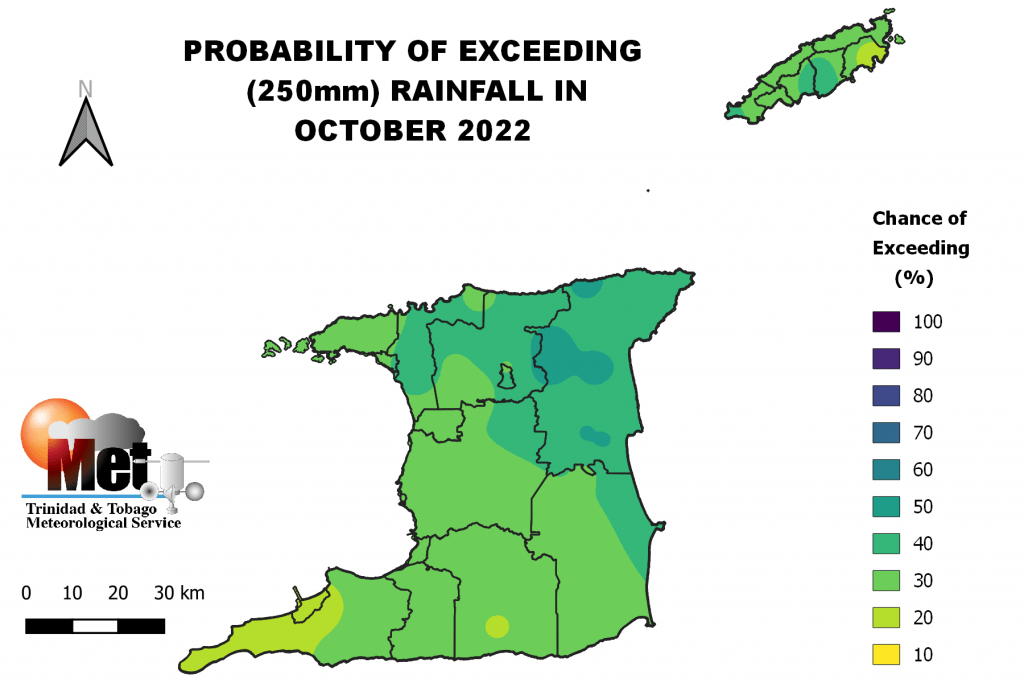 Meanwhile, October is the most flood-prone month with high-impact flood events. Like August, the chances of monthly accumulated rainfall exceeding the flood threshold are high, according to the TTMS.
There is a 14% to 40% chance for October's rainfall to reach or exceed 250 millimeters across most areas of the country, with higher chances across northeastern Trinidad. This area is generally the wettest area of the country.
Read More
The 2022 Wet Season has begun for Trinidad and Tobago. For the next six months, Trinidad and Tobago will experience periods of rainfall associated with tropical waves, the Intertropical…
The Trinidad and Tobago Meteorological Service (TTMS) is forecasting yet another Wet Season with above-average temperatures. For the 2022 Wet Season, the TTMS says there is a 45% chance for…
The 2022 Wet Season is off to a busy start, with four tropical waves moving across Trinidad and Tobago in just under two weeks since the official declaration on May 16th, 2022. This year, the…