Seas are forecast to become agitated over the few days as increased low-level winds move across the region while some of the highest tidal fluctuations for the year continue. In addition, a significant surge of Saharan Dust is set to reduce horizontal visibility offshore, creating potentially unsafe conditions for smaller crafts.
A High Wind Alert (Yellow Level) is in effect for T&T and offshore areas from the Trinidad and Tobago Meteorological Service until 12:00 PM Monday.
Seas Forecast For Trinidad and Tobago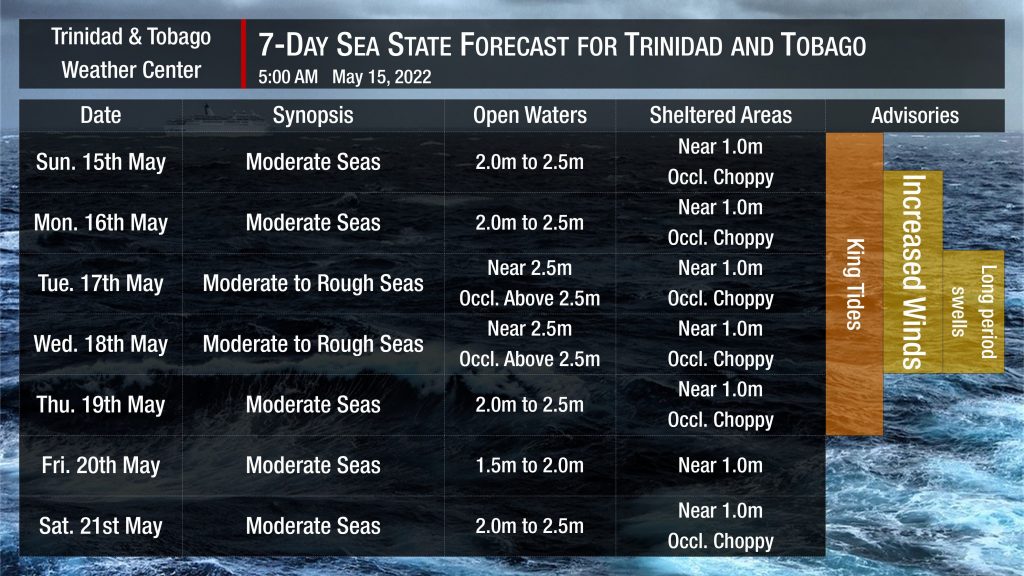 In sheltered areas, waves are forecast to be near one meter through the next seven days but occasionally choppy due to several factors. Sunday night's full supermoon has resulted in King Tides – the highest high tides and lowest low tides for the year, continuing through Thursday, May 19th, 2022.
Additionally, winds are forecast to be fresh to strong through the next several days, with sustained winds up to 20 knots from the southeast to northeast and gusts as high as 30 knots, particularly from Sunday night.
Lastly, long-period swells with periods up to 14 seconds are possible between Tuesday, May 17th and Thursday, May 18th, 2022. These swells may produce high-energy waves, predominantly affecting northern and eastern coastlines.
With higher tidal variations and the possibility of long-period swells, there is an elevated risk of undercurrents and rip currents through the forecast period.
Generally, seas in open waters are forecast to remain moderate through the next seven days, occasionally becoming rough on Tuesday and Wednesday. In open waters, waves are forecast to generally be between 2.0 and 2.5 meters through the forecast period.


From Monday night, a significant surge of Saharan Dust concentrations will arrive across T&T and the Lesser Antilles. Dust haze will generally peak from Wednesday into the weekend, reducing horizontal visibility as low as 5 kilometers outside of shower or thunderstorm activity.