Key Messages:
— Following the passage of Tropical Wave 01, a surge of winds is expected to sweep across the region on Sunday night through Monday.
— Strong winds and potentially damaging wind gusts are possible from midnight Sunday through Monday with sustained winds up to 40 KM/H and gusts up to or in excess of 55 KM/H, particularly accompanying any shower or thunderstorm activity. Winds of this strength can cause power dips and outages, fallen trees, utility poles, and lines, as well as sporadic areas of wind damage. Seas are forecast to become agitated.
— The High Wind Alert is in effect from 11:00 PM Sunday through 12 PM Monday for both Trinidad and Tobago, as well as offshore areas. Strong winds are forecast to persist through mid-week.
The High Wind Alert
The Trinidad and Tobago Meteorological Service has issued a High-Wind Alert (Yellow Level) on Sunday afternoon at 4:18 PM. The alert goes into effect at 11:00 PM Sunday, May 15th, 2022, and remains in effect until 12:00 PM Monday, May 16th, 2022.
Trinidad and Tobago is not under any tropical storm watch or warning at this time.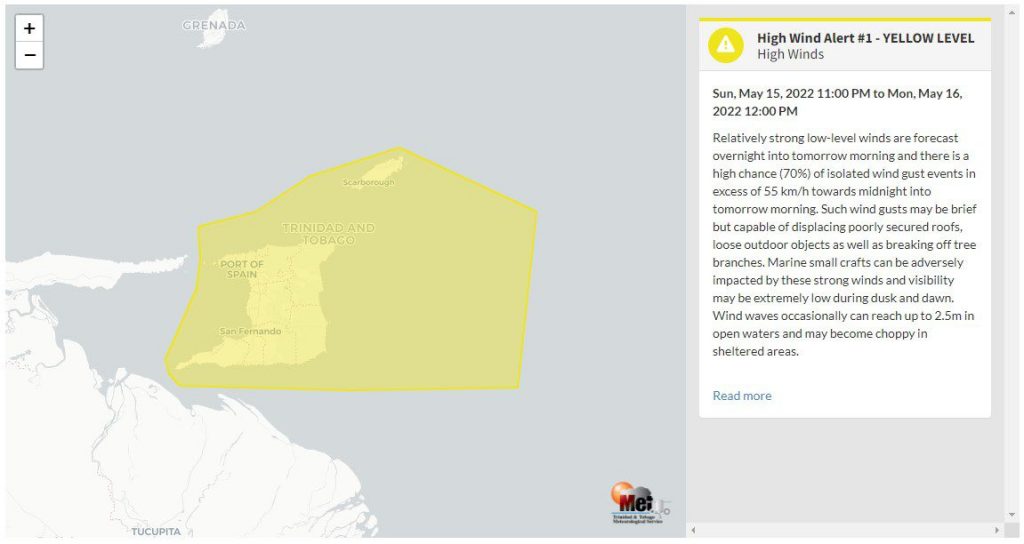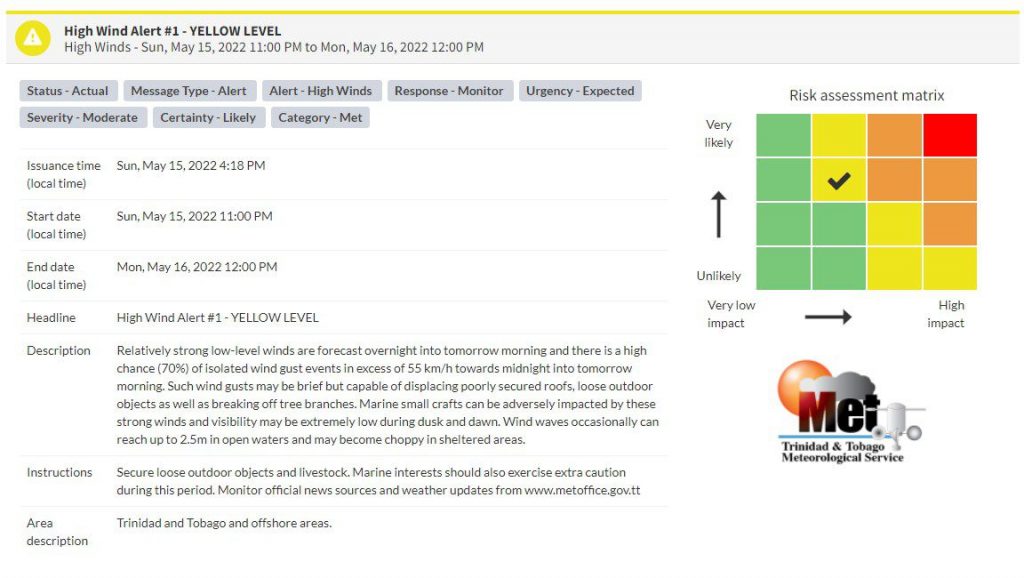 "Relatively strong low-level winds are forecast overnight into tomorrow morning, and there is a high chance (70%) of isolated wind gust events in excess of 55 km/h towards midnight into tomorrow morning. Such wind gusts may be brief but capable of displacing poorly secured roofs, loose outdoor objects as well as breaking off tree branches. Marine small crafts can be adversely impacted by these strong winds, and visibility may be extremely low during dusk and dawn. Wind waves occasionally can reach up to 2.5m in open waters and may become choppy in sheltered areas." according to the Trinidad and Tobago Meteorological Service. This "alert" status takes into account the possibility of the event occurring. This high wind event is likely.
The color of the alert indicates the severity of the event and the probability of the event occurring. Currently, the alert level is Yellow. This means that the hazard has been observed, but the severity of impacts is moderate for this particular alert. You should be aware of the hazards in your area associated mainly with gusty winds in excess of 55 KM/H.
For a moderate High Wind Alert, there is the potential for possible injuries, where behavioral changes are required to ensure safety. There may be minor damage to property, with income-earning temporarily disrupted, and a couple of communities are affected.
The Met Office is advising the public to secure loose items outdoors and livestock. Small craft operators should be on the alert for above normal or choppy sea conditions in strong winds. Avoid venturing into floodwaters. The public should monitor weather conditions and updates from official sources.