An active tropical wave which is also being monitored for tropical development, is forecast to bring elevated winds and agitated seas to the area through Thursday. Then, spring tides are forecast from Friday, with long period swells returning over the weekend.
What you need to know
— What is happening: An active tropical wave with showers and thunderstorms is forecast to move across the region, bringing increased waves across all coastal waters.
— What can we expect: Moderate to locally rough seas are forecast in T&T's open waters, particularly north of the country. There is a high risk of rip currents along the country's northern and eastern coastlines with agitated seas initially, with agitated seas in the Gulf of Paria by Wednesday afternoon. Spring Tides are set to begin on Friday, which may slow runoff, and long-period swells are forecast through the weekend.
— Alerts/Watches/Warnings: An Adverse Weather Alert (Yellow Level) goes into effect for Trinidad and Tobago from 5:00 AM Wednesday, September 21st, 2022, and remains in effect through 8:00 PM Thursday, September 22nd, 2022, from the Trinidad and Tobago Meteorological Service. There are no tropical storm or hurricane watches or warnings in effect for T&T at this time.
Forecast and Impacts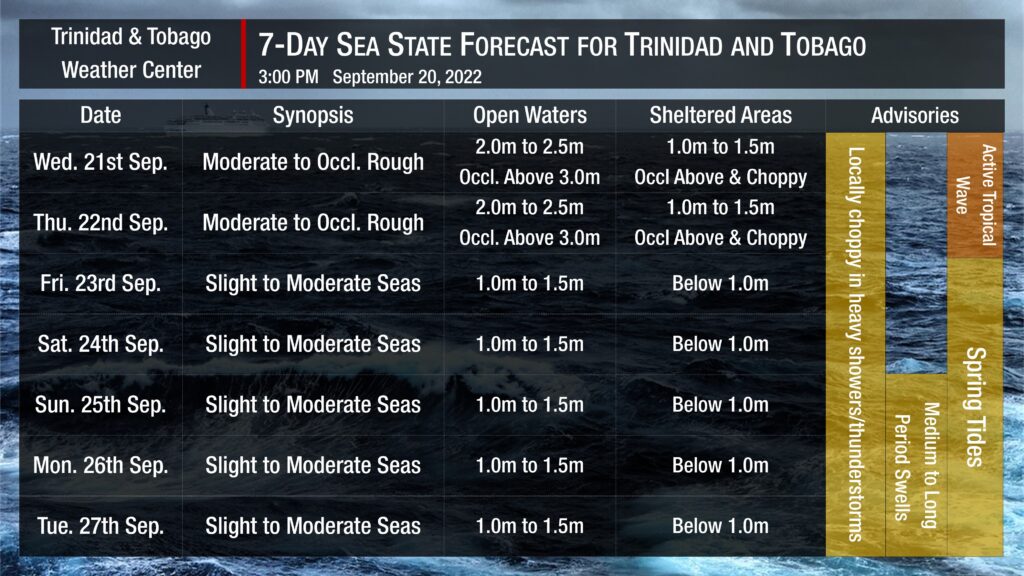 Through Thursday, seas in open waters are forecast to be moderate to occasionally rough, with open water waves between 2.0 meters and 2.5 meters, with waves north of Trinidad and Tobago occasionally exceeding 3.0 meters. In sheltered areas during this period, waves are forecast to be up to 1.5 meters and occasionally choppy. These conditions could be hazardous for those mariners within the Gulf of Paria, particularly in northwestern Trinidad.
Spring tides are forecast to begin on September 23rd, 2022. These are higher than usual high tides and lower than usual low tides which may increase the risk of rip currents. Spring tides may also lead to slower runoff of floodwaters and slower decrease of river levels.
How to spot a rip current
Going to the beach is one of Trinidad and Tobago's favorite pastimes, but not too far from the shore lies a seemingly hidden danger – rip currents. As waves crash on our…
By Sunday, September 25th, 2022, swell periods are forecast to remain between 11 and 14 seconds coming from the north to northeast. These swells are forecast to cause larger than usual waves along T&T's northern coastlines, and to a lesser extent north-facing coasts within the Gulf of Paria.


Winds are forecast to be elevated through Thursday, between 15 to 30 knots sustained and gusts to 35 knots. Directions will be variable through Thursday afternoon, when winds are forecast to gradually return to sustained 10-15 knots and gusts to 20 knots generally from the east.
Impacts possible from long period swells and possible battering waves include the following:
Loss of life;
Injuries;
Coastal erosion;
Localized disruptions of businesses;
Sea search and rescue disruptions;
Damage or loss of boats and fishing equipment;
Disruptions to marine recreation and businesses
Economic losses.
High surfs can knock spectators off exposed rocks and jetties. Breaking waves may occasionally impact harbors making navigating the harbor channel dangerous.
Saltwater will likely splash onto low-lying coastal roads such as Pigeon Point Road, the Guayaguayare Mayaro Road at the Guayaguayare Sea Wall, and the Manzanilla-Mayaro Road. Bays and beaches may become inundated.
Coral reefs may experience increased stress and damage, in addition to localized beach erosion, particularly in areas where battering waves focus.