Trinidad, Tobago, and most of the Southern Windwards will see mostly good air quality through the next ten days as back-to-back tropical waves, and the Intertropical Convergence Zone are forecast to keep Saharan Dust north and east of the region. Both tropical waves east of the Lesser Antilles are being monitored by the National Hurricane Center for tropical cyclone development, with no direct threat to the region at this time.
For Trinidad and Tobago, over the next 12-18 hours, increased air pollution is expected as the country celebrates the 60th anniversary of Independence with abundant fireworks while light to no winds are present.
What you need to know
— Saharan Dust Surges: The ongoing surge is forecast to diminish through the next 48 hours, with no additional major or significant surges forecast to affect T&T through the next ten days. By September 10th, forecast models indicate a moderate-concentration surge to arrive across the region.
— Impacts: Through the next 48 hours, air quality levels across Trinidad and Tobago will remain near moderate, dipping to levels that are unhealthy for sensitive groups to unhealthy levels on Wednesday night. By mid-Friday, through the remainder of the forecast period, air quality is forecast to be mostly at good levels until September 10th.
— What Should You Do: Through Friday morning, sensitive groups should take the necessary precautions. The general population will remain unaffected.
Current AQI Levels Across T&T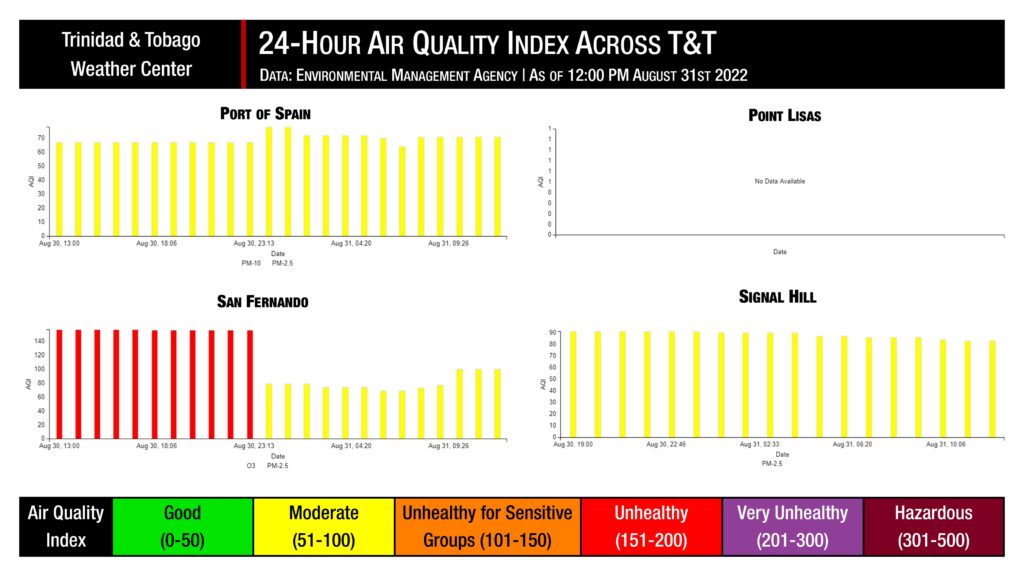 The Environmental Management Agency (EMA) air quality monitoring stations at San Fernando, Signal Hill, and Port of Spain have recorded moderate air quality levels over the last 24 hours. No data was reported at Point Lisas.
These measurements are based on PM2.5 (particulates the size of 2.5 micrometers and smaller, usually associated with increases in Saharan Dust, vehicle exhaust, and smoke) and PM10 particulates.
Over the last 24 hours, visibility remained near or above ten kilometers at the Piarco International Airport and A.N.R. Robinson International Airport at Crown Point, Tobago, outside of shower and thunderstorm activity.
Fireworks Set To Reduce Air Quality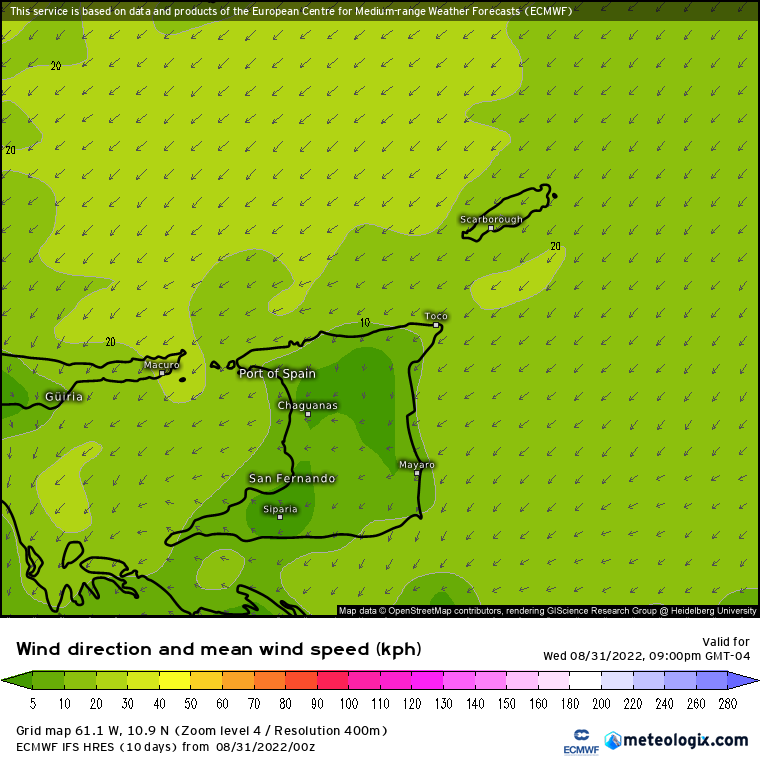 Fireworks depend on a series of chemical reactions packed with gunpowder, chemicals to give them their color, and shells. Millions of combustion particles and gases are released into the air during these splashes of color in the sky. Many are also blown around for kilometers in atmospheric wind currents.
Historically, fireworks temporarily decrease air quality regardless of the region they are used. On Wednesday night across Trinidad and Tobago, firework shows are set to take place across many of the country's cities celebrating the nation's 60th anniversary of Independence.
However, instead of having moderate to strong winds present to quickly move the air pollution west into the Gulf of Paria, near calm to light winds are forecast across the country on Wednesday evening through the night. This will result in firework particulates falling near the site of detonation, polluting the air in highly populated areas and reducing air quality.
For New Years' Day 2022, air quality quickly dipped to levels that were moderate to unhealthy for sensitive groups but improved within 1-2 hours. Overnight tonight, with light to near calm winds, air quality could dip to levels that are unhealthy for sensitive groups or even unhealthy levels for the general population.
Saharan Dust Forecast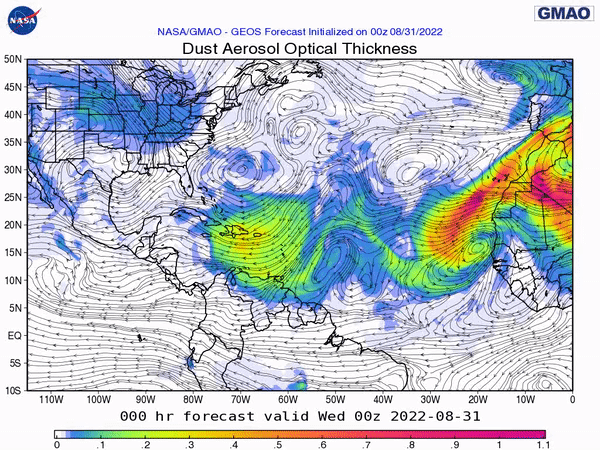 Ongoing Surge: Ends Early Friday, September 2nd, 2022
As the tropical disturbance associated with Tropical Wave 34 (Invest 91L) moves northwestward, air quality is set to improve across Trinidad, Tobago, and the Lesser Antilles as higher dust concentrations move westward.
Concentrations are forecast to gradually diminish by early Friday, with isolated showers and thunderstorms providing localized air quality improvement.
Air quality levels will vary from good to moderate across T&T, with visibility generally remaining near or above ten kilometers outside of shower or thunderstorm activity.
Next Surge: Saturday, September 10th, 2022
Long-range forecast models indicate a moderate to a high-concentration surge of Saharan Dust arriving across the Lesser Antilles by late Friday, September 9th through Saturday, September 10th.
Air quality levels will vary from good to moderate across T&T, with visibility generally remaining near or above eight kilometers outside of shower or thunderstorm activity.
What does this mean for you?
The air quality will remain degraded through Friday, September 2nd, 2022, associated with Saharan Dust, with further degradation on Wednesday night due to firework displays. During high traffic periods, particularly between 6:00 AM and 9:00 AM and again from 3:00 PM through 6:30 PM, air quality may be further reduced in localized areas.
We're in a period where the Intertropical Convergence Zone and tropical waves may shield Trinidad and Tobago from the Saharan Dust events. While Tropical Waves play a notable role in moving dust across the Atlantic and the Eastern Caribbean, these periodic tropical waves also improve air quality.
The concentration of the dust that follows the wave depends on its strength as it moves off the West African Coast. This is because of stronger thunderstorms across Central Africa. As strong winds move downward and outward from these thunderstorms, the wind kicks up dust as it moves across parts of the Saharan Desert and transports it into the upper atmosphere. This "plume" of dust follows the axis of the wave as it progresses westward into the Atlantic.
Dust that makes it into the upper levels of the atmosphere can then get transported across the Atlantic Ocean. The plumes of dust eventually affect the Eastern Caribbean.
Larger, more concentrated plumes of Saharan dust begin in April and continue through November.
Read More
Believe it or not, Saharan Dust can be present in T&T year-round. Concentrations wax and wane depending on prevailing weather features in the area. It also depends on if there are…
In all of our Saharan Dust forecasts, we use the Air Quality Index (AQI) to quickly surmise the possible impacts on the population. What is the Air Quality Index? The AQI is an index for…