Believe it or not, Saharan Dust can be present in T&T year-round. Concentrations wax and wane depending on prevailing weather features in the area. It also depends on if there are persisting strong winds across Western Africa to send thick plumes of dust between 5,000 feet to 15,000 feet into the atmosphere to begin its journey across the Western Hemisphere.
Since it is an ever-present phenomenon in T&T, it is important to know how to protect yourself and your family when dust concentrations reach unhealthy levels.
The Air Quality Index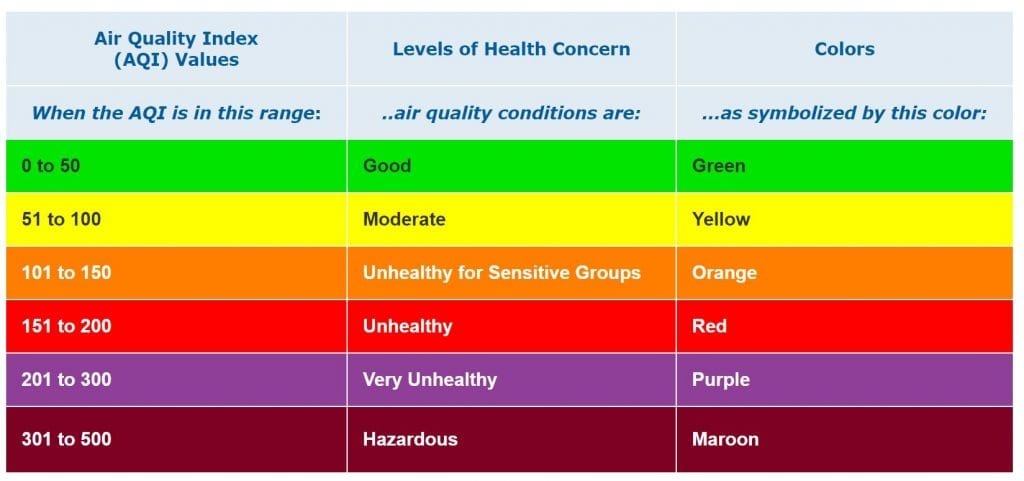 The AQI is an index for reporting daily air quality. It tells you how clean or polluted your air is and what associated health effects might concern you.
The AQI focuses on the health effects you may experience within a few hours or days after breathing polluted air.
Generally, the AQI encompasses the five major pollutants – ground-level ozone, particle pollution (also known as particulate matter), carbon monoxide, sulfur dioxide, and nitrogen dioxide. Generally, particulate matter, specifically PM2.5 and PM10, are the two pollutants that pose the greatest threat to human health in this country due to Saharan Dust surges.
The AQI is the easiest tool to tell you what level of readiness you should be before and during a severe Saharan Dust event. In most cases, air quality across T&T dip to moderate levels.
For each of these pollutants, there are established national air quality standards to protect public health worldwide. Generally, particulate matter, specifically PM2.5 and PM10, are the two pollutants that pose the greatest threat to human health in this country due to Saharan Dust surges.
The national standard for Particulate Matter (PM) of diameter ≤2.5 µm (PM2.5) is 65 µg/m3, and PM of diameter ≤10 µm (PM10) is 75 µg/m3 for Trinidad and Tobago.
Before the dust arrives
When a Saharan Dust plume approaches, and while it is here, you will hear forecasters on television and online say, "take the necessary precautions." Yet, these precautions are rarely ever elaborated.
1. Stock up on necessary medications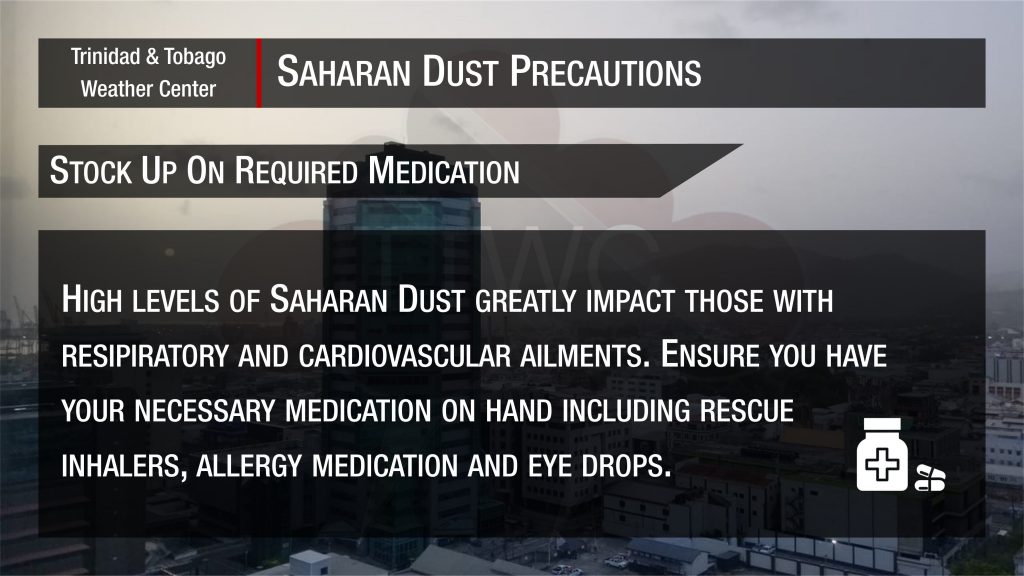 Saharan Dust causes a myriad of issues in the population. The most at risk tend to suffer from respiratory ailments and cardiovascular diseases. Hence, it is important to ensure people who suffer from these ailments have their medication on hand and consult with their doctor for any additional precautions.
For the remainder of the population, people may suffer from itchy eyes, sore throat, sinus issues, and dry cough or sneezing. It is recommended to have medication to treat issues that may arise symptomatically.
2. Prepare your home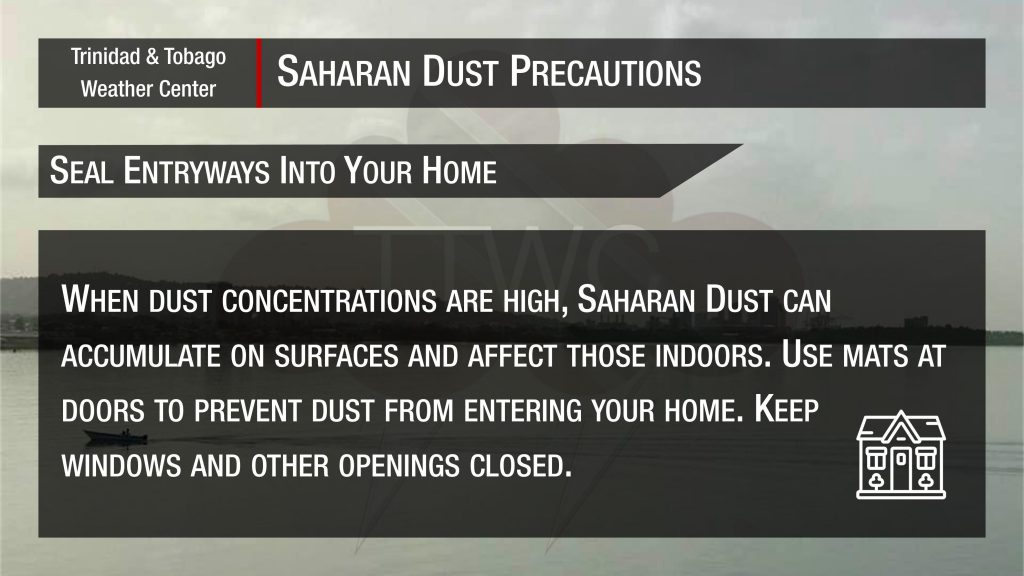 When high concentrations of Saharan Dust are present in the atmosphere, it is recommended to remain indoors. Thus, it is essential to limit dust from entering your home. Try sealing doors as best as possible by placing mats at the entrances and keeping windows and other openings to your home closed.
If you live in a home or have a business with central heating and cooling, it is best to change air filters frequently during dust episodes. Investing in an air purifier is also recommended if you suffer from the effects of Saharan Dust.
The dust arrives
1. Stay indoors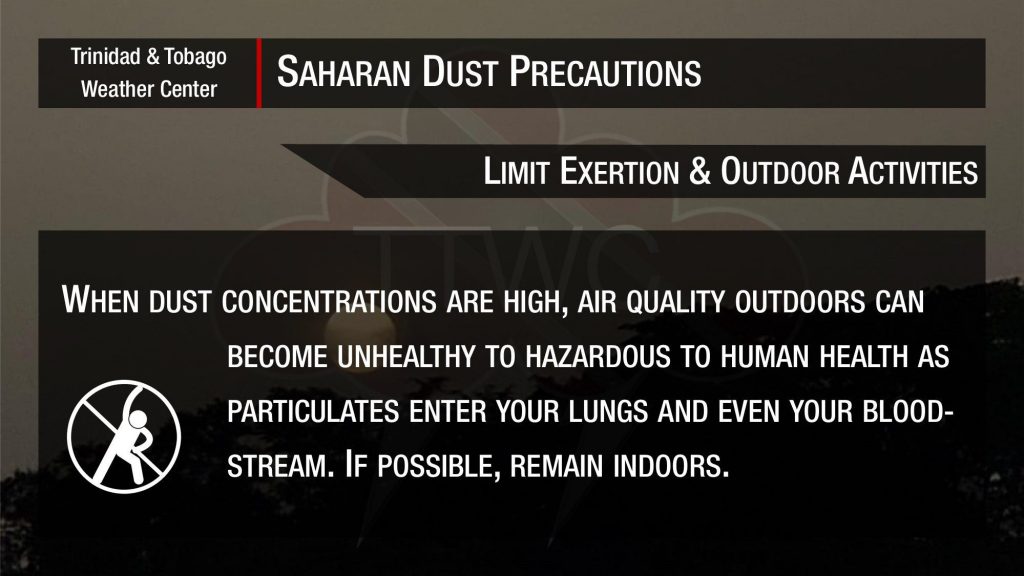 The best way to protect yourself and your family from Saharan Dust during events when concentrations are high is to remain indoors. Air quality levels may be unhealthy for sensitive groups, unhealthy for the general population, or even hazardous for everyone.
Saharan dust particles are small enough to enter people's lungs and even bloodstreams. Hence, it is important to remain indoors and limit exertion where possible, as the more breaths of polluted air you take, the higher the chances of the particulate matter adversely affecting you.
2. Keep windows and doors closed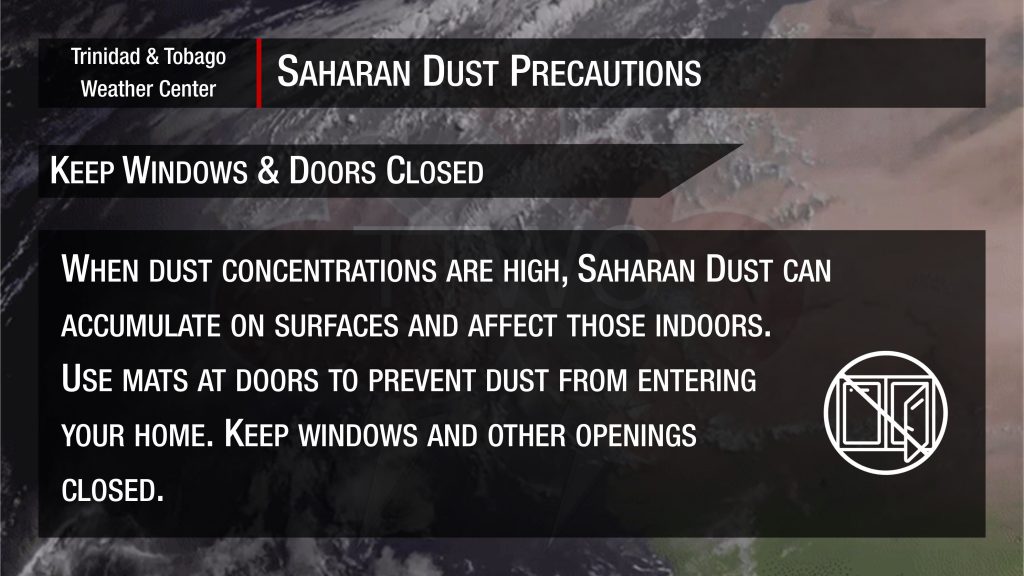 If you didn't prepare your home before the dust's arrival, there's no better time than now! Keeping your home as dust-free as possible limits the impact of particulate matter on your health. Some doctors also recommend taking a shower and changing your clothes upon entry into your home, as high dust concentrations can also cause itchy skin in some.
3. Protect your eyes, nose, and mouth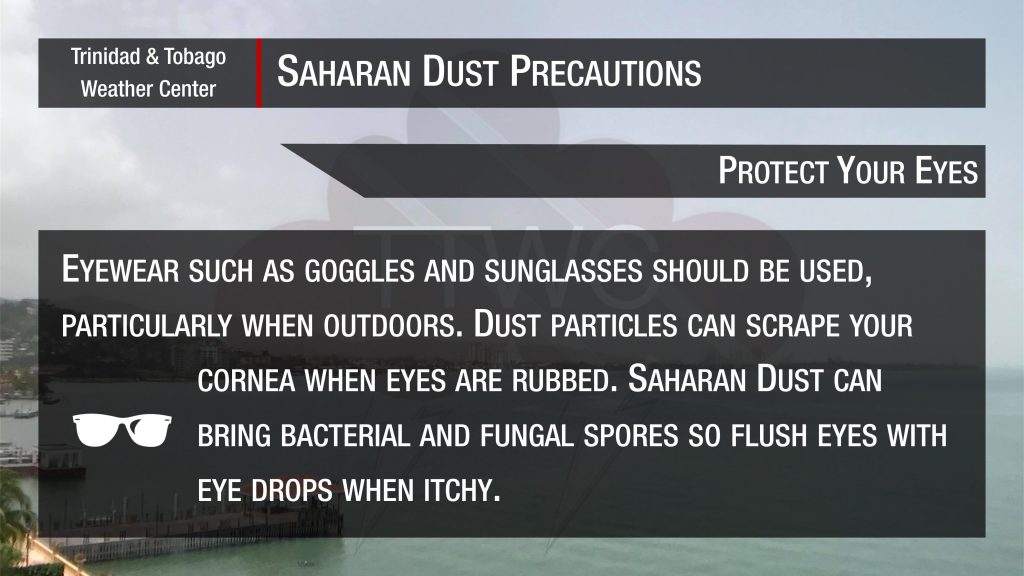 During dust events where concentrations are high, people are advised to limit dust entering their system as best as possible through masks and protective eyewear.
In addition to respiratory and cardiovascular effects, dust can cause itchy or watery eyes. If eyes are rubbed or itched with dust particles present, eye damage and infections are possible.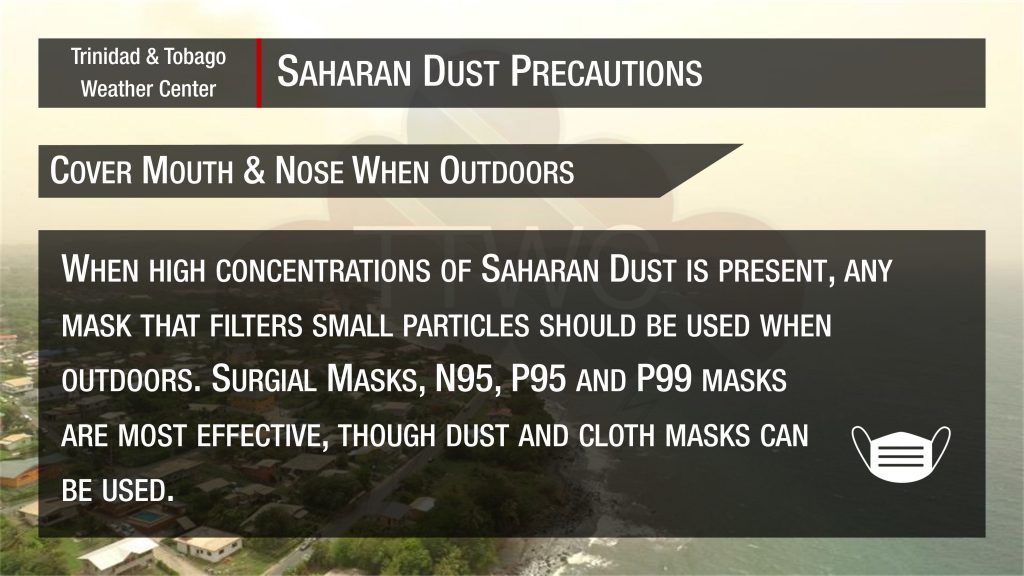 4. Watch out for symptoms and treat accordingly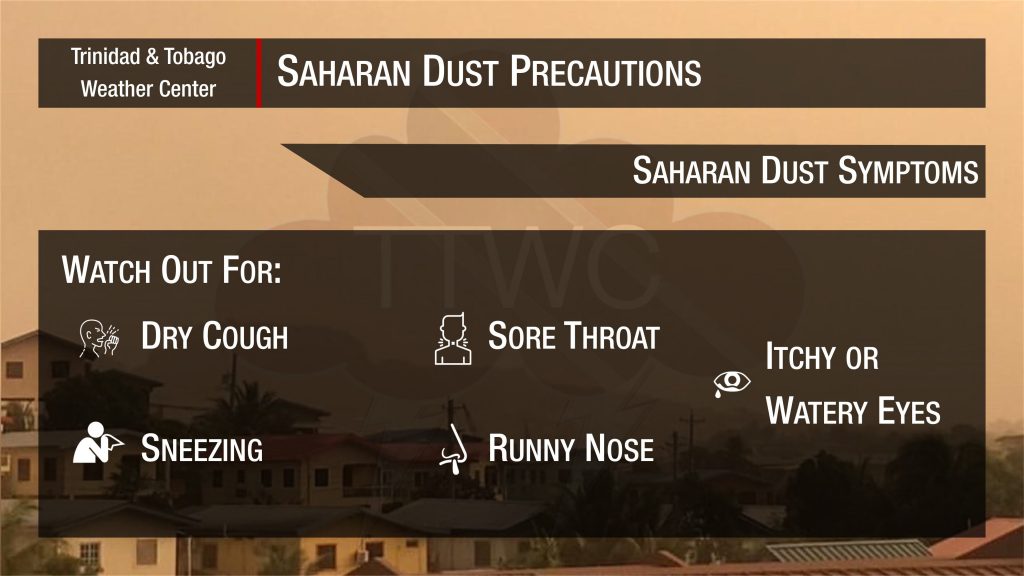 While there are the common impacts listed above from Saharan Dust, it is important to look out for distress symptoms and treat them accordingly.
For those that suffer from congestion, dry cough, and sneezing, doctors recommend creating a more humid environment through a humidifier or inhaling steam as you lean over a container of hot water, taking slow and deep breaths.
For those that suffer from sore throats, in addition to medication if the case is severe, using two teaspoons of honey can aid in soothing your throat.
Remaining hydrated is also important. Fresh aloe gel mixed with fresh citrus juice provides a great dust remedy. The anti-inflammatory agents can soothe irritation in the throat and nose, especially if you've been coughing.