The National Hurricane Center (NHC) is monitoring a tropical wave that moved off the African coast on Saturday for tropical cyclone development over the next five days.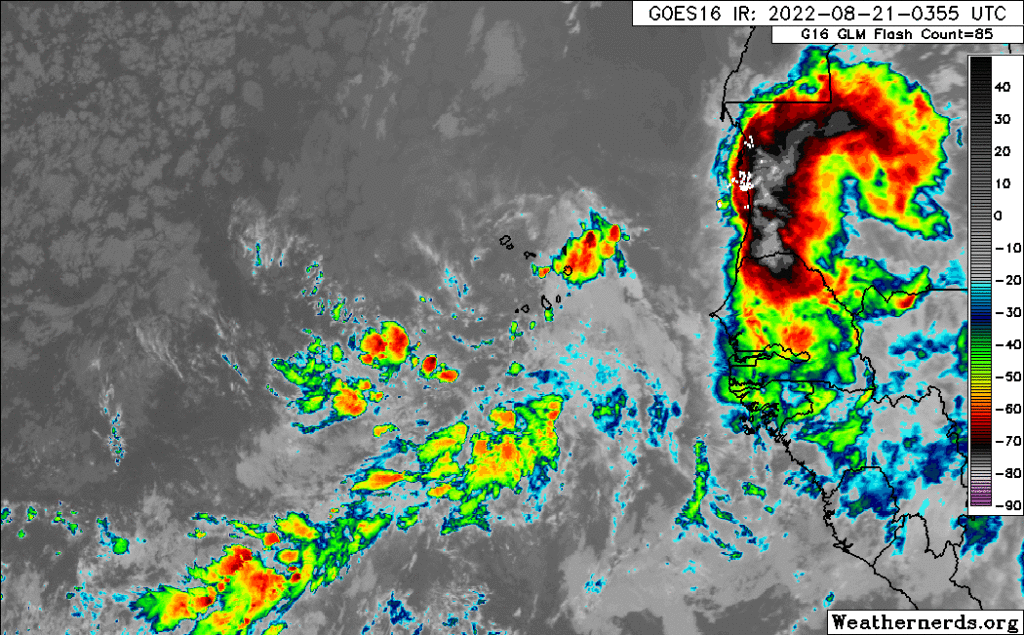 This tropical wave, the 33rd of the 2022 Atlantic Hurricane Season, is producing disorganized showers and thunderstorms across and near the Cabo Verde Islands. The NHC notes that environmental conditions are forecast to be marginally conducive for the gradual development of this wave as it moves westward to northwestward at 15-20 MPH (24-32 KM/H) during the early to the middle part of this week.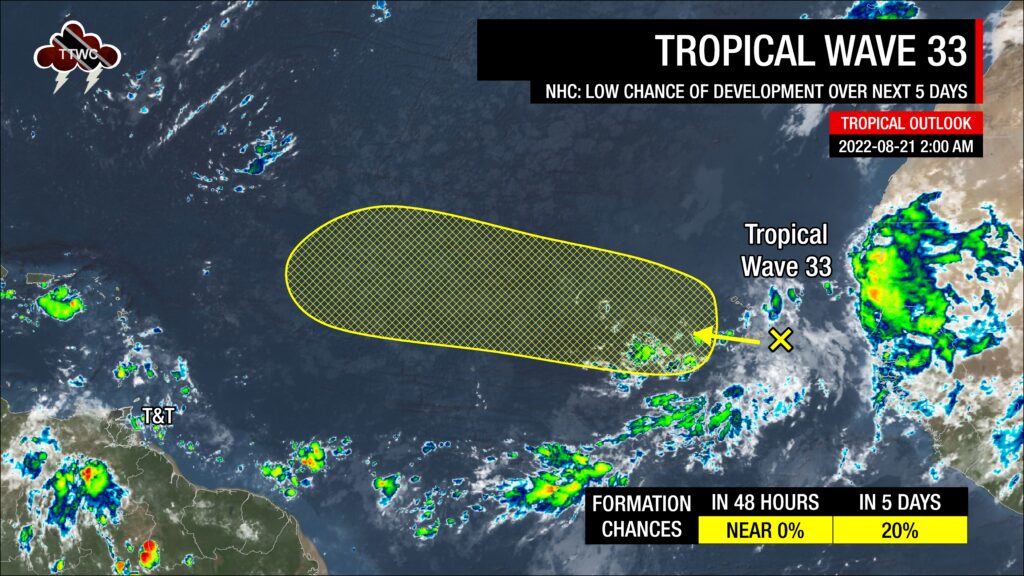 In their latest Tropical Weather Outlook, the NHC gives this tropical wave a low chance of development over the next 48 hours and five days, at near zero percent and 20 percent, respectively.
This tropical wave is forecast to move into a Saharan-Dust-laden environment through the week, limiting developing showers and thunderstorms. Waves and disturbances in this location typically recurve out to sea without directly affecting T&T, the Caribbean, and North America.
This system poses no direct threat to Trinidad and Tobago over the next five days.
Reduced Winds Across The Lesser Antilles
Regardless of development, this tropical wave is forecast to take a west-northwesterly path, tracking across the Leewards by Sunday, August 28th, 2022. Most of the wave's moisture and instability are forecast to track across the Leewards, but the pressure gradient will be increasingly slack south of the tropical wave.
Light to near calm winds under an abundant moisture environment during the upcoming weekend will lead to the isolated late morning through afternoon thunderstorms triggered by sea breezes and daytime heating.
In addition, under a light wind regime, temperatures will become increasingly warm, particularly across Trinidad and Tobago, Barbados, Grenada, and St. Vincent and the Grenadines.
A Check In With The 2022 Atlantic Hurricane Season
At first glance, the Atlantic Basin hasn't been extremely quiet. On average, for the period 1991-2020, the fourth named storm doesn't arrive until August 13th, and the first hurricane doesn't form until August 11th. By those standards, with three named storms but no hurricanes as of August 16th, the Atlantic season is just now starting to slip behind climatology.
However, none of this year's three Atlantic storms packed much punch. Tropical Storms Alex and Bonnie each developed after unusually long periods as potential tropical cyclones (56 and 88 hours, respectively). Potential Tropical Cyclone Two, which became Bonnie, tracked over Trinidad and Tobago on June 28th, prompting officials to place the country under an orange-level Tropical Storm Warning.
The other disturbance that eventually gave birth to Alex dumped torrential rains in Cuba, took four lives, and drenched South Florida. Then, short-lived Tropical Storm Colin spent its entire 24-hour life as a minimal tropical storm near and just inland from the coast of South and North Carolina.
Over the last few days, the NHC had also been tracking Potential Tropical Cyclone Four, which made landfall in northern Mexico Saturday night, and chances of development have dropped to zero.
As of August 21st, the Atlantic had mustered only 3.25 named storm days (the total period with at least one named storm in progress), compared to an average at this point of 15.0, according to the Colorado State University.
What the Seasonal Forecasts Show
An above-average Atlantic Hurricane Season is still forecast, but the absolute number of storms in two of the most closely watched outlooks has decreased in their latest updates.
Although 2022 has not yet spawned any Atlantic hurricanes, the season typically picks up in August and peaks in September, and several factors that augur an active season still apply. A weak but persistent La Niña event continues across the eastern tropical Pacific. Odds now favor La Niña (which supports Atlantic hurricane development) remaining in place throughout the rest of the year.
NOAA's revised Atlantic hurricane outlook, updated on August 4th, still has the probability of a more active season than the 1991-2020 average at 60%, compared to 65% in the May outlook. NOAA is now calling for 14-20 named storms, down from 14-21, 6-10 of these becoming hurricanes, which is the same as the previous outlook, and 3-5 of these becoming major hurricanes, down from 3-6.
The United States Federal Emergency Management Agency (FEMA) director Deanne Criswell said, "although it has been a relatively slow start to hurricane season, with no major storms developing in the Atlantic, this is not unusual, and we, therefore, cannot afford to let our guard down."
Similarly, the Colorado State University has tempered its July outlook, with its latest August numbers now calling for 18 names storms, 8 becoming hurricanes, and 4 of those becoming major hurricanes. These are down from 20, 10, and 5, respectively, issued on July 7th.