If you're near the coast this week, you may notice that the ocean is further away from the coastline than usual during a low tide. On the other hand, if you're at the beach, you may realize that those beach chairs should be placed further inland because, at high tide, the water is unusually high.
From this week, some of the highest high tides and lowest low tides for 2022 are set to begin this weekend, ahead of the June 14th Supermoon. These tides are called King Tides, which usually indicate some of the highest tidal variations for a calendar year. These tidal variations may slow (or increase) runoff from this week's anticipated heavy rains.
While these tides will affect nearshore areas, seas are forecast to remain slight to moderate and occasionally choppy in open waters.
In addition, moderate to high concentrations of Saharan Dust is forecast to reduce horizontal visibility offshore from Wednesday.
There are no marine-specific alerts, watches, or warnings in effect from the Trinidad and Tobago Meteorological Service at this time. An Adverse Weather Alert (Yellow Level) is in effect for Trinidad and Tobago from 5:00 AM Monday, June 13th, 2022 through 12:00 PM Tuesday, June 14th, 2022
Seas Forecast For Trinidad and Tobago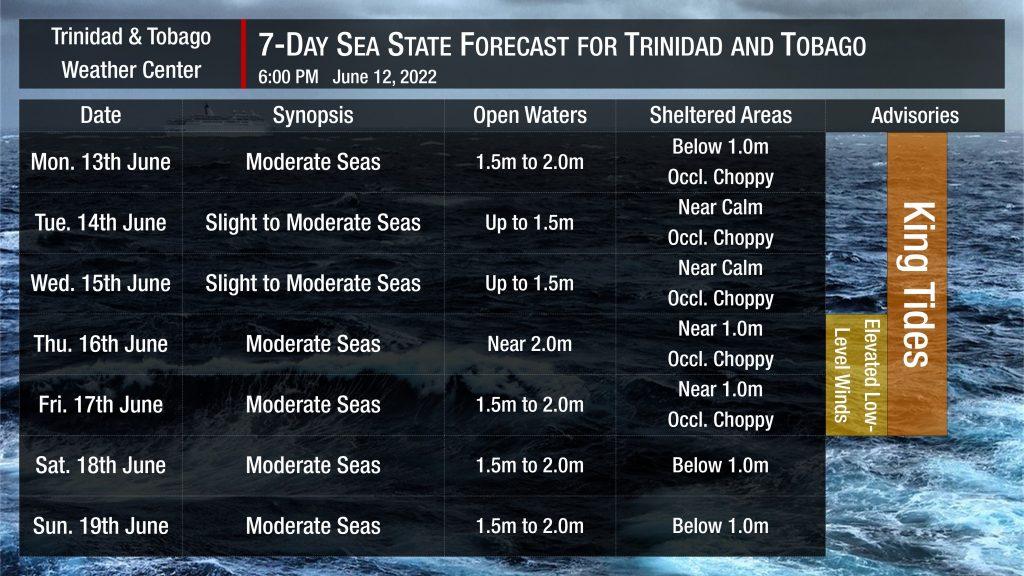 In sheltered areas, waves are forecast to be near or below 1.0 meters with occasionally choppy conditions due to forecast heavy showers or thunderstorm activity through the first half of this week.
Winds are forecast to be moderate to fresh through the next several days, with sustained winds between 10 to 20 knots from the southeast to the northeast but gusts as high as 30 knots are possible, mainly on Wednesday night into Thursday.
Generally, seas in open waters will remain moderate through the next seven days. In open waters, waves are forecast to generally be up to 2.0 meters through this week, becoming slight to moderate Tuesday into Wednesday with open water waves up to 1.5 meters.


Saharan Dust will continue affecting T&T even with anticipated rainfall. Dust haze will gradually diminish through early Wednesday, with another surge set to arrive by late Wednesday. Horizontal visibility may dip as low as 6 kilometers outside of shower or thunderstorm activity from Wednesday, June 15th, 2022.