The Trinidad and Tobago Solid Waste Management Company Limited (SWMCOL) is advising commuters entering the capital city and those who work and reside in the vicinity of the landfill to proceed with caution due to smoke emanating from the landfill.
SWMCOL was alerted at approximately 5:00 PM Wednesday, April 6th, 2022of a fire at the southern tip of the landfill which was brought under control by 10:00 PM. However, embers from the fire ignited an adjacent section of the landfill resulting in the Trinidad and Tobago Fire Service, WASA, and SWMCOL's emergency management team working throughout the night to have the fire brought under control.
During the overnight hours, air quality in Port of Spain and surrounding areas remained moderate due to winds pushing the smoke towards the southwest over the Caroni Swamp.
By morning, as forecast initially, winds shifted and sent thick smoke towards Beetham and Port of Spain. Air quality levels are now HAZARDOUS near the Beetham Wastewater Treatment Plant, where the Environmental Management Agency has an ambient air quality monitoring station installed.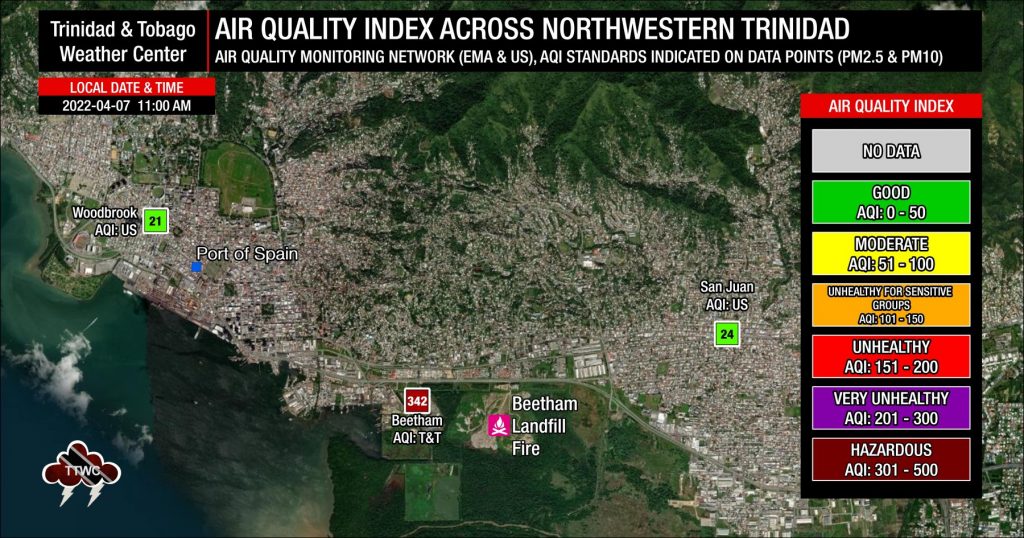 This means air quality is hazardous to the entire population within the Beetham and lower Port of Spain area where there is a serious risk of respiratory effects.
The landfill fire was also detected from space using the GOES-16 Fire Temperature RGB imagery. A hotspot was seen over the Beetham Landfill at approximately 9:20 PM Wednesday, April 6th, 2022.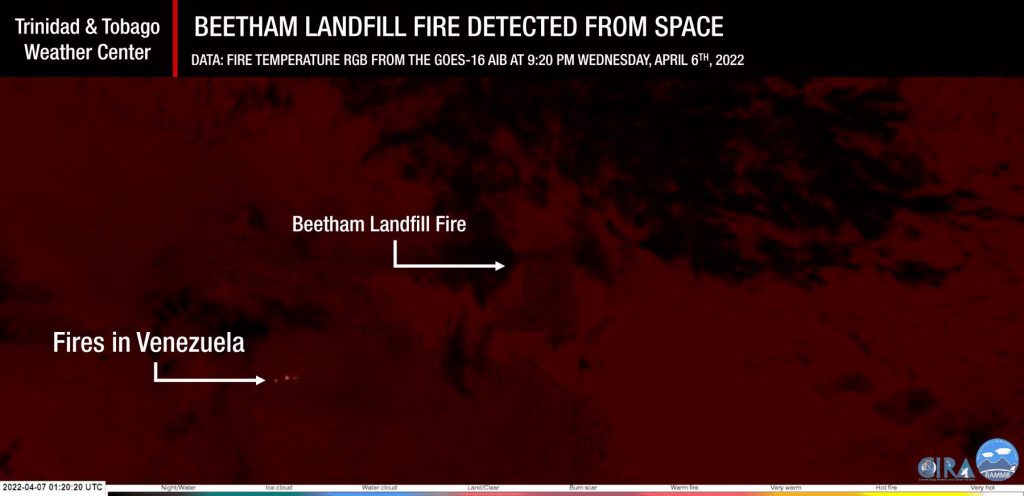 Latest model data suggests winds are forecast to remain southeasterly by the morning and persist in this direction throughout the day, sending smoke towards the northwest towards downtown Port of Spain.
This last happened on January 29th, 2014, April 12th, 2016, and January 24th, 2019, but less impactful fires have occurred on April 22nd, 2015, and May 6th, 2019.
What should you do?
As smoke moves through the capital, here are some safety tips:
If you suffer from respiratory and related illnesses such as asthma, be vigilant about taking your medications as prescribed. Keep them on hand should you need to evacuate at a moment's notice.
Do not consume any food or drinks which are opened and have been exposed to smoke. Please keep in mind that this may not always be visible.
Thoroughly wash fruits and vegetables purchased from outdoor markets, which have been exposed to smoke pollution.
Avoid dense smoke polluted areas.
If you have been exposed to high levels of smoke and/or experience any of the signs and symptoms listed below, seek medical attention.
Remain calm and tap into media sources periodically, such as social media, TV, and radio to be informed on any pertinent bulletins.
If you are driving with your windows down, keep your car well ventilated, this means keep your windows down, so that smoke will not get trapped inside. If you are using your air conditioner, please ensure that it is set to circulate internal air until you are clear of the smoke cloud.
If you cannot leave a smoky area, reduce your physical activity, and protect yourself using masks. It is important to note, however, that not all masks will be able to offer protection. Recommended masks as those with "particulate respirators," such as those with the words "NIOSH" and either "N95" or "N100" printed on them. You may also use a "P100" mask.
Choose a mask that has two straps that go around your head. DO NOT choose a mask with only one strap or straps that hook over the ears. Choose a size that will fit over your nose and under your chin. It should seal tightly to your face. These masks do not come in sizes that fit young children.
Do not use bandanas (wet or dry), paper or surgical masks, or tissue held over the mouth and nose.
If you are located in a smoke-filled area, here are some signs and symptoms to be aware of if you are affected by smoke inhalation:
Cough
Shortness of breath
Headache
Throat irritation
Headache
Soot found in airway passages such as nostrils or throat
Increased secretion of mucus, this can be clear or black
Hoarseness or noisy breathing
Swelling and/or constriction of upper airways such as nostrils and nasal passages
Red, irritated eyes
Changes in skin colour
Nausea and vomiting
Changes in mental status (Confusion, fainting, seizures, and coma are all potential complications following smoke inhalation)
Should you experience one or more of the above symptoms, you should seek medical care immediately.
Read More
Believe it or not, Saharan Dust can be present in T&T year-round. Concentrations wax and wane depending on prevailing weather features in the area. It also depends on if there are…
In all of our Saharan Dust forecasts, we use the Air Quality Index (AQI) to quickly surmise the possible impacts on the population. What is the Air Quality Index? The AQI is an index for…
About the Beetham Landfill
At 229 acres, the Beetham Landfill is the largest of Trinidad's three (3) major disposal sites, receiving approximately twice the quantity of waste per day than the other two landfills. The site also houses Trinidad and Tobago Solid Waste Management Company Limited's (SWMCOL) Operations Division, which includes the Collection Services and Transport & Maintenance units and a modern staff welfare facility.
This landfill receives municipal solid waste generated in the northwestern areas of the island. The waste is collected from residential and urban communities by the Diego Martin Municipal Corporation, the Port of Spain Corporation, and the San Juan/Laventille Municipal Corporation.
Before 1983, the Beetham Disposal Site was an open-burning dump with inadequate cover material, minimal compaction, and access to everyone.
In 2018, the government announced plans to close the Beetham and Guanapo landfills with rehabilitation works. However, those plans are yet to be realized.