Heavy showers and thunderstorms are forecast to move across Trinidad and Tobago on Wednesday and Thursday associated with Tropical Wave 39 – a tropical disturbance dubbed Invest 98L.
Periods of heavy and potentially flooding rainfall are forecast across both islands, accompanied by gusty winds and lightning, while seas are forecast to be agitated.
What you need to know
— What is it: A tropical wave (also called a tropical disturbance) producing increasingly organized showers and thunderstorms. It is not a tropical depression or tropical storm, but it is being monitored for development by the NHC for tropical cyclone formation after entering the Caribbean Sea.
— Who will be affected: Rainfall associated with this tropical wave is forecast to affect the southern and central Windward Islands and the French Antilles through Friday. Namely, islands from Trinidad and Tobago to Martinique, including Barbados, are in the path of this tropical wave's rainfall, with the strongest winds forecast to affect islands between Tobago and St. Lucia, potentially affecting as south as northern Trinidad.
— What can you expect: Street/flash flooding is expected. Chances for riverine flooding will increase through the next 48 hours for T&T. Gusty winds in excess of 70 KM/H accompanying heavy showers or thunderstorms are likely, with wind gusts in excess of 55 KM/H expected. Stronger wind gusts are expected across Tobago and northern Trinidad. Lightning will accompany thunderstorms. Landslides, mudslides, and rockfalls are possible across the Windwards, with lahars possible in St. Vincent. Seas are forecast to become agitated.
— Alerts/Watches/Warnings: An Adverse Weather Alert (Yellow Level) goes into effect for Trinidad and Tobago from 5:00 AM Wednesday, September 21st, 2022, and remains in effect through 8:00 PM Thursday, September 22nd, 2022, from the Trinidad and Tobago Meteorological Service. A high-wind advisory and marine advisory are in effect for Grenada and its dependencies. The Barbados Meteorological Service issued an Orange-Level Small Craft Advisory for Barbados through 6:00 AM Thursday. Similarly, St. Vincent and the Grenadines (SVG) Meteorological Services has issued Yellow-Level advisories for flash flooding and sea swells. There are no tropical storm or hurricane watches or warnings in effect for any country within the Lesser Antilles at this time.
The latest from the NHC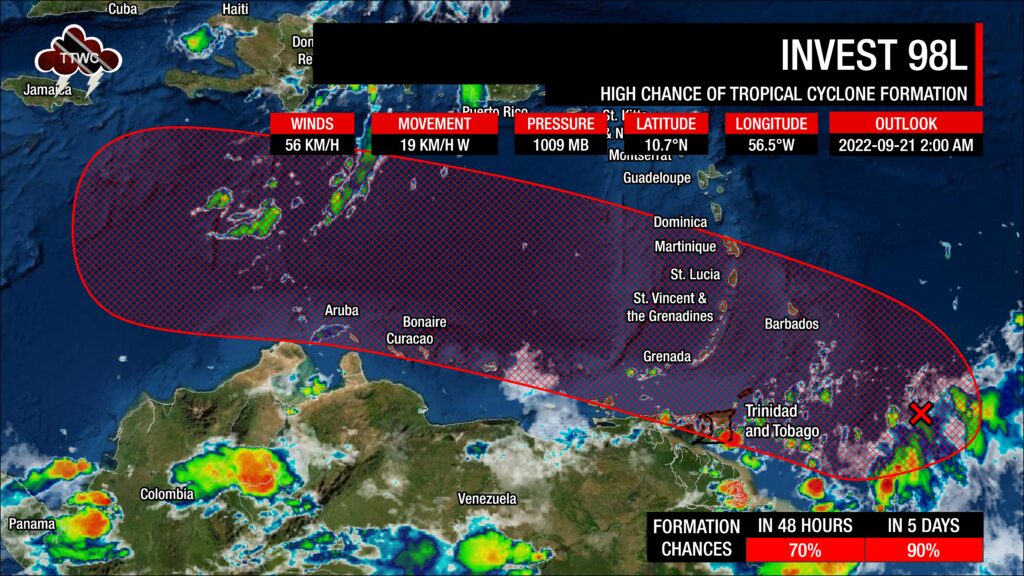 As of their 2:00 PM Tropical Weather Outlook, the NHC says, "A tropical wave is producing shower and thunderstorm activity a few hundred miles east of the southern Windward Islands. The system continues to show signs of organization, and it will likely become a tropical depression within the next two or three days. The disturbance is forecast to move west-northwestward across the southern Windward Islands by late today and then move toward the central Caribbean Sea later this week. Interests in the Windward Islands should closely monitor the progress of this system as heavy rainfall and gusty winds could affect these islands beginning later today."
Development chances have steadily increased over the last three days, with chances now high for tropical cyclone formation over the next 48 hours and five days, at 70% and 90%, respectively.
The National Hurricane Center will begin weather reconnaissance flights on Invest 98L at 8:00 PM Wednesday, September 21st, 2022 (00Z September 22nd), while the system is generally located north of Trinidad.
Invest 98L is located approximately less than 500 kilometers east of Trinidad and Tobago, though scattered showers and thunderstorms are widely scattered between T&T and this tropical wave axis and approximate low-pressure center.
Who will be affected?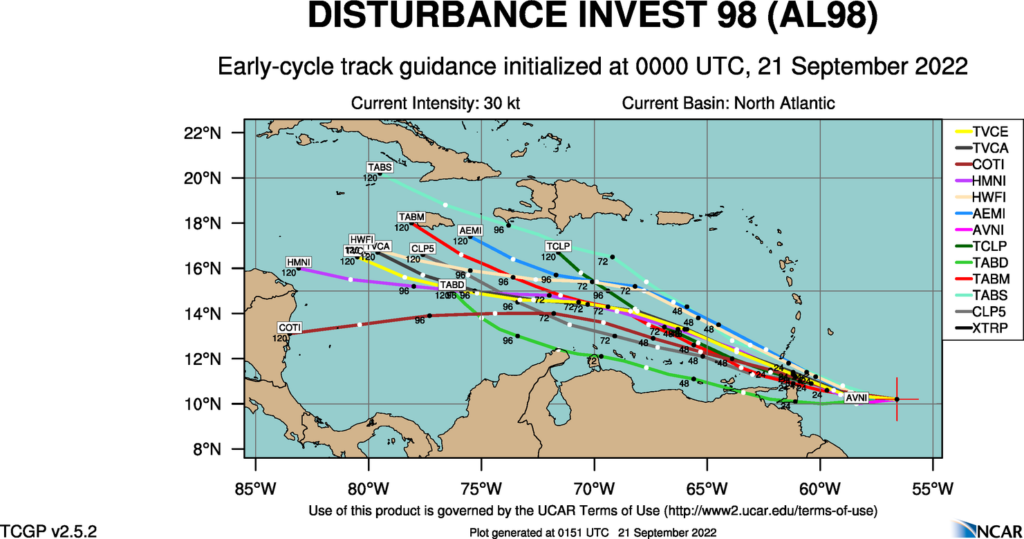 Forecast models have honed in on the weak area of low pressure moving across northern Trinidad and Tobago and then moving into the Caribbean Sea, where the system is forecast to become increasingly organized and potentially form into the Atlantic's next named tropical cyclone – Hermine. Thereafter, longer-range forecast models show a track spread anywhere from the Central American coastlines to the Bahamas. Still, there is a lot of time to monitor for those in the Greater Antilles, Central America, and the U.S. Gulf Coast.
For Trinidad and Tobago, the timing of this weak and broad area of low pressure across the country is still not definite – sometime between late Wednesday morning and Wednesday night. However, given the fairly slow westward movement and largely disorganized nature of the low-pressure area, rainfall and gusty winds are forecast to affect a broad area of the Windwards.
Generally, the strongest sustained winds and wind gusts are forecast to remain north of the country. However, northern Trinidad and Tobago could experience these stronger winds if the low-pressure center moves more so over Trinidad than Tobago.
All models show conditions becoming much more favorable for development as the Invest 98L moves into the central and western Caribbean Sea.
As this tropical disturbance moves across the Windwards on Wednesday and Thursday, wind shear is forecast to be moderate, up to 25 knots, and becoming strong by mid-Thursday, up to 35 knots. Mid-level moisture is forecast to be very moist, with relative humidity values between 70% and 95%. Precipitable water values are forecast to be above 2 inches (50 millimeters) from Wednesday through Thursday. These factors, combined with a favorable upper-level environment due to the favorably positioned upper-level trough east of the region, will support scattered to widespread showers and periods of rain with isolated showers and thunderstorms producing heavy/violent rainfall rates.
Islands between Trinidad and Tobago, extending northwards to Martinique, including Barbados, should all be monitoring this system and closely monitoring the meteorological alerts, watches, and warnings from your local meteorological offices.
Invest 98L's hazards
Rainfall and Flooding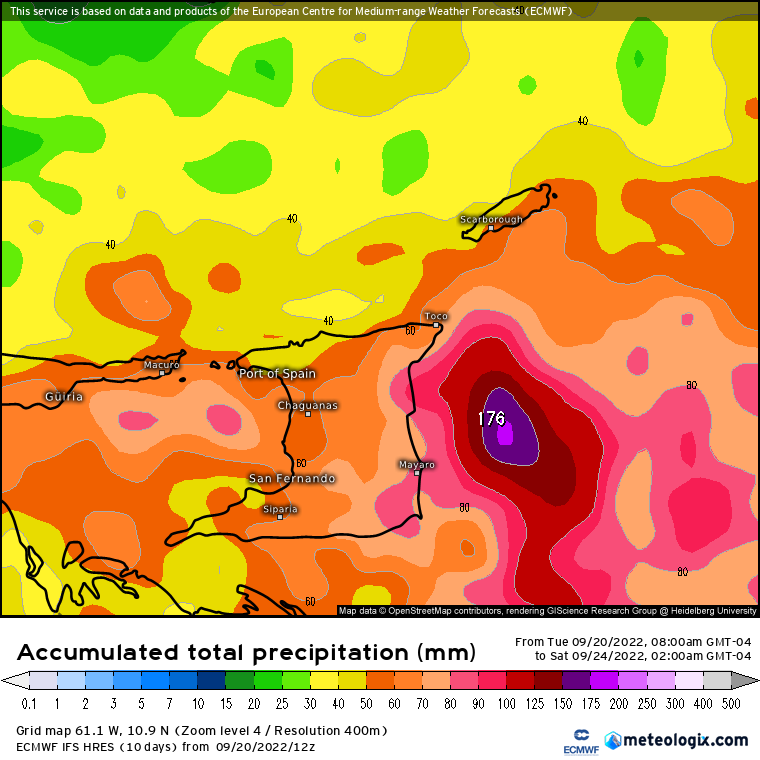 Invest 98L is primarily a rainfall threat to the eastern Caribbean.
For islands between Grenada's dependencies – Carriacou and Petite Martinique – northward toward Martinique, including Barbados, rainfall accumulations between 25 and 50 millimeters are forecast through Friday. Isolated higher totals are possible on islands' Windward (or Atlantic-facing) slopes.
For Trinidad and Tobago and Grenada, rainfall accumulations between 75 and 125 millimeters are forecast over the next three days. Higher rainfall totals are generally forecast across Trinidad and Tobago, where isolated totals can reach up to 150 millimeters. While these overall totals are high, forecast rainfall accumulations have trended downwards over the last 24 hours.
Putting the rainfall forecast into context, rainfall rates in excess of 50 millimeters per hour or areas that receive in excess of 25 millimeters within an hour tend to trigger street flooding across the country or flash flooding in northern Trinidad. For riverine flooding to occur, a large area of the country (not just in highly localized areas of western coastal Trinidad) would have to record upwards of 75 millimeters within 24 hours, and rainfall would have to fall across major rivers' catchment areas.
For all islands, street/flash flooding is like to accompany showers and thunderstorms with heavy to violent rainfall rates. Trinidad's chances for riverine flooding will increase through Wednesday and Thursday as soils become increasingly saturated and rains continue.
Wind
Elevated winds associated with Invest 98L are forecast to mainly affect islands north of Trinidad, between Tobago and Martinique. Sustained winds are forecast between 35 KM/H and 50 KM/H, with gusts up to 70 KM/H generally accompanying showers or thunderstorms.
Peak sustained winds can exceed 45 KM/H, with gusts exceeding 70 KM/H, across northern Trinidad, Tobago, St. Lucia, St. Vincent, and the Grenadines, Grenada and its dependencies, and Barbados generally during or in the vicinity of showers and thunderstorms.
Possible impacts include localized wind damage to trees, power lines, and small structures. Light outdoor objects may topple or become airborne such as garbage cans, potted plants, loose galvanize or construction material, and other outdoor furniture. Tents may jump. Older/weaker trees may fall, bringing down utility poles and lines.
Seas & Surf
Seas across Trinidad and Tobago are forecast to be agitated but generally remain moderate in open waters with waves up to 2.5 meters. North of T&T, waves in open waters could reach up to 3.5 meters between Tobago and Barbados, including Grenada and its dependencies, as well as St. Vincent and the Grenadines' eastern coastal waters.
These waves can produce hazardous marine conditions for small craft and sea bathers.
Landslides
With the forecast rainfall accumulations, landslides, mudslides, and rockfalls are possible across islands from Martinique to Trinidad and Tobago. Due to increased rainfall accumulations, there is a higher potential for landslide events across T&T and Grenada.
Lahars are also possible in St. Vincent's orange and red zones.
Tornadoes
There is a low but non-zero chance of funnel cloud development during the next 48 hours. If a funnel cloud touches down on a body of water, it becomes a waterspout; if it touches down on land, it becomes a tornado.
What should you do?
As an individual, there are a couple of things you can do as we head through the peak of the 2022 Atlantic Hurricane Season:
Stock your emergency kit
Clean your surroundings and gutterings
Secure light or loose objects outdoors
If your roof is unsecured, purchase and install hurricane straps
Clear larger trees near your home
Ensure you have batteries and battery packs for your flashlights, radios, and mobile devices
Ensure you have sufficient gas for gas-powered stoves and vehicles
Ensure you have adequate dry foods and water to rally through an extended power outage (generally, the rule of thumb is 72 hours).
Stock up on candles and mosquito repellant.
Ensure you have alternative means of communication (like a battery-powered radio) if the internet or television goes down.
Have a trusted source of information for the latest news before, during, and after a storm.
For the next 48 hours, it is important to remain indoors during gusty winds associated with showers and thunderstorms, as light objects outdoors could become airborne. Avoid venturing into flood waters. Plan for your commute and expect traffic disruptions due to fallen trees, landslides, and flooding. Avoid entering the sea if not necessary.