Tropical Storm Fiona has formed in the Atlantic Basin, becoming the sixth-named storm for the 2022 Atlantic Hurricane Season. The system formed 1,040 kilometers east of the Leeward Islands at 9:45 PM Wednesday. After days of being monitored as Invest 96L and Tropical Depression Seven, satellite data indicated winds have strengthened to 85 KM/H, triggering the National Hurricane Center to upgrade the system.
Fiona is forecast to move directly across the Leeward Islands on Friday into Saturday and parts of the Greater Antilles through the weekend. This tropical storm formed from Tropical Wave 37.
Specifically for Trinidad and Tobago, while direct impacts are not expected, an atypical wind regime is expected from Thursday through the weekend, with moisture and light winds moving from the south to the north. An unrelated Hazardous Seas Alert (Yellow Level) remains in effect for T&T until 8:00 PM Thursday.
The Latest From The National Hurricane Center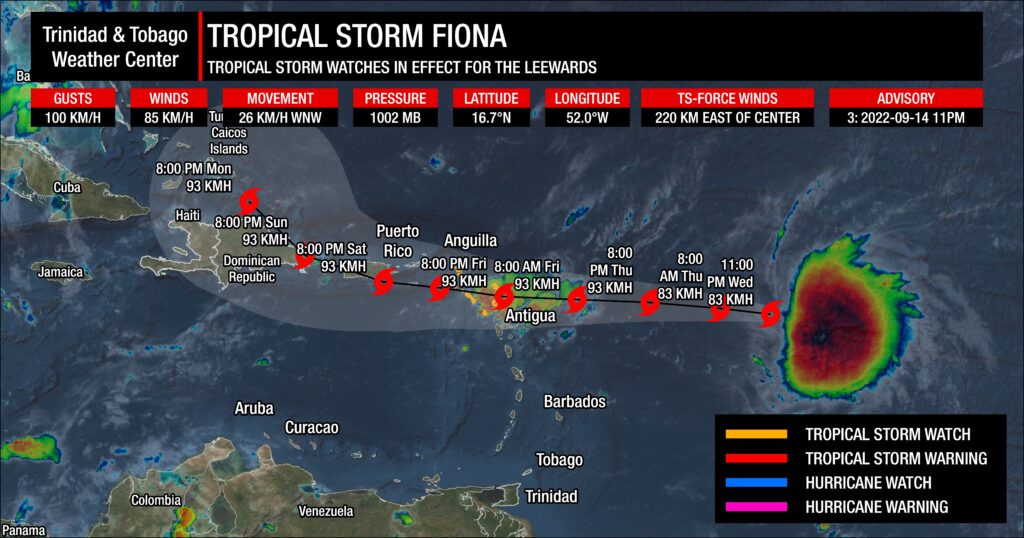 At 11:00 PM AST, the center of Tropical Storm Fiona was located near latitude 16.7ׄ°N, longitude 52.0°W. Fiona is moving toward the west-northwest near 26 KM/H.
Fiona is an asymmetric storm with all its thunderstorms and strong winds currently located on the system's east side. The lopsided structure is due to moderate west-southwesterly vertical wind shear.
A low- to mid-level subtropical ridge over the central Atlantic should steer the system westward to west-northwestward during the next several days, taking the cyclone across the northern Leeward Islands by Friday night, near the Virgin Islands and Puerto Rico on Saturday, and near Hispaniola on Sunday and Monday. By Monday, the system is forecast to turn to the northwest.
Satellite-derived wind data indicate that maximum sustained winds have increased to near 85 KM/H with higher gusts. Given the current tilted and asymmetric structure, continued influences of shear, and some dry air, any storm strengthening will likely be slow to occur during the next day. However, when this system moves near the Greater Antilles and avoids the landmasses of Hispanola and Puerto Rico, Fiona could become stronger than explicitly forecast.
Tropical-storm-force winds extend outward up to 220 kilometers east of the center. The estimated minimum central pressure is 1002 millibars.
Tropical Storm Fiona's Watches & Warnings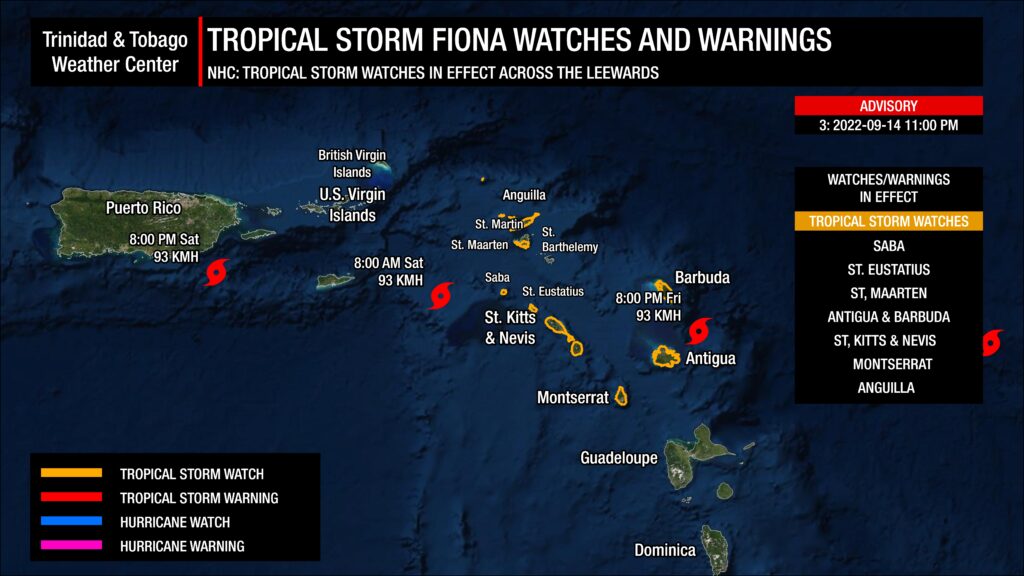 A Tropical Storm Watch is in effect for:
Saba and St. Eustatius
St. Maarten
Antigua, Barbuda, St. Kitts, Nevis, Montserrat, and Anguilla
A Tropical Storm Watch means tropical storm conditions are possible within the watch area, generally within 48 hours. Interests elsewhere in the northern Leeward Islands, the Virgin Islands, Puerto Rico, and Hispaniola should monitor the progress of this system, as additional tropical storm watches or warnings will be required for portions of those areas on Thursday.
This system is of no direct threat to Trinidad and Tobago.
Hazards Affecting Land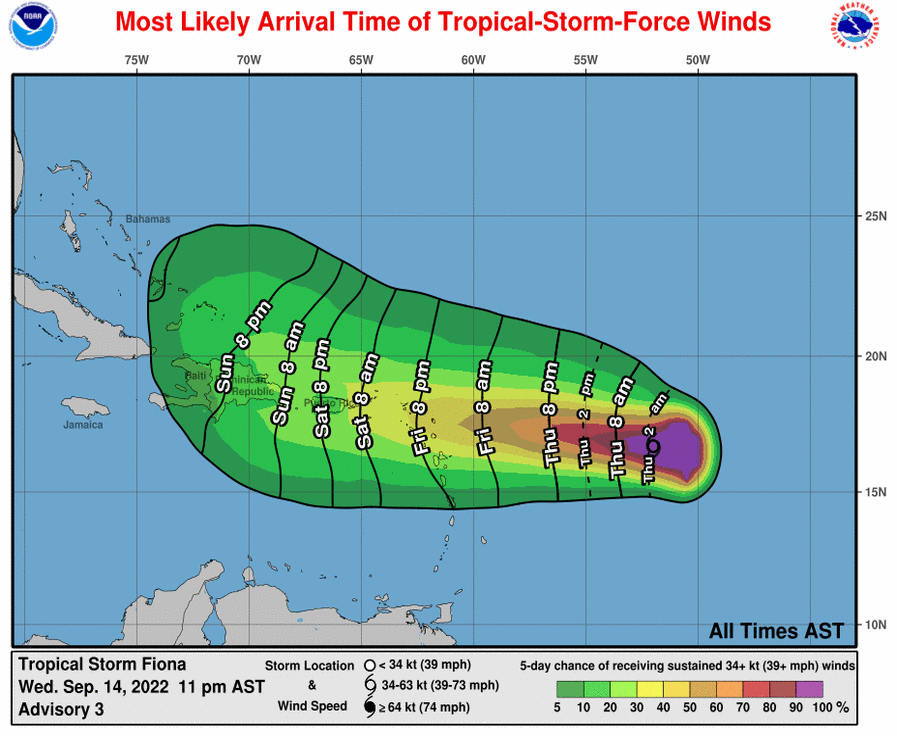 RAINFALL: Fiona is expected to produce total rainfall accumulations of 3 to 5 inches (75-125 millimeters) with maximum totals of 8 inches (200 millimeters) across the northern Leeward Islands, the British and U.S. Virgin Islands, Puerto Rico, and eastern Hispaniola. Flash, urban, and stream flooding will be possible. Rapid rises on rivers are also possible in Puerto Rico, with mudslides possible in elevated areas.
WIND: Tropical storm conditions are possible across portions of the northern Leeward Islands by Friday night, where a Tropical Storm Watch has been issued.
SWELLS: Swells generated by Fiona are expected to begin affecting the northern Leeward Islands on Friday. These swells could cause life-threatening surf and rip current conditions.
How Will Fiona's Proximity Will Influence T&T's Weather?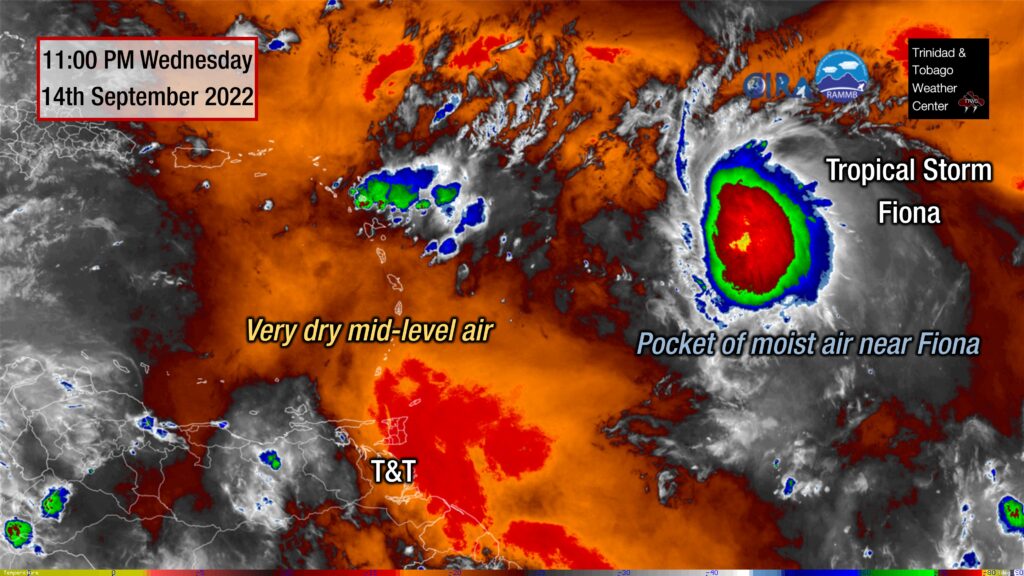 As with all tropical cyclones passing safely north of the Windwards, the high-pressure ridge pattern typically in place across the region, producing winds from generally the east, will be eroded. This will result in light to near calm and variable winds across Trinidad, Tobago, and other islands across the Windwards leading to very high daytime maximum high temperatures and uncomfortably warm nights.
While similar activity is forecast across the other islands, specifically for Trinidad and Tobago, by the afternoon on Thursday, due to sea breeze convergence, daytime heating, and orographic effects, localized showers and the odd thunderstorms are possible, initially favoring western coastal areas but spreading across mainly Trinidad.
By Friday, a surface to low-level trough induced by Fiona will be present across Trinidad and Tobago and the remainder of the Windwards. This trough, an increase in atmospheric moisture and convergence, and a change in the wind direction from predominantly the south to the southeast will increase rainfall chances into the weekend. With a southeasterly or southerly wind direction, late afternoon to nighttime thunderstorms that develop along coastal Venezuela may approach southern Trinidad and into the Gulf of Paria. Still, strong northeasterly wind shear will limit both strength and coverage of thunderstorms from spreading across the country.
This trough is forecast to remain on Saturday, while a trailing area of convergence will maintain unsettled weather and cloudy conditions across the region. However, a caveat will prevent widespread rains across Trinidad, Tobago, and the remainder of the Windwards – dry air at the mid-levels of the atmosphere.
Total precipitable water is a measure of atmospheric moisture. Think of the atmosphere as a wet towel. The total precipitable water amount of water collected below is if that towel is wrung. Generally, it is a good measure of how much moisture is available for showers and thunderstorms. However, when looking at different levels of the atmosphere over the next several days, dry air at the mid-levels, which is also plaguing Fiona, will remain present across Trinidad and Tobago.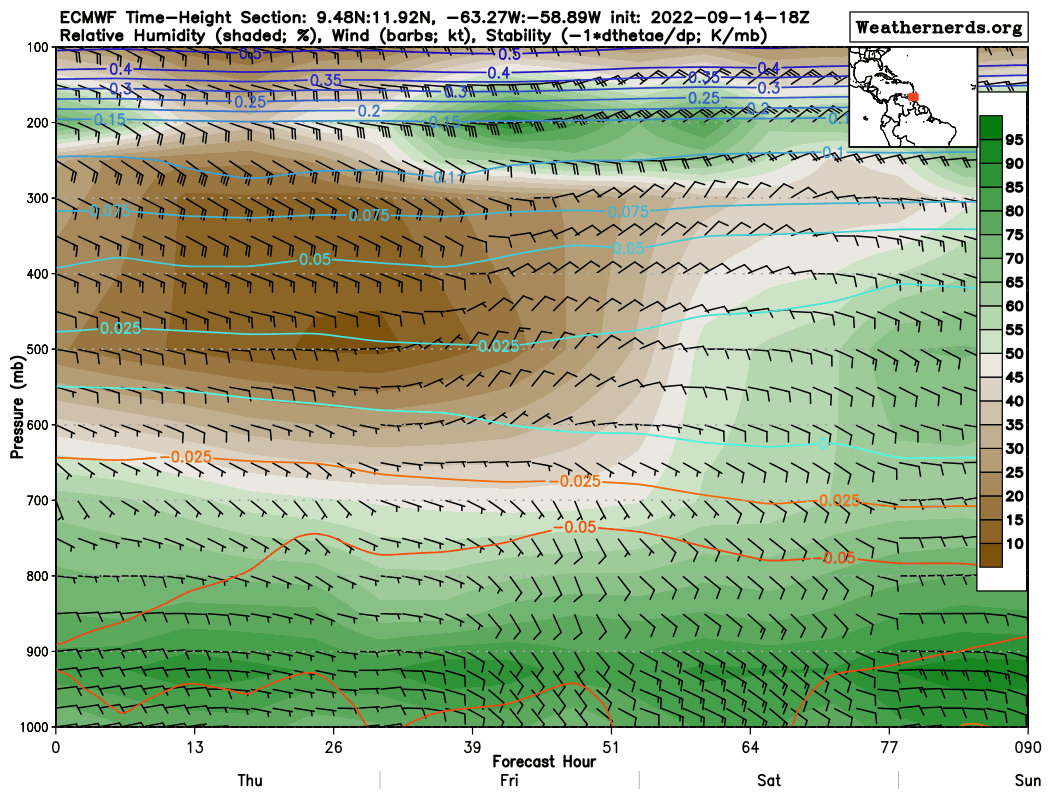 As seen above, using another measure of moisture – relative humidity – the brown areas indicate areas of dry air while the green areas indicate areas of moist air. Until Saturday, the mid to upper levels remain very dry, which is not favorable for deep convection (strong showers and thunderstorms.)
Additionally, moderate to strong wind shear between 20 and 40 knots from the northeast will prevent further deep convection across Trinidad and Tobago.
Ultimately, mostly sunny skies and high temperatures are forecast through Friday, with isolated and slow-moving thunderstorms, mainly across Trinidad and, to a lesser extent, Tobago, producing localized inclement weather over the weekend. We'll be looking out for highly localized gusty winds, localized to sporadic reports of street/flash flooding, and frequent cloud-to-ground lightning if strong thunderstorms develop mainly on Saturday and possibly on Sunday afternoon.