Light winds, mostly sunny skies (at the start of today), and sufficient moisture led to today being the hottest day for 2022 across Trinidad, based on temperatures recorded at Piarco. This is the climate reference site for Trinidad, while across Tobago, the climate reference station is at Crown Point.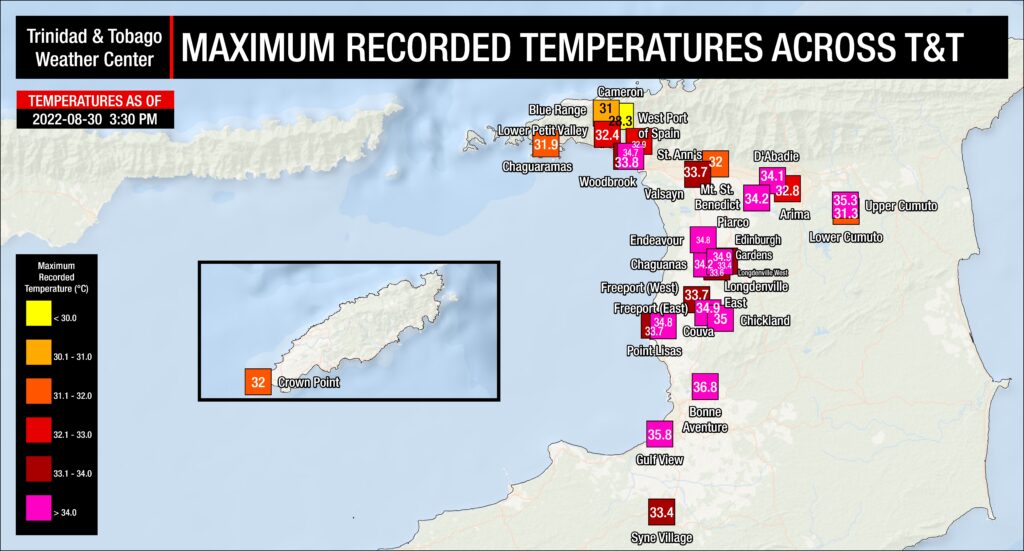 On Tuesday, across most of the country, temperatures ranged between 33.0°C and 36.0°C, mainly across Trinidad. In urban areas and areas where development is prevalent, temperatures trended higher.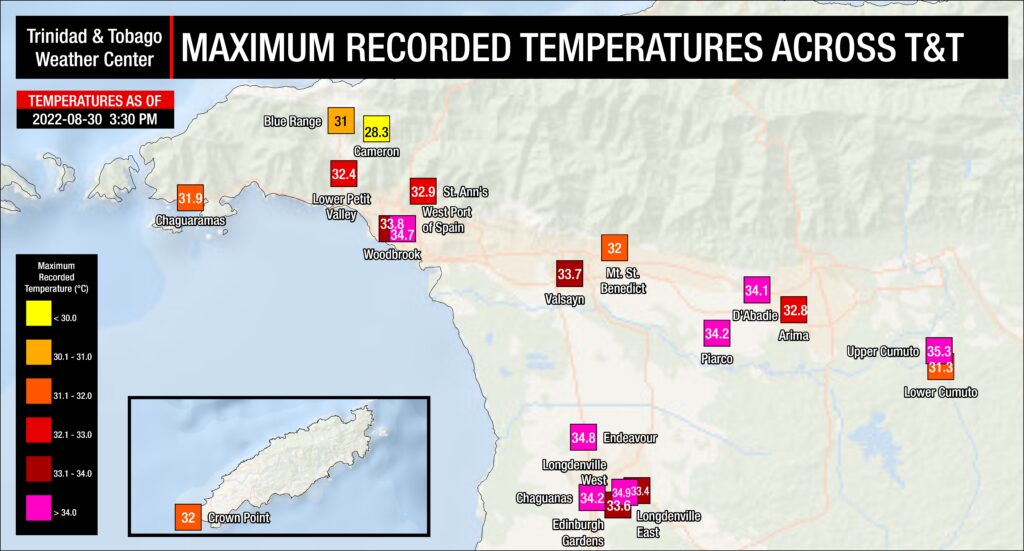 The maximum recorded temperature occurred at the Piarco International Airport came in at a scorching 34.2°C, recorded by the Trinidad and Tobago Meteorological Service (TTMS). Since this is the official temperature monitoring station for T&T's records, this marks the hottest temperature for the year to date, beating the previous highest maximum temperature at Piarco on August 17th.
Elevated but decreasing moisture was present across T&T, causing the heat index to be high, in the dangerous category across much Trinidad, while across few areas of northern Trinidad and Tobago, extreme caution was needed.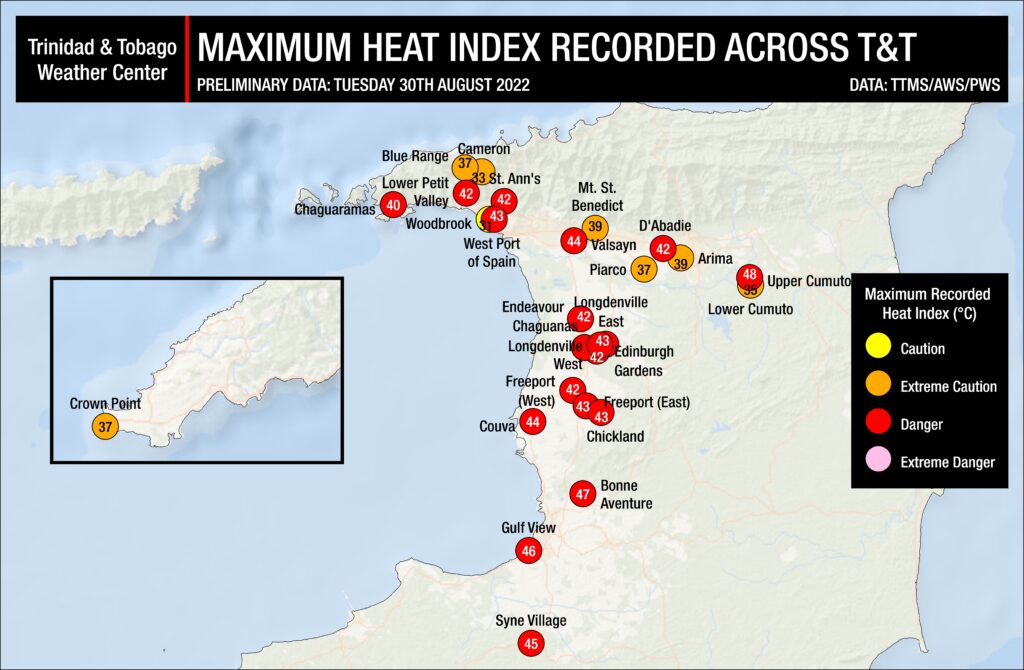 Where do these temperatures stand compared to our records? The hottest recorded temperature for August in Trinidad, according to the Trinidad and Tobago Meteorological Service (1946-2022), stands at 35.8°C recorded on August 23rd, 2017. At Piarco International Airport, the hottest temperature ever was recorded on September 25th, 1990, at 36.5°C.
Hot Temperatures Continue Into The Weekend
Across both islands, hot conditions are forecast over the next several days. The maximum high for Trinidad is forecast to be near 35.0°C, up to 38.0°C in urban and built-up areas, particularly between 9:00 AM and 3:00 PM. In Tobago, the maximum high is forecast to be near 33.0°C through Saturday.
Ahead and south of a tropical disturbance to our east, a dry airmass and light to near-calm winds are forecast to persist across the Windward Islands, including Trinidad and Tobago. These environmental factors will create conditions optimal for strong heating during the late morning and into the afternoon.
Temperatures in cities, such as Port of Spain, tend to be much higher than in surrounding locations due to a phenomenon called the Urban Heat Island Effect. There are several causes, but the main instigator for this phenomenon tends to be increased dark surfaces such as roads and pavement in cities, which absorb solar radiation more than surrounding areas.
The heat index will be between levels that require extreme caution to near dangerous levels through Saturday across Trinidad and Tobago. The heat index is a combination of air temperature and relative humidity, determining what the air feels like to a person, i.e., how hot it actually feels.
Across Trinidad, the maximum heat index is forecast to be between 35°C and 50°C and even higher in urbanized areas. In Tobago, the maximum heat index is forecast to be between 35°C and 42°C.
The heat index is important because of sweating. Your body sweats to cool the skin and maintain a constant, healthy body temperature. This cooling process means that the sweat has to evaporate off the skin to remove heat. However, if the sweat is unable to evaporate, the body isn't able to regulate temperature.
Is this a heatwave?
Not yet.
Currently, the forecast maximum high temperature is forecast to be between 33.0°C and 35.0°C at Piarco, Trinidad, and between 32.0°C and 33.0°C at Crown Point, Tobago. If the forecast temperatures materialize over the next three to four days, this could be classified as a short-duration hot spell across Trinidad.
For a hot spell to be declared in Trinidad and Tobago by the Trinidad and Tobago Meteorological Service, a period of hot temperatures, characterized by maximum temperatures of at least 34.0°C in Trinidad and 32.0°C in Tobago, lasting five or more consecutive days. A short-duration hot spell is three or more consecutive hot days.