Shortly before 7:00 PM Monday, the South Oropuche River, in the vicinity of the Tulsa Trace Picnic Site, breached its banks. Residents of Suchit Trace, Gopie Trace, Gopie Branch Trace #2, Rahamut Trance (north of South Oropuche River), and Tulsa Trace should all be on high alert.
According to the Councilor for Debe South, Khemraj Seescharan, "The breach is about 50 feet wide, sending thousands of gallons of water into the Black Water River, which will push up steam into the communities."
The Penal Debe Regional Corporation has activated an emergency shelter at the Barrackpore Regional Complex. For those wishing for sandbags or to be evacuated, contact the Penal Debe Regional Corporation Disaster Management Unit at 800-PDRC (7372).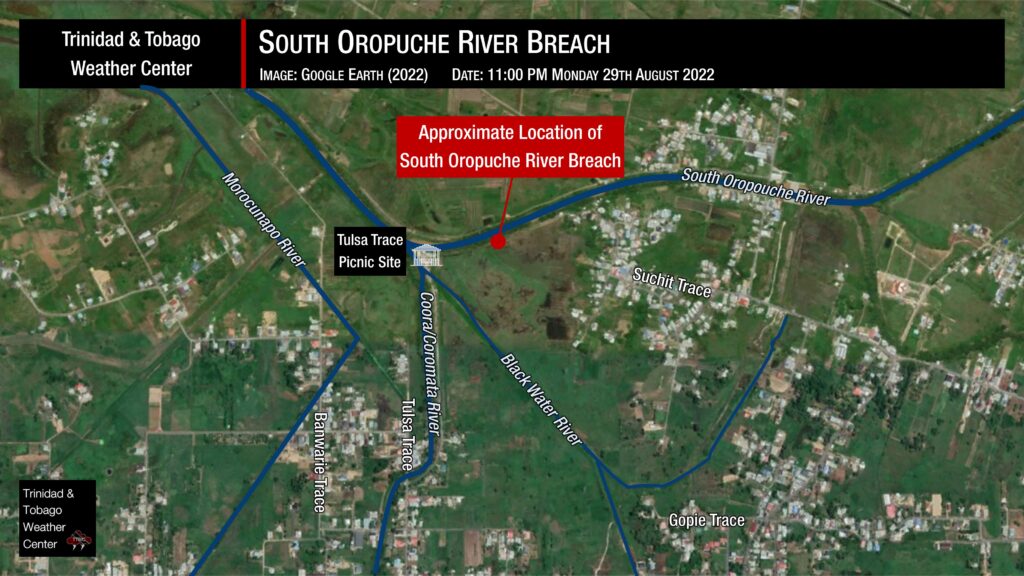 Earlier on Monday, water began flowing upstream of the Black Water River, according to the Member of Parliament for Oropouche West, Davendranath Tancoo.
Mechanisms in place for aiding runoff have not been optimal. The flood pump at Tulsa Trace, was not operating during the late evening into nightfall. However, residents in the area report that the pump has resumed operations as of 11:00 PM. Additionally, of the 14 floodgates of the South Oropuche River, only nine are operable, and only five were opened. During high tide periods (two hours before and after peak high tide), operators close the gates to prevent ocean water from flowing upriver. This closure also led to the South Oropuche River raising further.
Many areas of Woodland in South Trinidad remained under 1-3 feet of water on Monday, even before this breach of the South Oropouche River.
Riverine flooding is exceptionally dangerous, as large volumes of water can flood vast areas. Though floodwaters may appear still at eye level, strong currents are possible under the surface. Riverine flooding is unlike flash or street flooding, where it can last days. This can compromise roadways and infrastructure and send wildlife scampering for dry land like snakes, centipedes, caimans, and other creatures.
Flooding has affected parts of Barrackpore, Penal, Debe, Siparia, and Fyzabad over the last three days.
There are no alerts, watches, or warnings in effect for Trinidad and Tobago from the Trinidad and Tobago Meteorological Service at this time.