Periods of rain, moderate to heavy showers, and thunderstorms have affected Trinidad and Tobago over the last two days. This activity has mainly been associated with an active Intertropical Convergence Zone (ITCZ). With the ITCZ remaining present, Tropical Wave 25 on the approach, and river levels elevated, the Met Office has replaced the Localized Flood Alert with a Riverine Flood Alert.
What you need to know
— Rainfall: Through the next 48 hours, no additional significant rainfall is anticipated. However. isolated showers and isolated thunderstorms are possible, interrupting mostly sunny skies mainly across Trinidad. Through the weekend, additional rainfall totals between 5 and 15 millimeters are forecast, with isolated totals up to 25 millimeters possible across eastern and southern areas, as well as western coastal Trinidad.
— Hazards: Floodwaters continue to inundate low-lying areas near the Caroni and South Oropuche River Basins. Any additional rainfall in these areas can slow runoff and lead to high chances of street/flash flooding. Gusty winds in excess of 45 KM/H accompanying heavy showers or thunderstorms are possible. Lightning will accompany thunderstorms. Landslides are possible across northern and eastern areas of Trinidad and Tobago.
— Alerts/Watches/Warnings: The Trinidad and Tobago Meteorological Service has discontinued the Riverine Flood Alert (Yellow Level) on Friday at 3:36 PM. There are no tropical storm or hurricane watches or warnings in effect for T&T at this time.
The Trinidad and Tobago Meteorological Service has discontinued the Riverine Flood Alert (Yellow Level) on Friday afternoon at 3:36 PM.
Trinidad and Tobago is not under any tropical storm watch or warning at this time.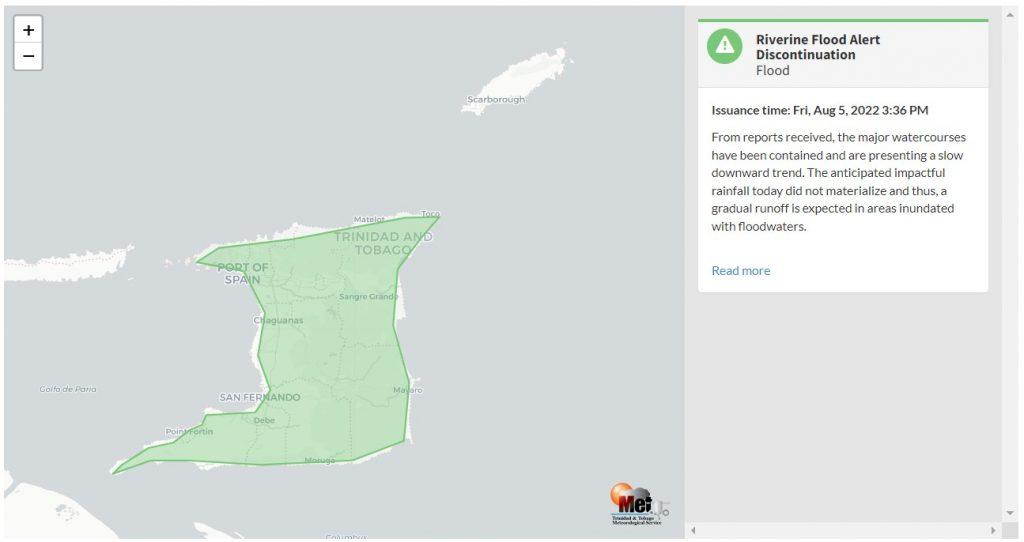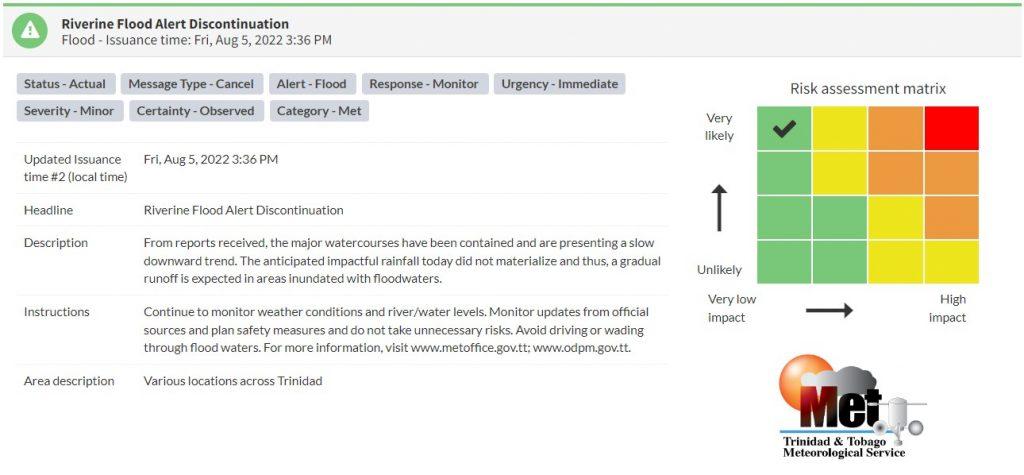 "From reports received, the major watercourses have been contained and are presenting a slow downward trend. The anticipated impactful rainfall today did not materialize, and thus, a gradual runoff is expected in areas inundated with floodwaters," according to the Trinidad and Tobago Meteorological Service.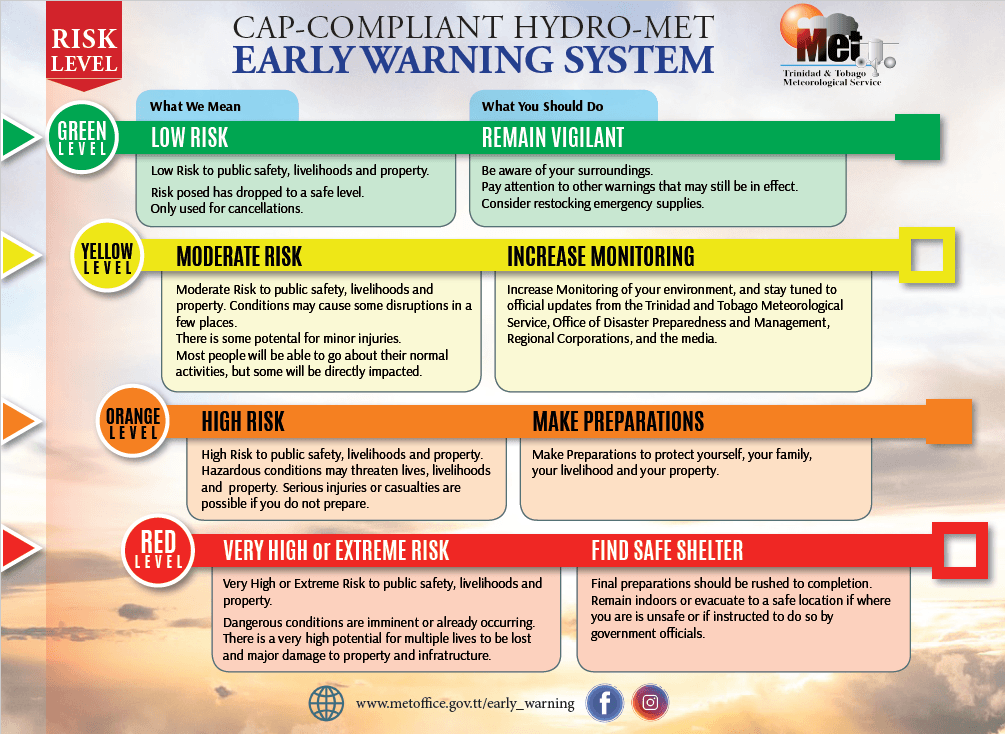 The color of the alert indicates the severity of the event and the probability of the event occurring. Currently, the alert level is at Green, as the discontinuation was issued, and the certainty is very likely.
At this level, according to the TTMS, there is a low risk to public safety, livelihoods, and property.
The Met Office is advising the public to continue monitoring weather conditions and river/water levels. Monitor updates from official sources and plan safety measures, and do not take unnecessary risks. Avoid driving or wading through flood waters.