The Ministry of Works and Transport (MOWTT) has closed the North Coast Road from Saddle Road to facilitate emergency interim works following a significant landslide on Friday, July 15th, 2022. The landslide occurred between Maracas Lookout and Maracas Bay.
According to the Ministry, works will commence at the 10-kilometer mark at 5:00 PM Saturday, July 16th, 2022, and run until 6:00 AM Monday, July 18th, 2022. The roadway will be impassable to vehicular traffic during this period. Only local traffic will be allowed past the pillars at Saddle Road up to the work zone.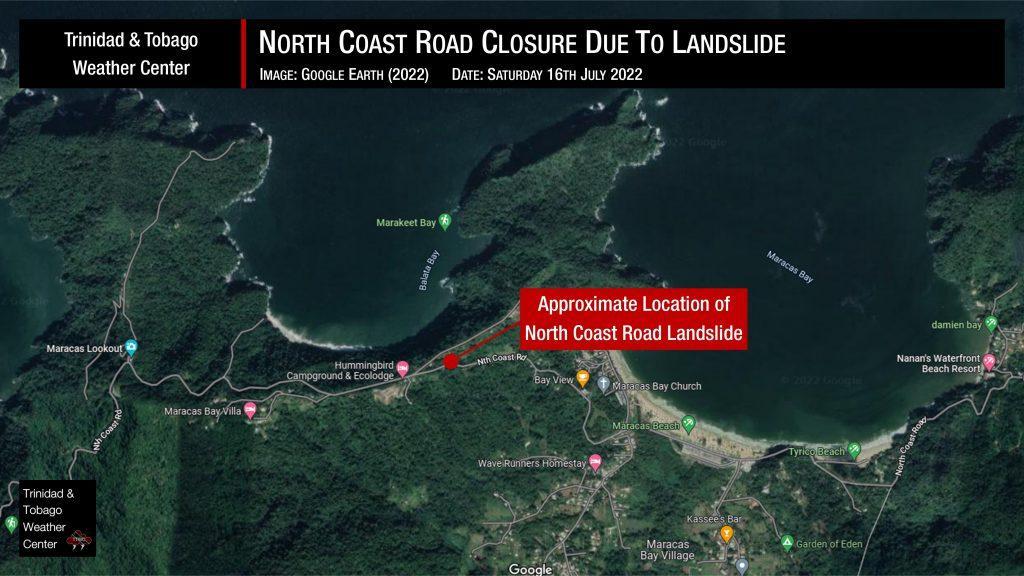 The Ministry is advising motorists to seek alternative routes where possible. For those traversing the area, the MOWTT has issued the following guidelines:
Proceed with caution and observe all signs and barriers
Comply with instructions from Police Officers or flag persons on-site to facilitate a safe and orderly traffic flow.
Be aware of heavy equipment in the work zone and entering or exiting the site.
Motorists should drive at a reduced speed and proceed cautiously on approaching the work zone.
On Friday, a strong tropical wave and the Intertropical Convergence Zone affected Trinidad and Tobago, causing multiple landslides along the North Coast Road. Floods and wind damage were also reported across both islands.
While another tropical wave nears, most of the activity is forecast to remain north of the country over the next 24-36 hours. Still, an Adverse Weather Alert (Yellow Level) went into effect for Trinidad and Tobago from 5:00 AM Friday, July 15th, 2022, and is now in effect through 12:00 PM Sunday, July 17th, 2022, from the Trinidad and Tobago Meteorological Service. There are no tropical storm or hurricane watches or warnings in effect for T&T at this time.