Heavy showers and thunderstorms have affected Trinidad and Tobago on Friday, associated with an active Intertropical Convergence Zone (ITCZ) and Tropical Wave 19. Additional intervals of showers and isolated thunderstorms over the next 18 hours as the ITCZ lingers, with Tropical Wave 20 also on the approach. Heavier activity is forecast to remain north of Trinidad and Tobago.
What you need to know
— Rainfall: Through the next 18 hours, isolated areas of rain, moderate to heavy showers, and isolated thunderstorms are forecast, interrupting variably cloudy skies. Peak intense activity, including isolated heavy to violent showers and intense thunderstorms, is forecast just before midnight across Tobago, eastern and northern Trinidad. Additional rainfall totals between 10-25 millimeters are forecast across the country, with higher rainfall totals up to and exceeding 25 millimeters and up to 50 millimeters across localized areas of the northern and eastern halves of Trinidad and across Tobago.
— Hazards: Chances for street/flash flooding are high through Monday. Chances for riverine flooding remain medium at this time, particularly the North and South Oropouche Rivers, as well as the Caroni River. Gusty winds in excess of 55 KM/H accompanying heavy showers or thunderstorms are likely, particularly on Sunday. Lightning will accompany thunderstorms.
— Alerts/Watches/Warnings: An Adverse Weather Alert (Yellow Level) went into effect for Trinidad and Tobago from 5:00 AM Friday, July 15th, 2022, and remains in effect through 12:00 PM Sunday, July 17th, 2022, from the Trinidad and Tobago Meteorological Service. There are no tropical storm or hurricane watches or warnings in effect for T&T at this time.
The Adverse Weather Alert
The Trinidad and Tobago Meteorological Service has updated an Adverse Weather Alert (Yellow Level) on Saturday at 4:09 PM. The alert went into effect at 5:00 AM Friday, July 15th, 2022, and remains in effect through 12:00 PM Sunday, July 17th, 2022.
Trinidad and Tobago is not under any tropical storm watch or warning at this time.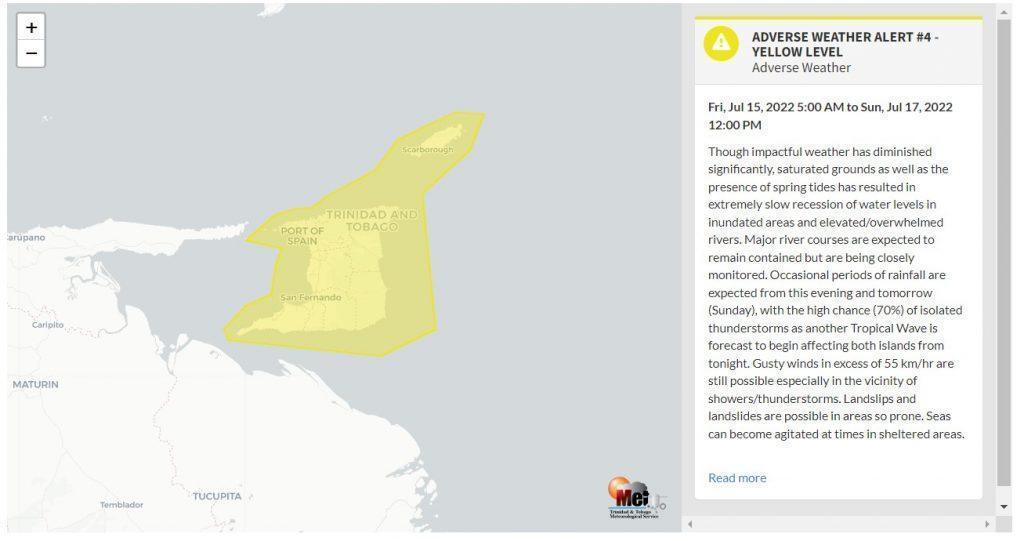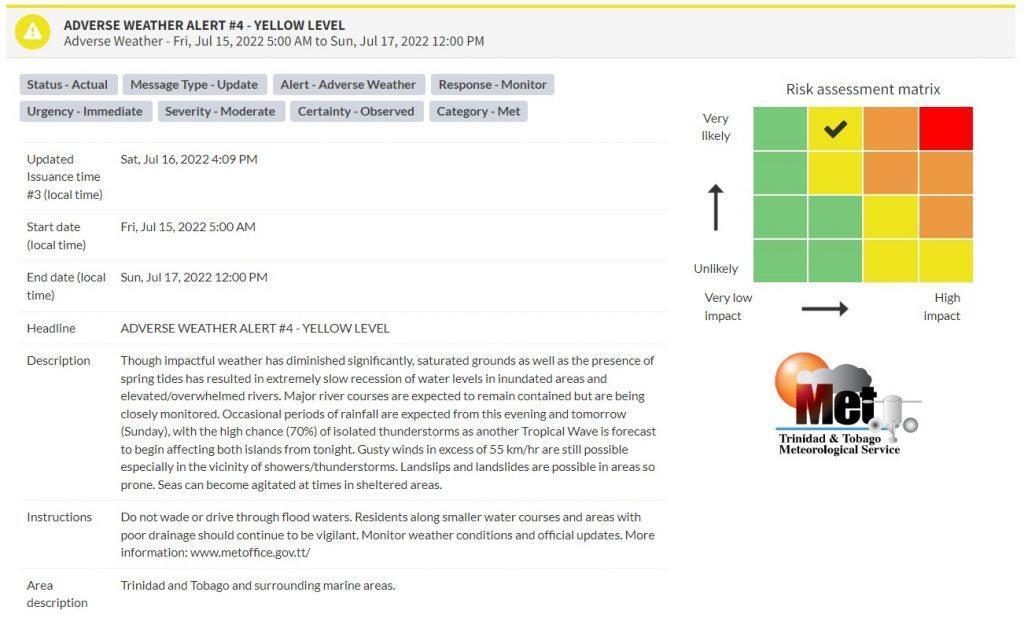 "Though impactful weather has diminished significantly, saturated grounds, as well as the presence of spring tides, has resulted in the extremely slow recession of water levels in inundated areas and elevated/overwhelmed rivers. Major river courses are expected to remain contained but are being closely monitored. Occasional periods of rainfall are expected from this evening and tomorrow (Sunday), with a high chance (70%) of isolated thunderstorms as another Tropical Wave is forecast to begin affecting both islands from tonight. Gusty winds in excess of 55 km/hr are still possible, especially in the vicinity of showers/thunderstorms. Landslips and landslides are possible in areas so prone. Seas can become agitated at times in sheltered areas," according to the Trinidad and Tobago Meteorological Service. This "alert" status takes into account the possibility of the event occurring. This adverse weather event has been observed.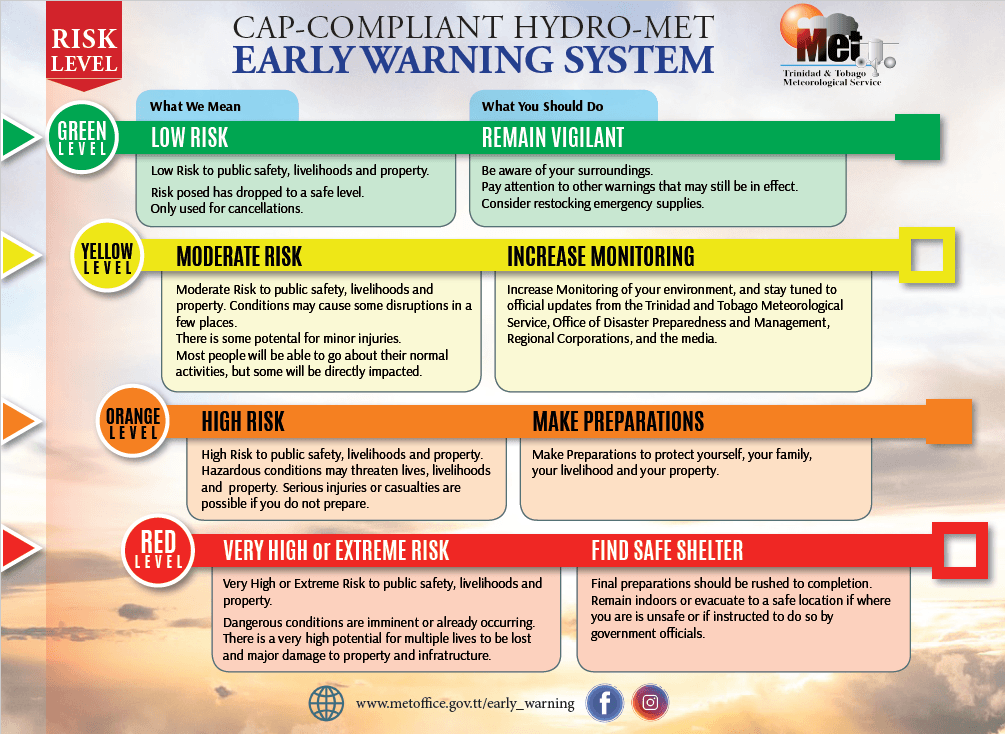 The color of the alert indicates the severity of the event and the probability of the event occurring. Currently, the alert level is Yellow. This means that the hazards have been observed, but the severity of impacts is moderate for this particular alert. You should be aware of the hazards in your area associated mainly with gusty winds in excess of 55 KM/H, street, and flash flooding as well as frequent lightning.
For a moderate Adverse Weather Alert, there is the potential for possible injuries, where behavioral changes are required to ensure safety. There may be minor damage to property, with income-earning temporarily disrupted and a couple of communities affected.
The Met Office is advising the public to be alert for cloud-to-ground lightning activity and not venture into floodwaters, secure loose objects outdoors as well as monitor weather conditions and updates from official sources. In addition, residents along smaller water courses and areas with poor drainage should continue to be vigilant
Small craft operators should be on the alert for above-normal or choppy sea conditions in strong winds.