The National Hurricane Center has officially been monitoring a surface trough that has developed off the Florida Panhandle for tropical cyclone development, but those chances are fading as of Wednesday morning. Further east, models are hinting at some development of a tropical wave, even in the face of highly unfavorable conditions.
What you need to know
— Surface Trough off Florida: This system has a low chance of tropical cyclone formation. Regardless of development, heavy rainfall and the potential for flooding exist along the eastern U.S. Gulf Coast.
— Tropical Wave 19: Development of this system remains unlikely, but strong winds near the northern end of the wave axis are likely to develop as it nears the Lesser Antilles. Regardless of development, the strongest winds and heaviest rains are forecast to remain well north of T&T, potentially affecting islands between Barbados and St. Vincent, northward to Dominica and Guadeloupe.
— For Trinidad and Tobago: There are no alerts, watches, or warnings in effect for T&T from the Trinidad and Tobago Meteorological Service at this time. There are also no tropical storm or hurricane watches or warnings in effect for T&T. The Intertropical Convergence Zone, a strong trough system, and Tropical Wave 19 are all set to bring rains and thunderstorm activity to the country from Friday into the weekend.
Surface Trough Near Florida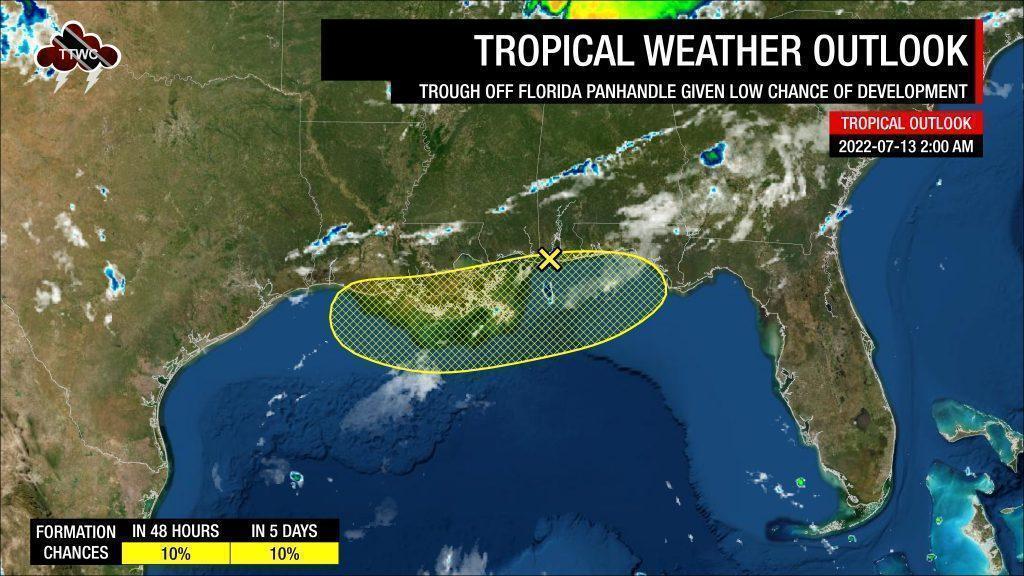 For the last few days, the National Hurricane Center (NHC) has been monitoring a developing surface trough off the U.S. Gulf Coast in the Gulf of Mexico. This trough system continues to hug the coastline, which has since limited tropical cyclone development.
Convection still took advantage of the anomalously warm ocean, with sea surface temperatures of 30-32°C (86-90°F) are 1-2°C (about 2-4°F) above average for this time of year, and produced heavy rainfall across northern Florida since Monday.
According to the NHC in their latest tropical update, the trough continues to produce disorganized showers and thunderstorms in the northern Gulf of Mexico. With the system drifting towards the north over the next few days, significant development of this system remains unlikely. Still, the NHC warns additional heavy rains will pose a risk of flash flooding along portions of the northern Gulf Coast from Louisiana to the Florida Panhandle over the next several days. Development chances are low, at 10% over the next 48 hours and five days.
Tropical Wave 19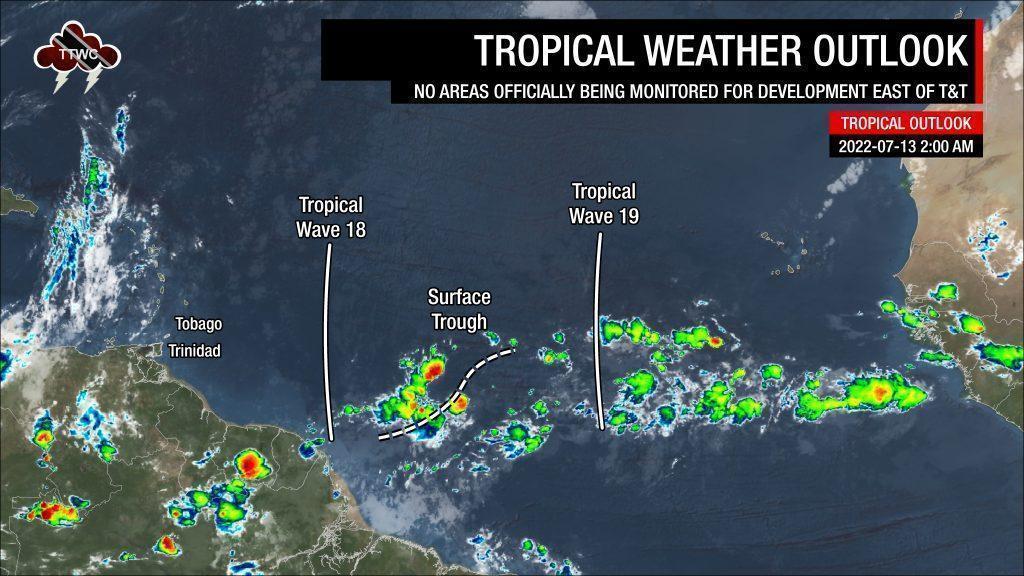 For those concerned about an impending tropical cyclone in the Lesser Antilles – tropical cyclone development of Tropical Wave 19 is not expected. The National Hurricane Center has not officially tagged the wave for development in any of their recent tropical updates. Very few models show a weak, broad area of low pressure developing over the next few days as the wave nears the Lesser Antilles sometime on Saturday into Sunday. Some of these models have made it into the public domain, spurring some concerns.
As of 2:00 AM Wednesday, Tropical Wave 19 was located along 33/34°W from approximately 20°N, moving west at 15 knots (28 KM/H). It is forecast to move across the Lesser Antilles on Saturday, July 16th, 2022, into Sunday, July 17th, 2022.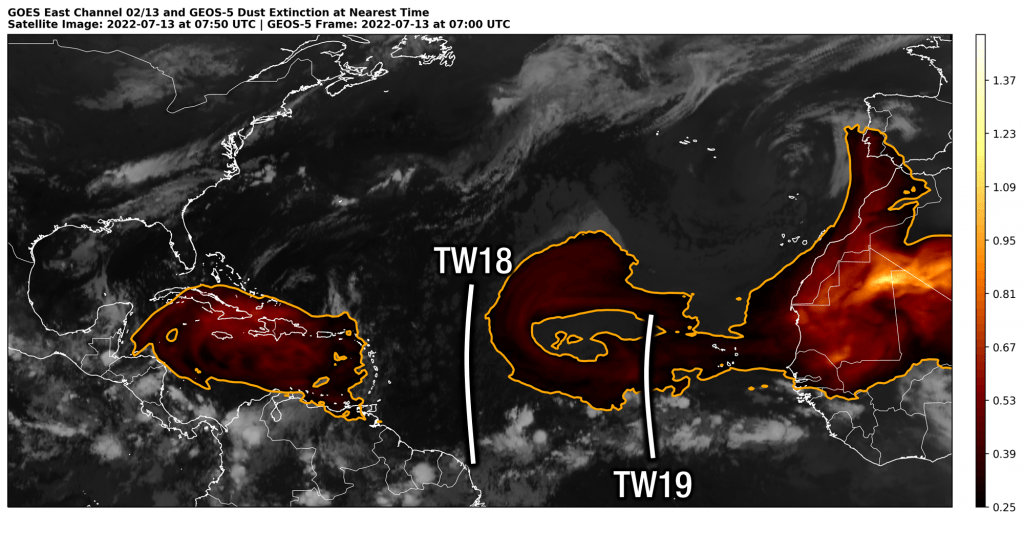 Background conditions are not favorable at this time in the Main Development Region. Firstly, significant concentrations of Saharan Dust exist across the northern portion of the wave axis, as well as north and east of the tropical wave – directly in its forecast path. This presence of abundant Saharan Dust results in a fairly dry low to mid-level environment, suppressing convection needed for any tropical system to organize and will also reduce rainfall as it moves across the region this weekend.
Currently, the southern portion of the wave is located within the Intertropical Convergence Zone (ITCZ), where most of the convection (shower and thunderstorm activity) is located. This particular pocket of convection is what models are honing in on and attempting to develop. This is where the second hurdle exists when embedded ITCZ systems detach from this area of natural convergence, convection struggles to persist.
Still, some forecast models show this wave becoming a strong tropical wave as early as mid-Thursday and making a mostly west to west-northwest path towards the Lesser Antilles.
This path also brings some difficulties for the system. Initially, an upper-level trough will extend southwestward across the Leewards into the Eastern Caribbean Sea. This places the Lesser Antilles on the divergent side of the trough, which enhances convection. However, as this system tracks directly into the trough, very strong wind shear from the southwest to the northeast would tear any convection apart, significantly limiting any development.
All things considered – development is not likely, but a strong tropical wave is set to affect portions of the Lesser Antilles on Saturday.
Of the top three global models, the European (ECMWF) is the earliest, showing active weather moving across the Lesser Antilles from Friday night, while the GFS shows showers, thunderstorms and gusty winds moving across the region mainly from Saturday afternoon. with peak inclement weather on Saturday night. The UKMET trends closer to the ECMWF, with active weather moving across the Windwards Friday night into Saturday morning.
The Forecast
All forecast models show the heaviest rains and strongest winds associated with the tropical wave moving across the Lesser Antilles sometime Friday night into Saturday.
Current model guidance, as of Wednesday, July 16th, 2022, shows the heaviest rains and strongest winds predominantly affecting islands north of Barbados and St. Vincent, northward to Dominica and Guadeloupe.
The strongest winds (generally sustained up to 50 KM/H and gusts up to 70 KM/H), regardless of development, are forecast to track north of Barbados and St. Vincent, affecting as far north as Guadeloupe.
As showers and isolated thunderstorms are forecast to be fairly fast-moving, with Saharan Dust suppressing developing showers and thunderstorms, rainfall accumulations between 25 and 50 millimeters are possible, with higher totals favoring the Atlantic-facing (windward) sides of the Lesser Antilles' islands.
Nearly all of the impactful weather associated with Tropical Wave 19 is forecast to remain north of Trinidad and Tobago. In fact, due to the track mainly north of T&T, near-calm to light winds and even some sunshine may be possible on Saturday into Sunday. However, with a potentially strong trough, and the ITCZ affecting T&T from Friday, T&T is by no means in the clear from possible heavy rainfall and isolated gusty winds associated with heavy showers and thunderstorms.
Read More
2:00 AM Tropical Weather Outlook as of Friday, August 19th, 2022.
With over four and a half months of the 2022 Atlantic Hurricane Season to go, let these active tropical waves serve as a reminder that it only takes one system to directly impact your country to make it an active one. Here are some things you can do ahead of impending severe weather to make yourself and your family more prepared:
Stock your emergency kit
Clean your surroundings and gutterings
Secure light or loose objects outdoors
If your roof is unsecured, purchase and install hurricane straps
Clear larger trees near your home
Ensure you have batteries and battery packs for your flashlights, radios, and mobile devices
Ensure you have sufficient gas for gas-powered stoves and vehicles
Ensure you have adequate dry foods and water to rally through an extended power outage (generally, the rule of thumb is 72 hours).
Stock up on candles and mosquito repellant.
Ensure you have alternative means of communication (like a battery-powered radio) if the internet or television goes down.
Have a trusted source of information for the latest news before, during, and after a storm.