All eyes are east of Trinidad and Tobago as a trio of tropical waves are forecast to affect the country over the next five days. However, one has had our close attention for the better part of a week – Tropical Wave 12, now called Invest 94L.
The center of this disturbance is over 2,300 kilometers east-southeast of Trinidad and Tobago as of 8:00 AM Sunday, June 26th, 2022. Model guidance has remained consistent on when and where this disturbance – or eventual tropical cyclone – will traverse.
What we know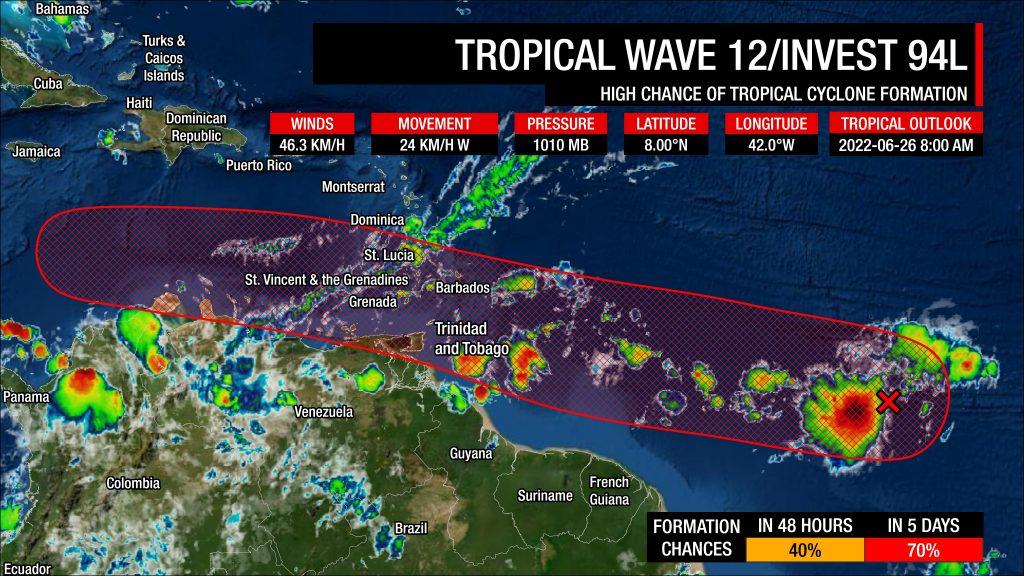 In their 8:00 AM Tropical Weather Outlook, the National Hurricane Center (NHC) has given Tropical Wave 12 (Invest 94L) a medium chance of tropical cyclone formation over the next 48 hours and a high chance over the next five days, at 40 percent and 70 percent respectively.
Overnight, shower, and thunderstorm activity increased near the wave axis, with strong thunderstorms noted, centered near 8°N, 40°W. The wave is located in a high-moisture, low to medium-shear environment with warm sea-surface temperatures near 28°C, favorable upper-level divergence, and low-level convergence – all ingredients supportive of showers, thunderstorms, and tropical cyclone formation.
The National Hurricane Center says a tropical depression will likely form during the early to the middle part of this week. The system is moving to the west/west-southwest at 15 to 20 MPH (24-32 KM/H) over the central Tropical Atlantic.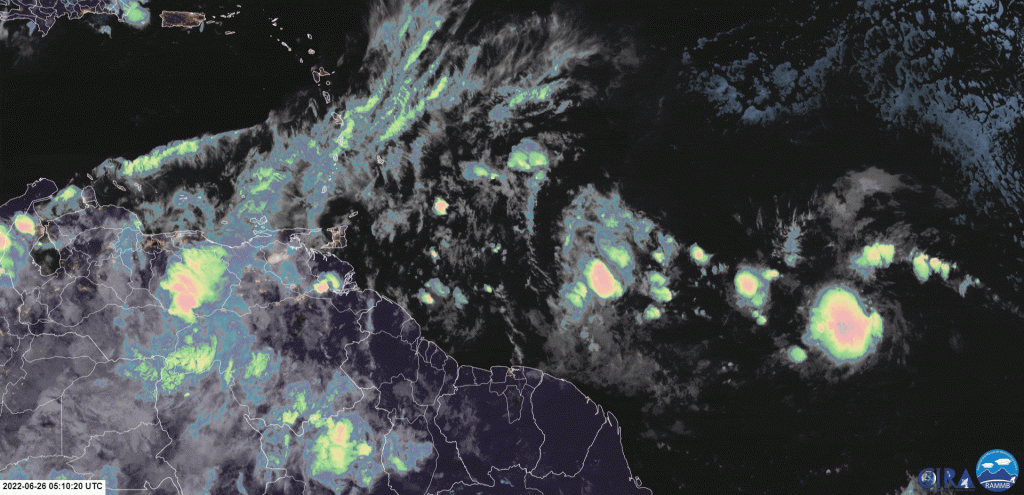 What the models are showing
Over the last three to four days, there has been remarkable consistency in the timing and location of where this disturbance will track, though there is some notable spread on Invest 94L's intensity.
However, with compact systems like Invest 94L, subtle changes in the track could mean a direct hit or a complete miss.
Timing
The top three models for tropical cyclone development: the European Center for Medium-range Weather Forecasting (ECMWF) global forecast model, the National Oceanic and Atmospheric Administration (NOAA) Global Forecast System (GFS) model, and the United Kingdom Met Office's global forecast model (UKMET) has the center of this disturbance tracking:
5:00 PM – 11:00 PM Tuesday: Outer bands moving across Barbados, Tobago first, then across Trinidad.
11:00 PM Tuesday – 2:00 AM Wednesday: Center of disturbance tracking in the vicinity of T&T.
2:00 AM – 5:00 AM Wednesday: Center of disturbance moving into the Caribbean Sea between the Paria Peninsula and Grenada.
While the general timing of this system is fairly well established across top models, there is still sizable uncertainty for systems that have not yet formed.
Location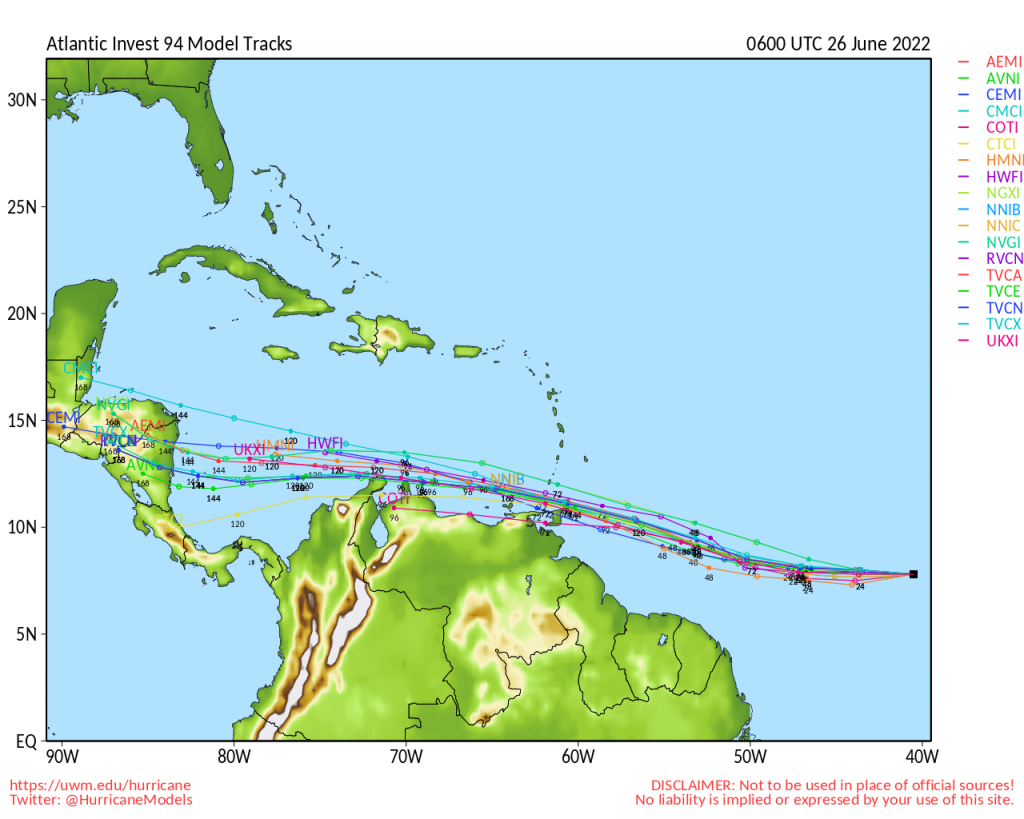 A large high-pressure ridge anchored in the far North Atlantic Ocean will continue to steer Invest 94L west-southwestward over the next several hours before taking a most westerly to west-northwesterly track by late Sunday (tonight).
Given the compact size of the disturbance, subtle changes in the eventual track of the low-level center could result in T&T missing the strongest winds and rains. However, based on all model guidance available, this system will likely track close to or even across T&T.
The ECMWF has a compact low-pressure system tracking across eastern Tobago, keeping the center of circulation north of T&T. Meanwhile, the GFS shows a broader area of low pressure moving across both T&T. The UKMET model is between the GFS and ECMWF, showing a broader area of low pressure marginally strengthening as it moves between T&T, or across northeastern Trinidad. Other tropical models show similar solutions between the GFS and ECMWF locations.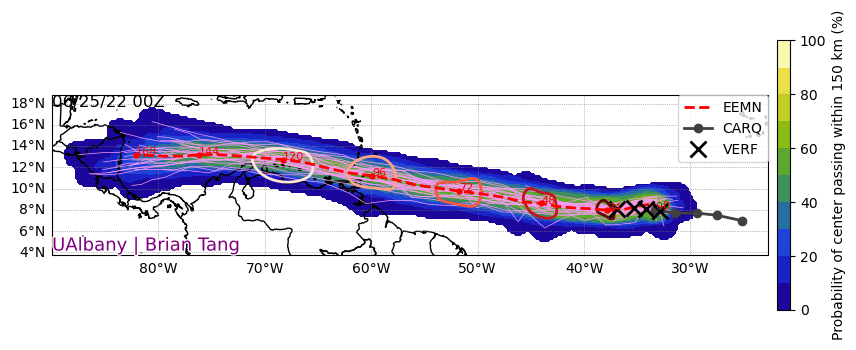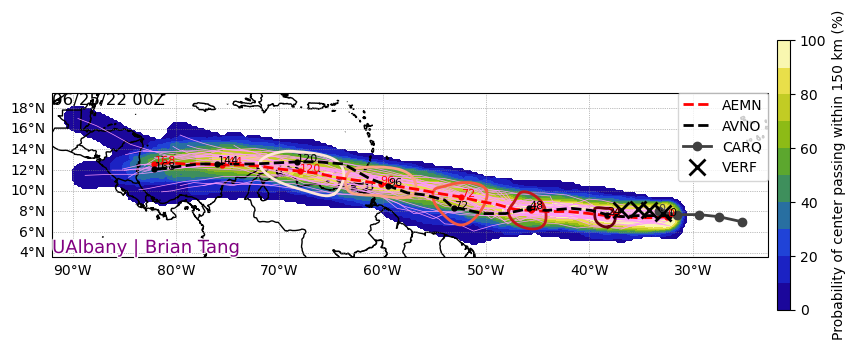 The latest runs of the GFS model continue to show a more southerly track. Still, this southerly bias seems to be a shortcoming of the model, as it tends to overdo the influence of convection over South America, tugging systems further south than expected. The ECWMF, on the other hand, has been closely tracking the actual motion of Invest 94L since the system was designated an Invest.
Given this system is forecast to generally remain compact with the strongest winds north of the low-pressure center, a track across or north of Tobago would keep elevated sustained winds and gusts north of Trinidad and Tobago, primarily impacting other Windward Islands like Grenada, the Grenadines, St. Vincent, and even Barbados.
When systems move north of the country, south to north wind flow takes shape across Trinidad and Tobago, leading to flooding rainfall along the south-facing slopes of mountain ranges across the country.
Intensity
Regardless of development and whether it is classified as a tropical depression or tropical storm, this tropical wave is forecast to have strong sustained winds north of its circulation while still bringing significant rainfall accumulations to T&T and the Windwards south of St. Lucia late Tuesday into Wednesday.
What is required for a tropical cyclone to be classified?
A non-frontal low-pressure system of synoptic scale developing over warm waters having organized deep convection and a maximum sustained winds of 34 knots (63 KM/H) or greater extending more than halfway around near the center and persisting for at least six hours. There also needs to be a closed surface wind circulation around a well-defined center. Systems can also be given tropical depression status if it meets the tropical cyclone definition but maximum sustained winds are less than 34 knots or 63 KM/H.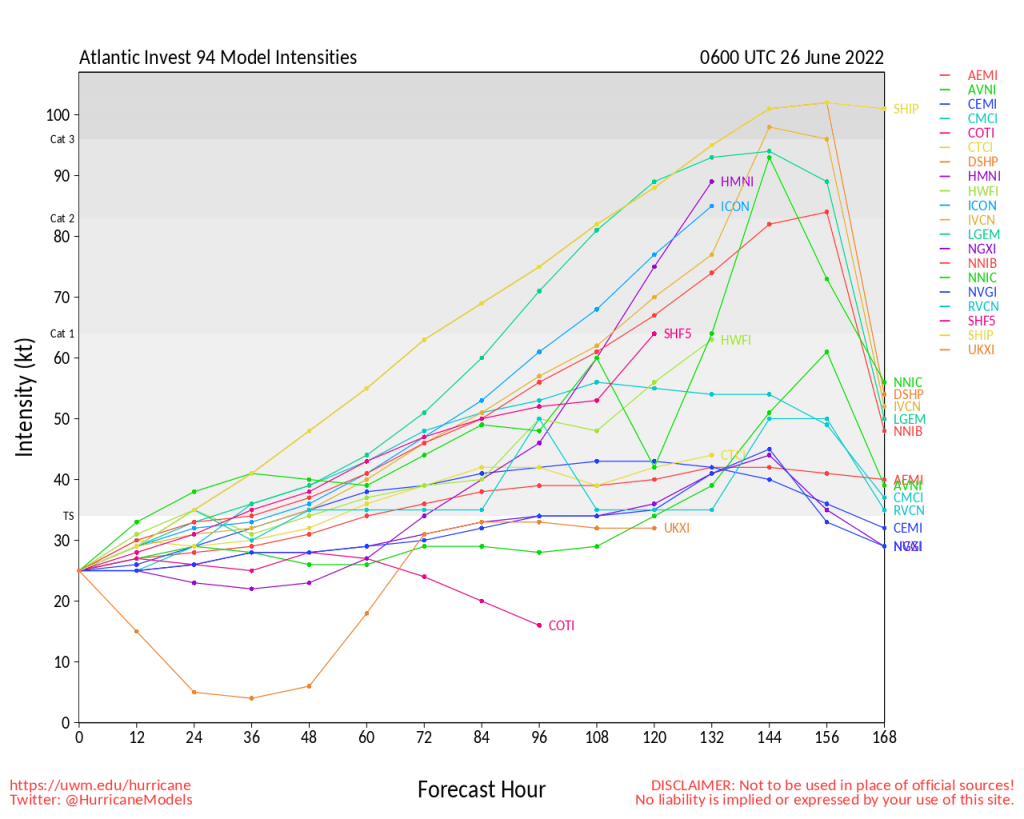 As of 06Z Sunday, June 26th, 2022, most models show either a system of a tropical depression or weak tropical storm strength as it nears T&T (at the 72-hour mark).
As the system tracks near or over T&T, among the top three operational runs of the GFS, ECMWF, and UKMET, forecast models show sustained winds between 35-55 KM/H with wind gusts to 85 KM/H. However, the strongest winds are still appearing to remain north of the country, affecting Grenada to St. Vincent.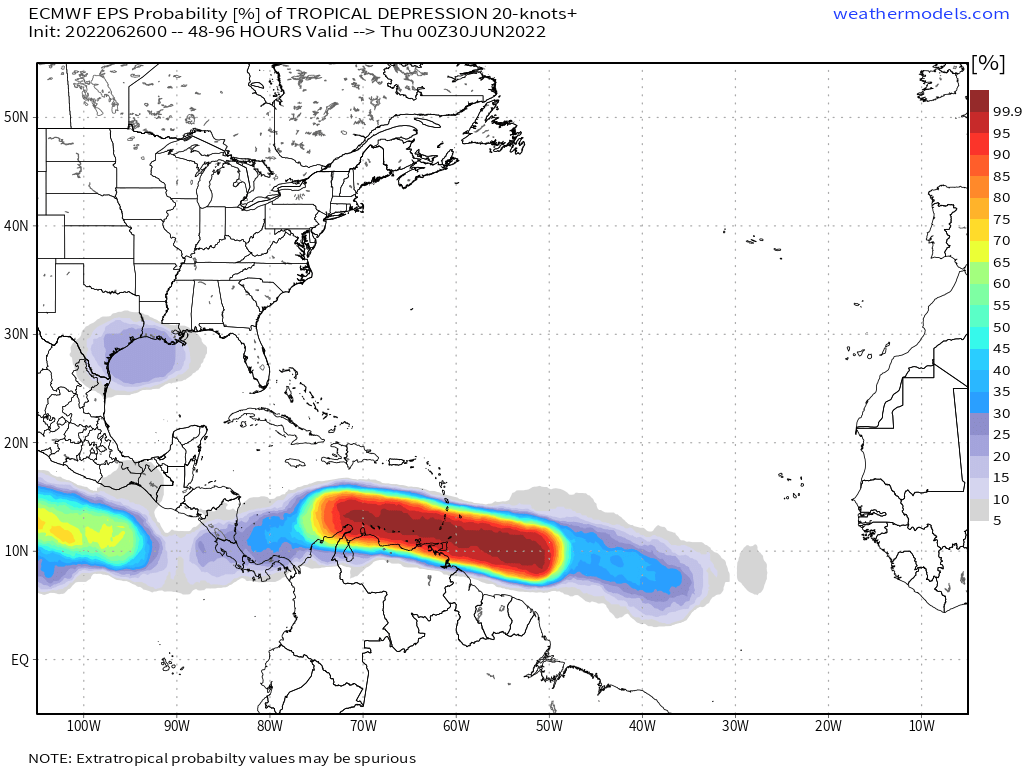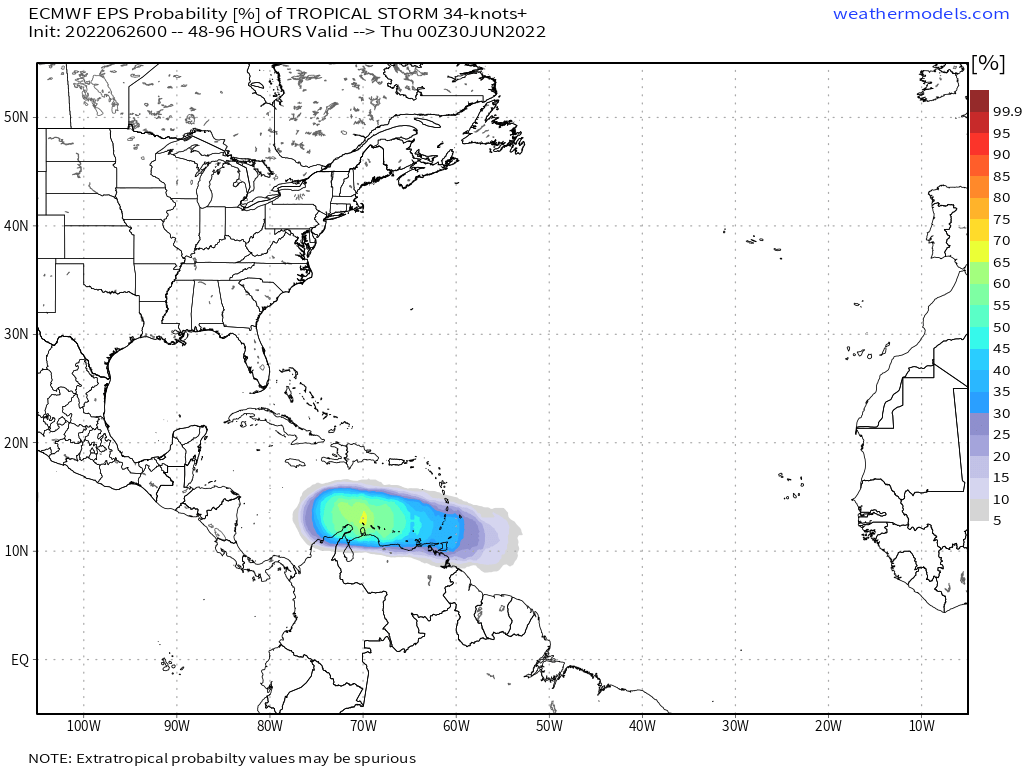 As of June 26th, 2022, sustained winds up to 40 KM/H are possible across Trinidad and gusts up to 55 KM/H, while in Tobago, sustained winds up to 50 KM/H are possible with gusts to 60 KM/H.
While gusty winds are possible, the main hazard, based on model data, is forecast to be heavy rainfall. Over the next five days, through Friday, July 1st, 2022, between 75 and 125 millimeters of rainfall is forecast across T&T, with isolated totals in excess of 150 millimeters. Similar rainfall totals between 25 and 75 millimeters, with localized higher totals, are forecast across Grenada, St. Vincent and the Grenadines, Barbados, and St. Lucia.
The Bottom Line
At this time, Trinidad and Tobago is not under any tropical storm watch or warning.
Regardless of development, a strong tropical wave is forecast to move across Trinidad and Tobago on Tuesday night into Wednesday. Though strong winds remain a possibility, particularly for Tobago, forecast models continue to keep hazardous winds north of the country, resulting in mainly a heavy rainfall event for both islands.
With Tropical Wave 11 on Sunday into Monday, Invest 94L on Tuesday into Wednesday, and Tropical Wave 13 on Friday into Saturday, all while the ITCZ lingers in the area, heavy rainfall will persist through the week. Street/flash flooding will be likely, with elevated chances for riverine flooding, particularly by Wednesday. Pay attention to the latest forecasts for more details.
Here are a couple of things you can do:
Stock your emergency kit
Clean your surroundings and gutterings
Secure light or loose objects outdoors
If your roof is unsecured, purchase and install hurricane straps
Clear larger trees near your home
Ensure you have batteries and battery packs for your flashlights, radios, and mobile devices
Ensure you have sufficient gas for gas-powered stoves and vehicles
Ensure you have adequate dry foods and water to rally through an extended power outage (generally, the rule of thumb is 72 hours).
Stock up on candles and mosquito repellant.
Ensure you have alternative means of communication (like a battery-powered radio) if the internet or television goes down.
Have a trusted source of information for the latest news before, during, and after a storm.