The National Hurricane Center has tagged the first Tropical Wave for 2022, east of the Lesser Antilles, for tropical cyclone formation. As of 8:00 PM Thursday, June 23rd, 2022, the wave is just under 3,800 kilometers east-southeast of Trinidad and Tobago and nearly five days away.
Forecast models are enthusiastic about development, bringing the eventual system across the Lesser Antilles sometime late Tuesday, June 28th, 2022, into Wednesday, June 29th, 2022.
What we know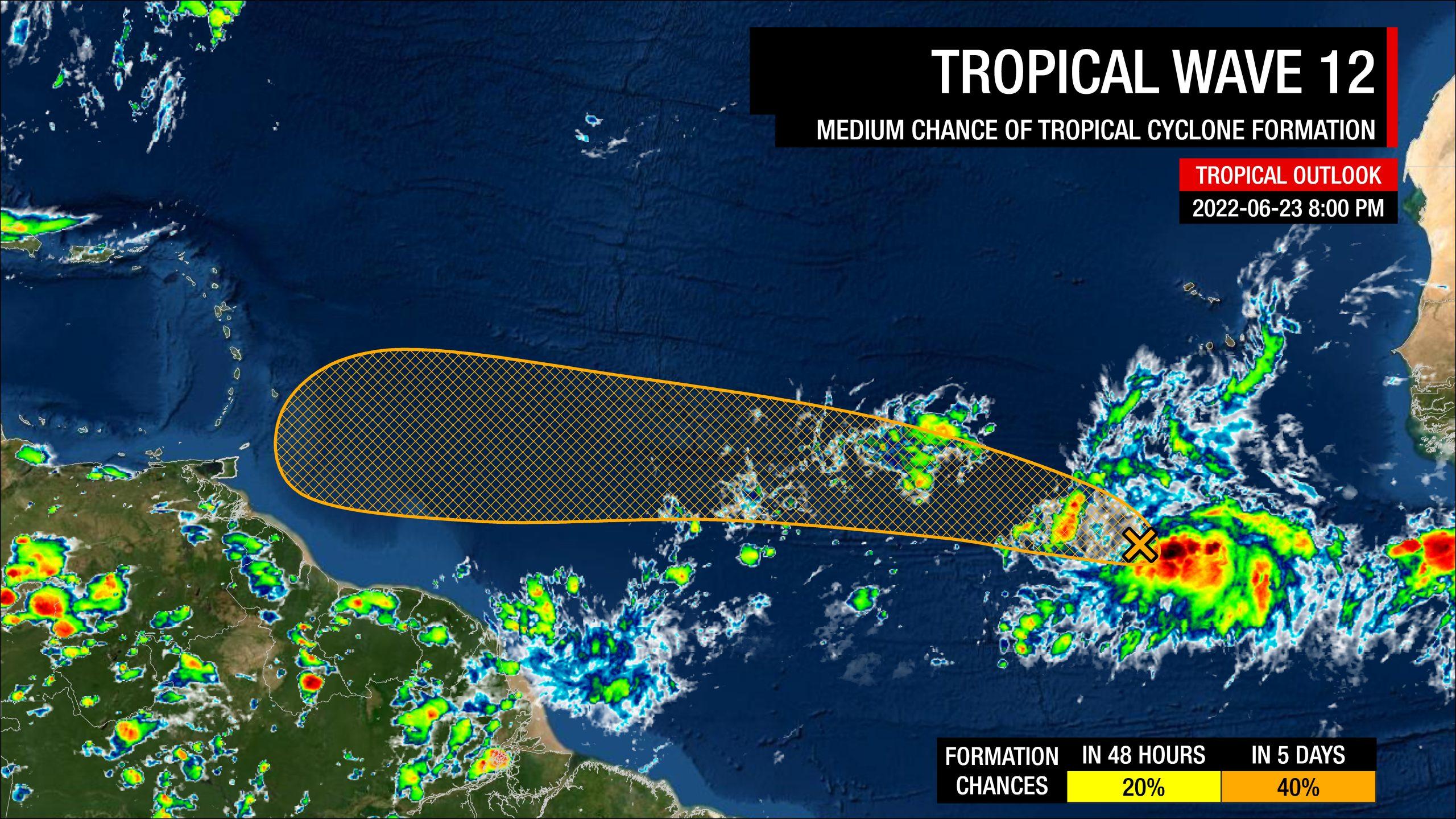 In their 8:00 PM Tropical Weather Outlook, the National Hurricane Center (NHC) has given this tropical wave, the 12th of the year, a low chance of tropical cyclone formation over the next 48 hours and a medium chance five days, at 20 percent and 40 percent respectively.
The wave is producing disorganized showers and thunderstorms in a high-moisture, low-shear environment with favorable upper-level divergence and low-level convergence – all ingredients supportive of showers, thunderstorms, and tropical cyclone formation.
The National Hurricane Center says activity has become a bit more concentrated on Thursday evening, and environmental conditions appear conducive for additional development over the next few days.
The NHC also adds that a tropical depression could form by early next week as this system moves westward at around 15 MPH (24 KM/H) over the tropical Atlantic.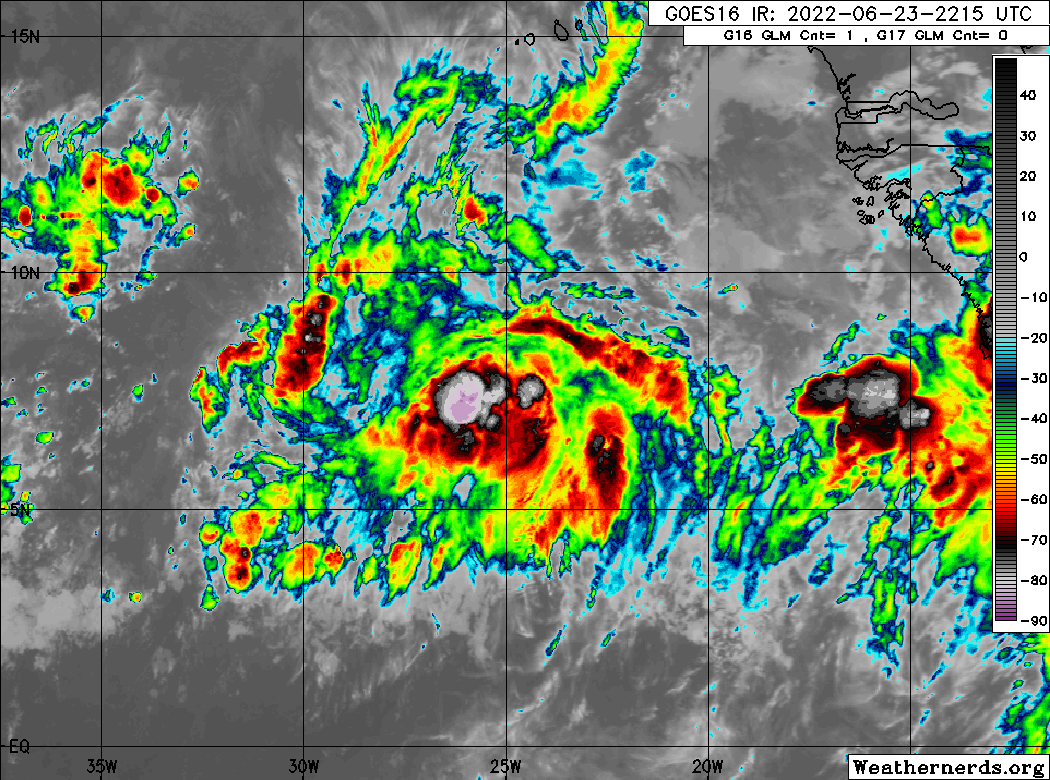 What the models are showing
There has been some consistency in the timing and general location of where this wave will be by the time it affects the Lesser Antilles, even being five days away. The intensity, on the other hand, is not as well handled.
Timing
The top three models for tropical cyclone development: the European Center for Medium-range Weather Forecasting (ECMWF) global forecast model, the National Oceanic and Atmospheric Administration (NOAA) Global Forecast System (GFS) model, and the United Kingdom Met Office's global forecast model (UKMET) show this tropical wave (or its eventual system) move across the Windward Islands by 5:00 PM Tuesday, June 28th, 2022 into 11:00 AM Wednesday, June 29th, 2022.
Intensity
Regardless of development and whether it is classified as a tropical cyclone, this tropical wave is forecast to have strong sustained winds near the northern portion of the wave axis.
What is required for a tropical cyclone to be classified?
A non-frontal low-pressure system of synoptic scale developing over warm waters having organized deep convection and a maximum sustained winds of 34 knots (63 KM/H) or greater extending more than halfway around near the center and persisting for at least six hours. There also needs to be a closed surface wind circulation around a well-defined center. Systems can also be given tropical depression status if it meets the tropical cyclone definition but maximum sustained winds are less than 34 knots or 63 KM/H.
Among the three operational models, only the latest (12Z June 23rd, 2022) ECMWF has a closed and compact low-pressure system moving across the Windwards with sustained winds up to 85 KM/H and gusts to 125 KM/H – meaning tropical storm strength.
The GFS, in its latest run (18Z June 23rd, 2022), shows a more disorganized, broad low-pressure system, becoming slightly more organized as it traverses the Windwards with sustained winds up to 70 KM/H and gusts to 85 KM/H.
Meanwhile, the UKMET keeps this low pressure weak, broad, and disorganized, but the area of strong winds is much larger than the other two models. The UKMET shows sustained winds up to 55 KM/H but wind gusts up to 85 KM/H.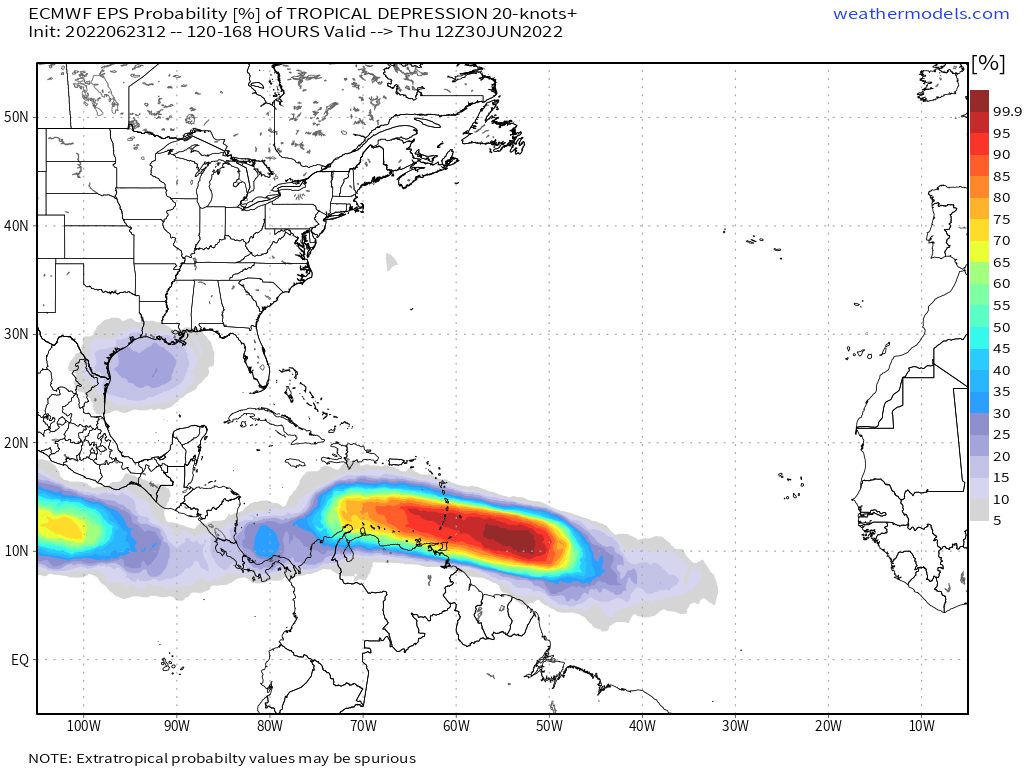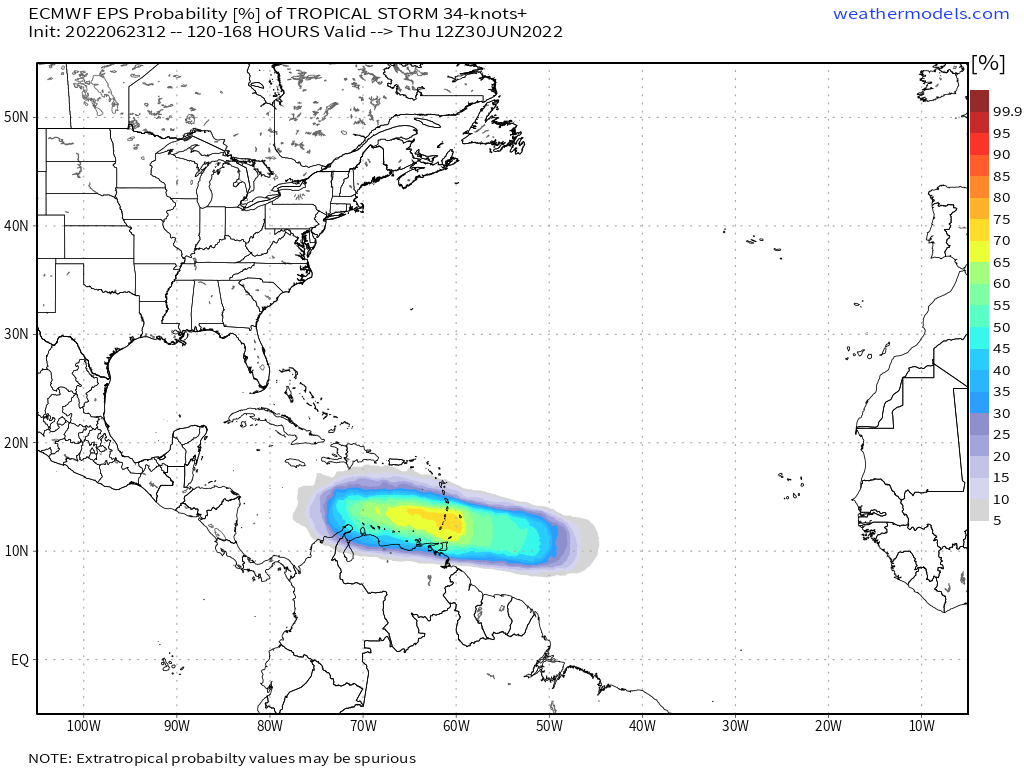 At this early juncture, five days away, operational models show the strongest winds remaining north of T&T, affecting Grenada, St. Vincent and the Grenadines, Barbados, and St. Lucia.
As of June 23rd, 2022, sustained winds up to 40 KM/H are possible across Trinidad and gusts up to 55 KM/H, while in Tobago, sustained winds up to 50 KM/H are possible with gusts to 60 KM/H.
While gusty winds are possible, the main hazard, based on model data, is forecast to be heavy rainfall. Over the next seven days, through Thursday, June 30th, 2022, between 35 and 65 millimeters of rainfall is forecast across T&T, with isolated totals in excess of 125 millimeters. Higher rainfall totals are forecast across Grenada, St. Vincent and the Grenadines, Barbados, and St. Lucia.
Location
The rule of thumb with tropical cyclones in our region is the weaker and more disorganized a system, the further south it will travel.
The ECMWF and GFS models, with a slightly more organized low-pressure system, take the core of the heaviest rains and strongest winds between Barbados and Tobago, moving west towards the Grenadines, between St. Vincent and Grenada. The UKMET model brings the core of the disorganized and broad low-pressure across T&T but keeps the strongest winds and rain north of the country.
When systems move north of the country, south to north wind flow takes shape across Trinidad and Tobago, leading to flooding rainfall along the south-facing slopes of mountain ranges across the country.
This is still five days out, and lots can change regarding the timing, intensity, and location of this eventual system to continue to check in with the latest updates.
Tropical Wave 12's Chances
Any significant development of this wave isn't forecast to occur until it reaches longitude 50°W, but several factors could play both for and against development.
Climatologically, June is not favorable for tropical cyclone development in the Main Development Region of the Atlantic Ocean. However, Tropical Storm Bret of 2017 is an example of a tropical cyclone beating those odds.
While convection has increased with the wave, it still isn't considerably organized and embedded within the Intertropical Convergence Zone. In the short term, this allows the wave to take advantage of abundant moisture and the natural convergence within the ITCZ, but when it's time to separate, the wave or eventual tropical cyclone could struggle.
However, the larger-scale environment remains favorable as a Convectively Coupled Kelvin Wave moves across the Atlantic, enhancing convection (showers and thunderstorms). At the same time, Tropical Wave 11, ahead of this wave, has moistened the atmosphere and shielded the wave environment from Saharan Dust.
Similarly, a mesoscale convective system (MCS) that moved off the African coast on Thursday shielded the northern area of the wave from a Saharan Dust intrusion.
As this tropical wave moves west, there is virtually no deep-layered wind shear which would limit or weaken convection and only five knots of low to mid-level shear.
While the wave is located far south enough to avoid dry air and hostile upper-level winds, systems that form south of 10°N latitude have more trouble organizing a circulation because the spinning of the earth doesn't help them as much.
The Bottom Line
This tropical wave is worth monitoring, as it could potentially indirectly or directly impact Trinidad and Tobago by Tuesday into Wednesday of next week.
Regardless of formation, T&T is forecast to experience showers and thunderstorms associated with this tropical wave or eventual tropical cyclone from Tuesday morning with rainfall lingering through Thursday, as the Intertropical Convergence Zone trails the system. With high rainfall accumulations forecast, street/flash flooding, and gusty winds will be likely, with elevated chances for riverine flooding. Pay attention to the latest forecasts for more details.
There has been a significant amount of chatter and hype from several Facebook Pages, posting scary model images, instilling panic but under the guise of 'MONITOR.'
This system is still five days out. No tropical storm or hurricane is bearing down on Trinidad, Tobago, or the remainder of the Lesser Antilles. At this point, the monitoring should be left to the officials at governmental and private institutions who would need to preposition resources in the event of a storm.
As an individual, with no specific impacts laid out just yet, there are a couple of things you can do:
Stock your emergency kit
Clean your surroundings and gutterings
Secure light or loose objects outdoors
If your roof is unsecured, purchase and install hurricane straps
Clear larger trees near your home
Ensure you have batteries and battery packs for your flashlights, radios, and mobile devices
Ensure you have sufficient gas for gas-powered stoves and vehicles
Ensure you have adequate dry foods and water to rally through an extended power outage (generally, the rule of thumb is 72 hours).
Stock up on candles and mosquito repellant.
Ensure you have alternative means of communication (like a battery-powered radio) if the internet or television goes down.
Have a trusted source of information for the latest news before, during, and after a storm.