While the Caroni River has not broken its banks, and there is no Riverine Flood Alert/Watch/Warning from the Trinidad and Tobago Meteorological Service, flood waters rose across the upper Caroni River Basin on Tuesday.
Streams and smaller unnamed tributaries to the Caroni River within Saint Helena and Nancoo Village communities began raising from early Tuesday morning, flooding low-lying fields but not impacting any roadways.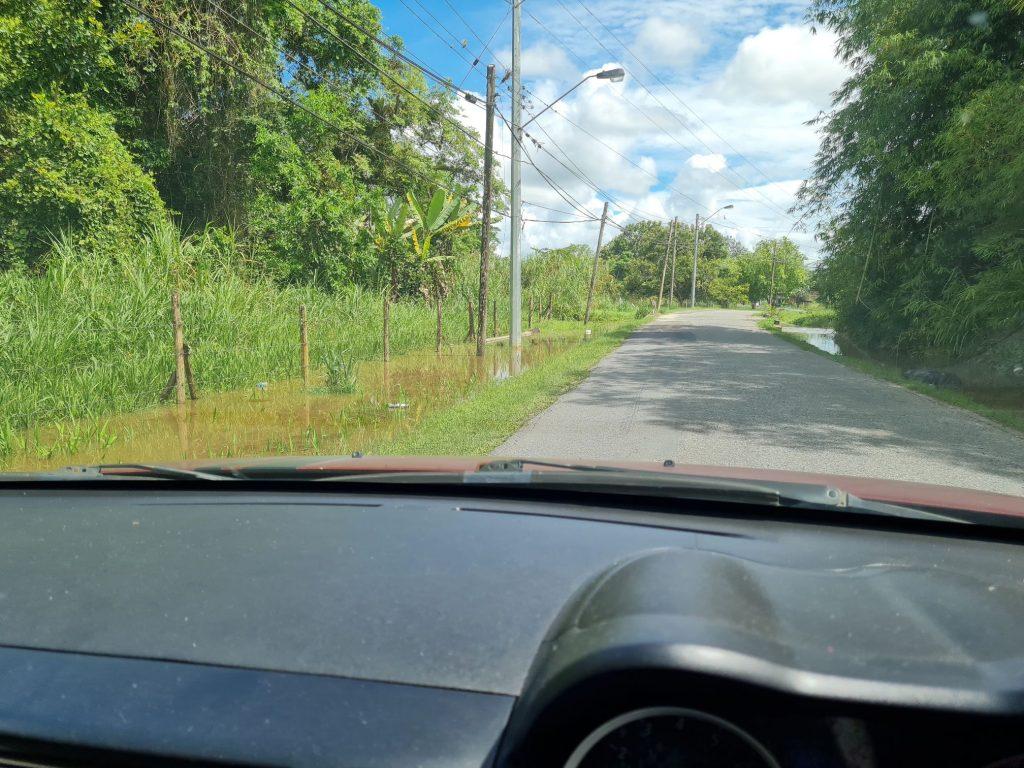 As of Tuesday afternoon, road-height flood waters were observed along the Caroni Arena Road after Saroop Avenue heading northbound, and the Caroni South Bank Road, south of the Caroni River and Piarco International Airport.
By 6:00 PM Thursday, flood waters began to rise at El Carmen Trace #2, just off the Caroni South Bank Road.
Residents in Saint Helena and El Carmen Village also report water levels rising in drains and streams across the area, including Constantine Trace, Misty Drive, Santa Monica Trace, and Santa Monica Road.
On Tuesday night, while drains and streams were near or at capacity, there was no impactful flooding observed across the area.
Up to 150 millimeters fell across northeastern Trinidad within a 24-hour period, causing streams and smaller rivers to break their banks on Monday, June 13th, 2022 across Sangre Grande. Flooding was reported in Coalmine, Fishing Pond, Vega De Oropouche, Matura, and Cumuto, all of which gradually subsided on Tuesday. Heavy rainfall also accumulated across much of the Upper Caroni River Basin, significantly raising the levels of the Caroni River.
Over the next 24-36 hours, with Tropical Wave 09 forecast to traverse the region, more showers and thunderstorms are forecast to affect the country, producing an additional inch (25 millimeters) of rainfall across much of Eastern Trinidad and in isolated areas elsewhere. There is a high chance of street/flash flooding in already waterlogged areas, with gusty winds possible, accompanying heavier showers and thunderstorms.