Early morning thunderstorms brought damaging, gusty winds to parts of Trinidad on Saturday morning. Shower and thunderstorm activity resulted from the passage of Tropical Wave 07 overnight Friday into Saturday.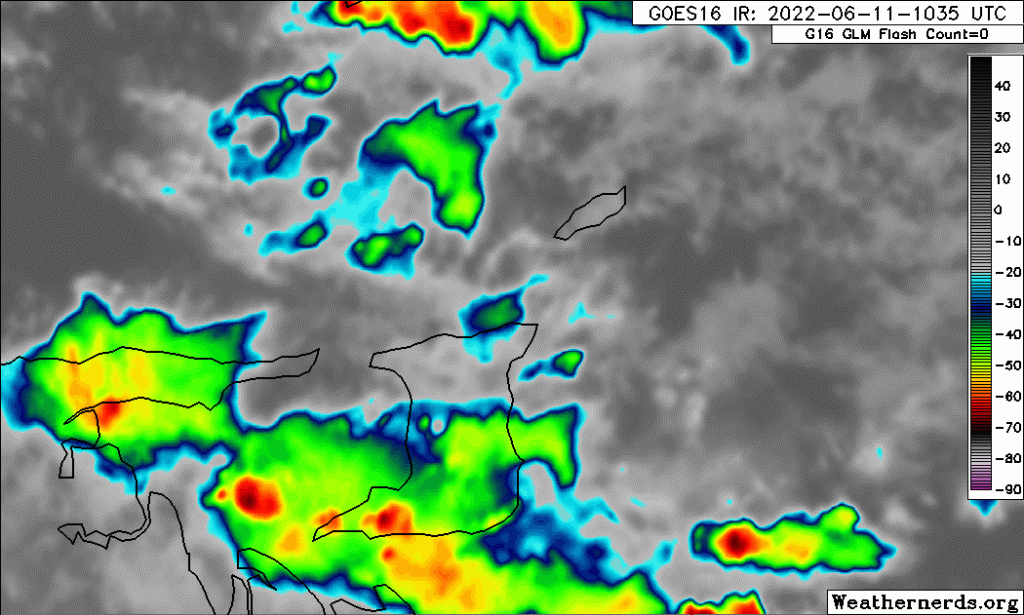 10 People Without Roofs In Central Trinidad
Two homes in Palmiste Village, along the Caparo Valley Brasso Road in interior Central Trinidad, were left without roofs following Saturday's thunderstorms. Gusty winds in excess of 50 KM/H tore off galvanized sheets, sending them into nearby utility wires and temporarily blocking the Caparo Valley Brasso Road.
According to a Guardian Media report, the roof covered a house that was split into two apartments.
Across the road, another home lost six roofing sheets and was given tarpaulins by the Disaster Management Unit of the Couva/Tabaquite/ Talparo Regional Corporation.
According to the Office of Disaster Preparedness and Management (ODPM), there was also one blown-off roof at Mamoral Main Road, Central Trinidad.
Video from the blown off roof at Caparo Valley Road, Palmiste. Debris has landed on the road, taking down utility lines and hindering traffic. Increased winds are forecast through the weekend across T&T. https://ttweathercenter.com/2022/06/09/forecast-tropical-wave-07-moves-in-on-friday-rains-continue-early-next-week/

Posted by Trinidad and Tobago Weather Center on Saturday, June 11, 2022
Roof Damage In The Northwest
Gusty winds also swept across northwestern Trinidad, damaging the roof of an elderly person localized in the Covigne/Rich Plain area. The Disaster Management Unit of the Diego Martin Regional Corporation quickly responded.
Fallen Trees, Poles In The East
The ODPM also received reports of a fallen tree at Ojoe Road, on the corner of Pine Avenue. The tree did not hinder traffic, and the Trinidad and Tobago Fire Service responded.
A fallen tree also brought down a utility pole in Cunaripo, prompting a response from the Trinidad and Tobago Electricity Commission. No injuries were reported.
How Strong Were The Winds?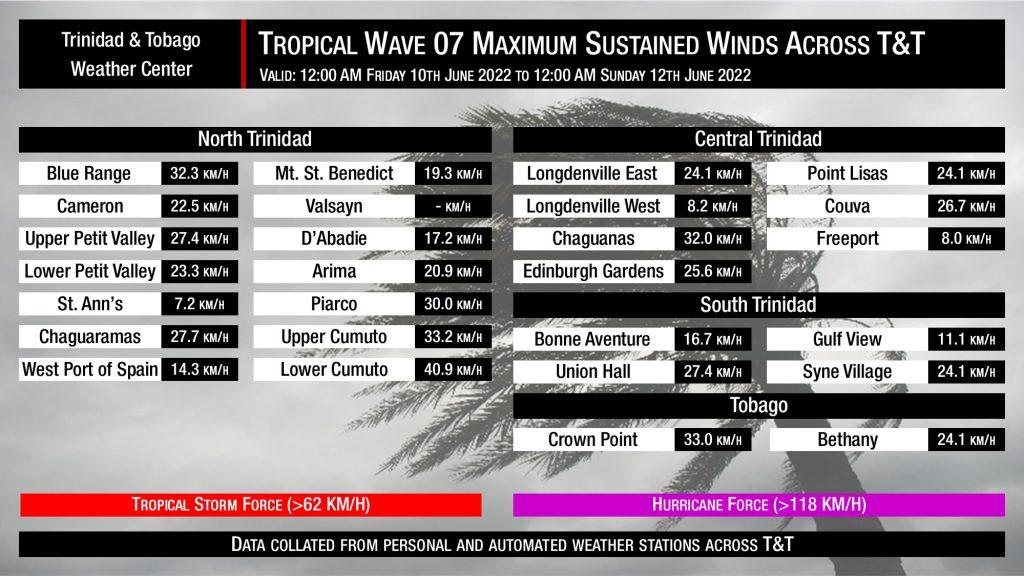 Ahead of Tropical Wave 07, gusty winds were in the forecast due to elevated low-level winds remaining across T&T. Explicitly, sustained winds up to 35 KM/H were forecast, with gusts up to and in excess of 50 KM/H likely.
Tropical Wave 07 brought sustained winds generally up to the 35 KM/H mark, with a peak recorded value of 40.9 KM/H. There is a gap in automated weather stations across much of Eastern, Southern, and interior Central Trinidad, where winds were likely stronger.
Wind gusts, on the other hand, were generally below 45 KM/H across most areas, reaching up to 50 KM/H across parts of Central and Eastern Trinidad. The peak wind gust for Tropical Wave 07 was recorded at Point Lisas at 51.5 KM/H.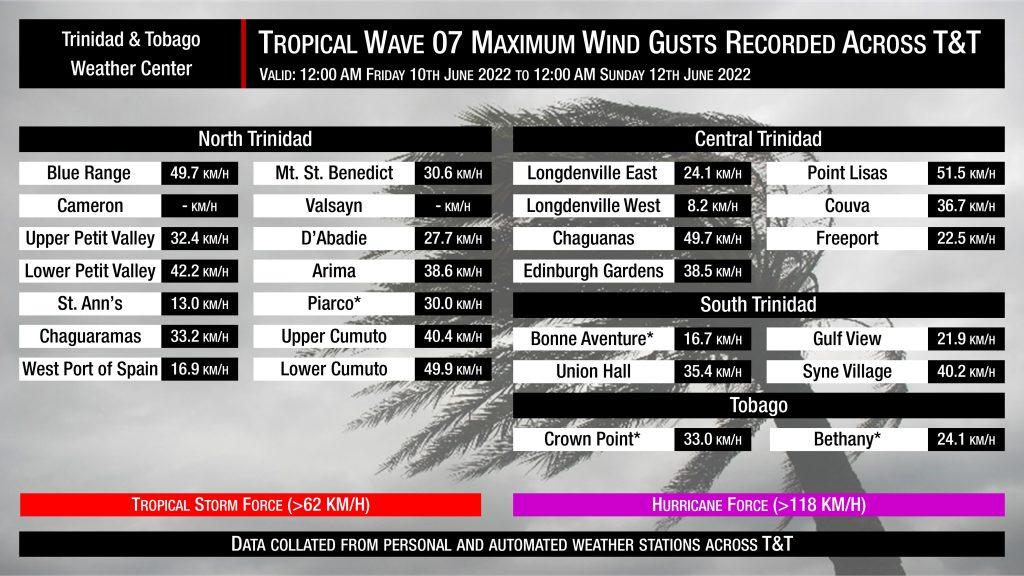 Tropical Wave 07 was not forecast to bring significant rainfall accumulations to T&T. Generally, between Friday and Saturday, up to 25 millimeters of rainfall was forecast across the country, with isolated totals above that. Strong low-level winds allowed for fast-moving activity and reduced chances for high accumulations.
Based on recorded rainfall totals, most regions saw accumulations below 25 millimeters, with isolated areas like Bonne Aventure, Upper Cumuto, and D'Abadie exceeding the 25-millimeter mark. There were no reports of impactful street or flash flooding, though minor and short-lived street flooding was reported on the Lady Young Road, Morvant.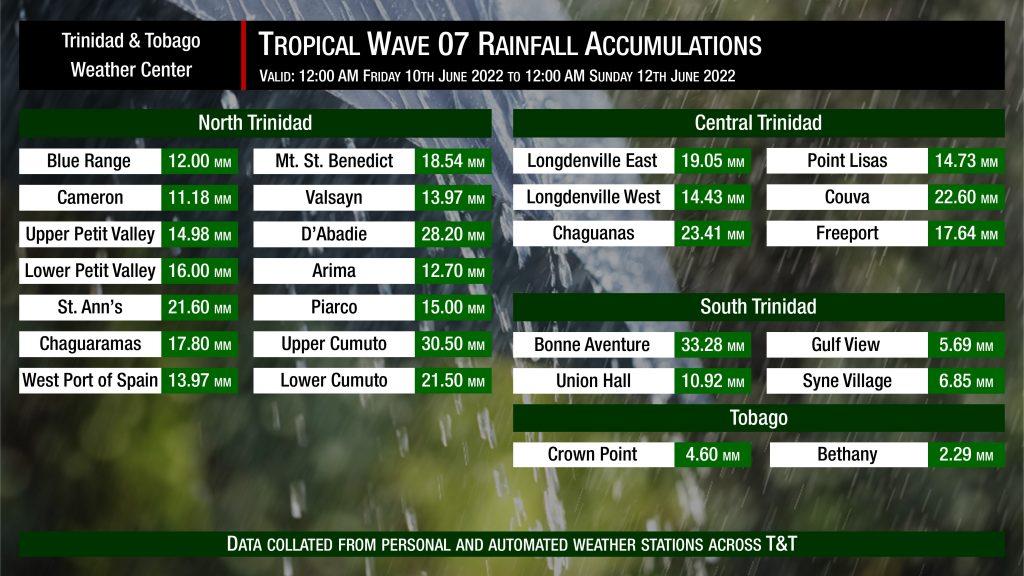 As we progress through the Wet Season and Hurricane Season, the ODPM would like to reiterate its call for everyone to continue to have your emergency plans in place.
Know and Reduce Your Risk:

Reduce potential property damage by securing your roofs in gusty winds.
Move to higher levels of homes or buildings if flood waters threaten the lower levels.

Make/ Review Emergency/Business Continuity Plan:

Ensure that you have the toll-free numbers of your nearest Municipal Corporation if impacted by inclement weather impacts such as flooding or gusty winds.

Prepare Emergency Resources:

Keep a "Grab and Go Bag" and emergency kit ready.
In light of COVID-19 guidelines, include extra face masks, gloves, and hand sanitizers in your emergency kits or "Grab and Go Bags."

Build your medical supplies. A First Aid Kit is a vital part of your emergency resources.

Act and Assist Others:

Plan with your neighbors, as they are usually your first responders during a crisis.
Trim or remove overgrown and rotten trees on your property. Ensure your property is free of debris and loose objects.