Tropical cyclone names in the Atlantic vary year to year, and the list of names is rotated every six years. But where do the names come from, and who chooses them?
Why name tropical cyclones?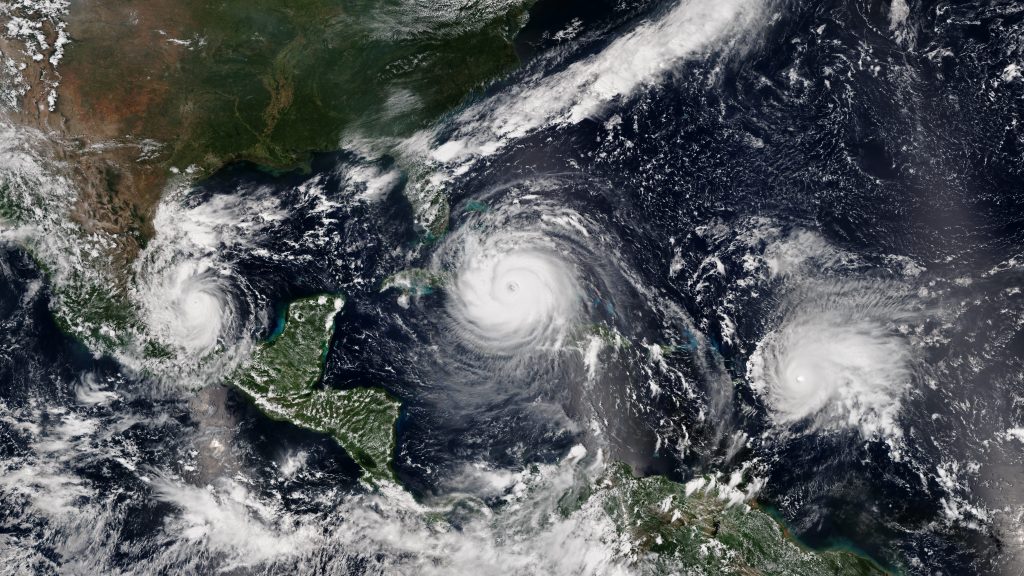 According to the National Hurricane Center (NHC), "experience shows that the use of short, distinctive names in written as well as spoken communications are quicker and less subject to error than the older, more cumbersome latitude-longitude identification methods."
We've actually seen this work in numbering tropical waves as it moves across T&T over the last few years.
The NHC continues, "these advantages are especially important in exchanging detailed storm information between hundreds of widely scattered stations, coastal bases, and ships at sea."
The use of easily remembered names greatly reduces confusion when two or more tropical storms occur at the same time. This is also true of tropical waves when T&T experiences back-to-back waves and inclement weather associated with one or both.
In the past, confusion and false rumors have arisen when storm advisories broadcast from radio stations were mistaken for warnings concerning an entirely different storm located hundreds of miles away.
When (and how) is a tropical cyclone named?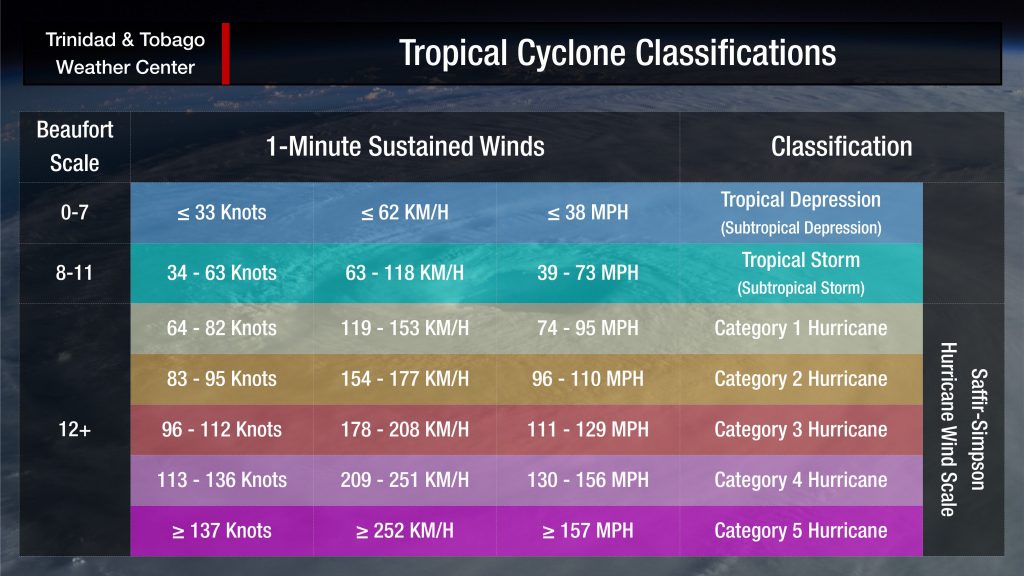 In all basins, when a tropical cyclone reaches tropical storm strength, the respective Meteorological Organizations in charge of that area (National Hurricane Center for the Atlantic and Eastern Pacific Basins) will name the tropical system.
Note that tropical cyclones can form, such as tropical depressions, and never be named as it never reaches tropical-storm-strength. In addition, in post-season analysis, tropical cyclones may be added and will not be named.
The names alternate between male and female for each year and follow alphabetical order (A through W). Forecasters skip over the letters Q, U, X, Y, and Z due to the very few names that begin with these letters.
According to the World Meteorological Organization (WMO), there is a strict procedure to determine a list of tropical cyclone names in an ocean basin by the Tropical Cyclone Regional Body responsible for that basin at its annual/biennial meeting.
The regional bodies (hurricane committees for respective regions) determine a predesignated list of hurricane names for six years separately at its annual meeting. This means the list for 2022 will be reused in 2028. These names are proposed by members in that region, including national meteorological and hydrological services in Northern and Central America as well as the Caribbean.
The WMO also noted that tropical cyclones/hurricanes/typhoons are not named after any particular person. The names selected are those that are familiar to the people in each region. Storms are named for people to easily understand and remember the tropical cyclone/hurricane/typhoon in their region, thus facilitating disaster risk awareness, preparedness, management, and reduction.
2022
2023
2024
2025
2026
2027
Alex
Bonnie
Colin
Danielle
Earl
Fiona
Gaston
Hermine
Ian
Julia
Karl
Lisa
Martin
Nicole
Owen
Paula
Richard
Shary
Tobias
Virginie
Walter
Arlene
Bret
Cindy
Don
Emily
Franklin
Gert
Harold
Idalia
Jose
Katia
Lee
Margot
Nigel
Ophelia
Philippe
Rina
Sean
Tammy
Vince
Whitney
Alberto
Beryl
Chris
Debby
Ernesto
Francine
Gordon
Helene
Isaac
Joyce
Kirk
Leslie
Milton
Nadine
Oscar
Patty
Rafael
Sara
Tony
Valerie
William
Andrea
Barry
Chantal
Dexter
Erin
Fernand
Gabrielle
Humberto
Imelda
Jerry
Karen
Lorenzo
Melissa
Nestor
Olga
Pablo
Rebekah
Sebastien
Tanya
Van
Wendy
Arthur
Bertha
Cristobal
Dolly
Edouard
Fay
Gonzalo
Hanna
Isaias
Josephine
Kyle
Leah
Marco
Nana
Omar
Paulette
Rene
Sally
Teddy
Vicky
Wilfred
Ana
Bill
Claudette
Danny
Elsa
Fred
Grace
Henri
Imani
Julian
Kate
Larry
Mindy
Nicholas
Odette
Peter
Rose
Sam
Teresa
Victor
Wanda
Since 1953, Atlantic tropical storms had been named from lists originated by the National Hurricane Center. They are now maintained and updated through a strict procedure by an international committee of the World Meteorological Organization.
The History of Hurricane Names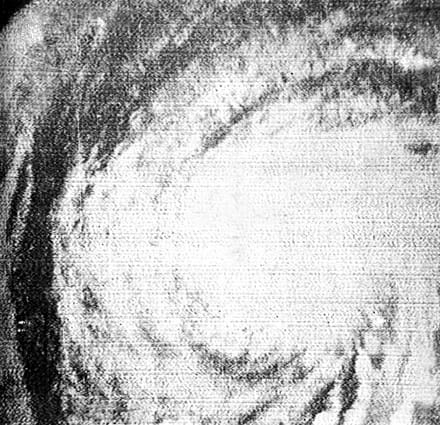 In the beginning, storms were named arbitrarily. An Atlantic storm that ripped off the mast of a boat named Antje became known as Antje's hurricane. Then the mid-1900s saw the start of the practice of using feminine names for storms.
In the pursuit of a more organized and efficient naming system, meteorologists later decided to identify storms using names from a list arranged alphabetically. Thus, a storm with a name that begins with A, like Anne, would be the first storm to occur in the year. Before the end of the 1900s, forecasters started using male names for those forming in the Southern Hemisphere.
Since 1953, Atlantic tropical storms have been named from lists originated by the National Hurricane Center. They are now maintained and updated by an international committee of the World Meteorological Organization. The original name lists featured only women's names. In 1979, men's names were introduced, and they alternate with the women's names. Six lists are used in rotation. Thus, the 2020 list will be used again in 2026.
The six lists below are used in rotation and re-cycled every six years, i.e., the 2020 list will be used again in 2026, barring any retired names that will need to be replaced.
The only time that a tropical cyclone's name is retired is if a storm is so deadly or costly that the future use of its name on a different storm would be inappropriate for obvious reasons of sensitivity. If that occurs, then at an annual meeting by the committee (called primarily to discuss many other issues), the offending name is stricken from the list, and another name is selected to replace it.
There is an exception to the retirement rule, however. Before 1979, when the first permanent six-year storm name list began, some storm names were simply not used anymore. For example, in 1966, "Fern" was substituted for "Frieda," and no reason was cited.
Below is a list of retired names for the Atlantic Ocean, Caribbean Sea, and the Gulf of Mexico. There are, however, a great number of destructive storms not included on this list because they occurred before the hurricane naming convention was established in 1950.
1955
Connie
Diane
Ione
Janet
1956
1957
Audrey
1958
1959
1960
Donna
1961
Carla
Hattie
1962
1963
Flora
1964
Cleo
Dora
Hilda
1965
Betsy
1966
Inez
1967
Beulah
1968
1969
Camille
1970
Celia
1971
1972
Agnes
1973
1974
Carmen
Fifi
1975
Eloise
1976
1977
Anita
1978
Greta
1979
David
Frederic
1980
Allen
1981
1982
1983
Alicia
1984
1985
Elena
Gloria
1986
1987
1988
Gilbert
Joan
1989
Hugo
1990
Diana
Klaus
1991
Bob
1992
Andrew
1993
1994
1995
Luis
Marilyn
Opal
Roxanne
1996
Cesar
Fran
Hortense
1997
1998
Georges
Mitch
1999
Floyd
Lenny
2000
Keith
2001
Allison
Iris
Michelle
2002
Isidore
Lili
2003
Fabian
Isabel
Juan
2004
Charley
Frances
Ivan
Jeanne
2005
Dennis
Katrina
Rita
Stan
Wilma
2006
2007
Dean
Felix
Noel
2008
Gustav
Ike
Paloma
2009
2010
Igor
Tomas
2011
Irene
2012
Sandy
2013
Ingrid
2014
2015
Erika
Joaquin
2016
Matthew
Otto
2017
Harvey
Irma
Maria
Nate
2018
Florence
Michael
2019
Dorian
2020
Laura
Eta
Iota
2021
Ida
Retired Hurricane Names Since 1954
What happens if we run out of names in one year?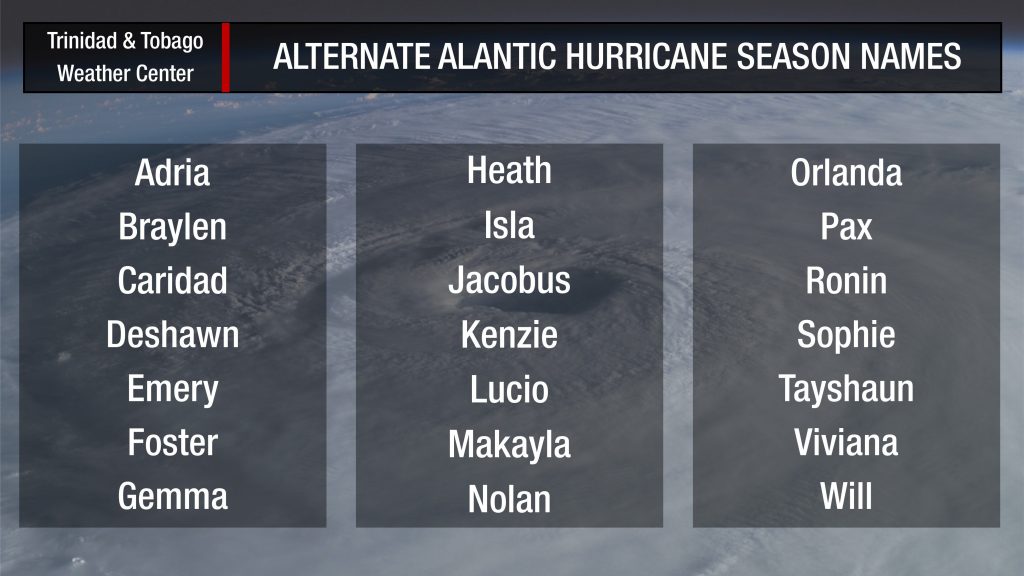 In 2020, the record-breaking hurricane season exhausted the regular list of names, and for the second time in history, the Greek Alphabet was used. Prior to 2021, in the event that more than twenty-one named tropical cyclones occur in the Atlantic basin in a season, additional storms will take names from the Greek alphabet. This naming convention has been established by the World Meteorological Organization (WMO) Tropical Cyclone Programme.
However. the 2020 Atlantic Hurricane Season brought multiple shortcomings to light with the use of the Greek alphabet, such as that there was too much focus on how the Greek letters were used instead of reporting on the impacts of these tropical cyclones as well as the difficulty in properly retiring and replacing the Greek letter names of devastating storms.
Instead, as of 2021, if there are more than 21 named storms this season, subsequent storms will take names from an auxiliary list of names approved by the WMO.
A Crossover Event: Atlantic to East Pacific Tropical Cyclones (and vice versa)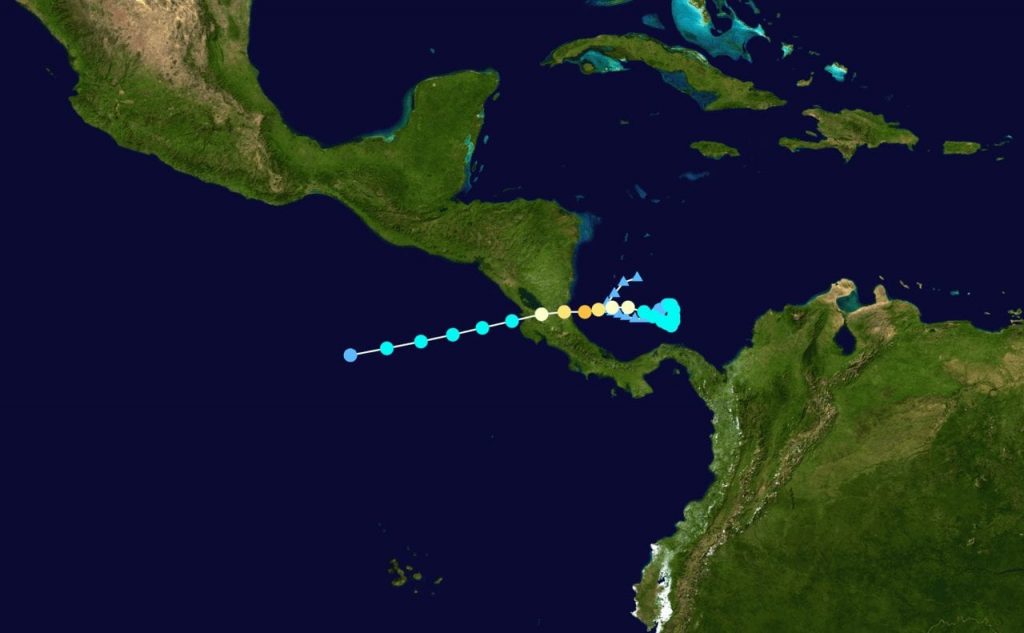 What happens if a tropical cyclone from the Atlantic moves across Central America into the Pacific – or the other way around – will it keep its name?
Prior to 2000, storms were renamed after crossing from the Gulf of Mexico into the Eastern Pacific. At the 22nd hurricane committee in 2000, it was decided that tropical cyclones that moved from the Atlantic to the Eastern Pacific basin and vice versa would no longer be renamed.
The most recent tropical cyclone to complete this feat was Hurricane Otto in 2016.