On September 27th, 2021, a severe thunderstorm produced hailstones of varying sizes across north-central Trinidad. Torrential rain also produced street/flash flooding across the East-West Corridor and eastern Trinidad, with frequent lightning, observed across northern and central Trinidad.
According to the American Meteorological Society, a hailstorm is any storm that produces hailstones that fall to the ground, usually when the amount or size of the hail is considered significant. Stones between pea-sized (10 millimeters) to quarter-sized (20 millimeters), which is significant, were reported across north-central Trinidad.
Hail was reported in Arouca, Tacarigua and El Dorado on Monday afternoon following severe thunderstorms.https://t.co/j1VTQakwIB pic.twitter.com/sAqRpZ0FQM

— TTWeatherCenter (@TTWeatherCenter) September 27, 2021
What caused the severe weather?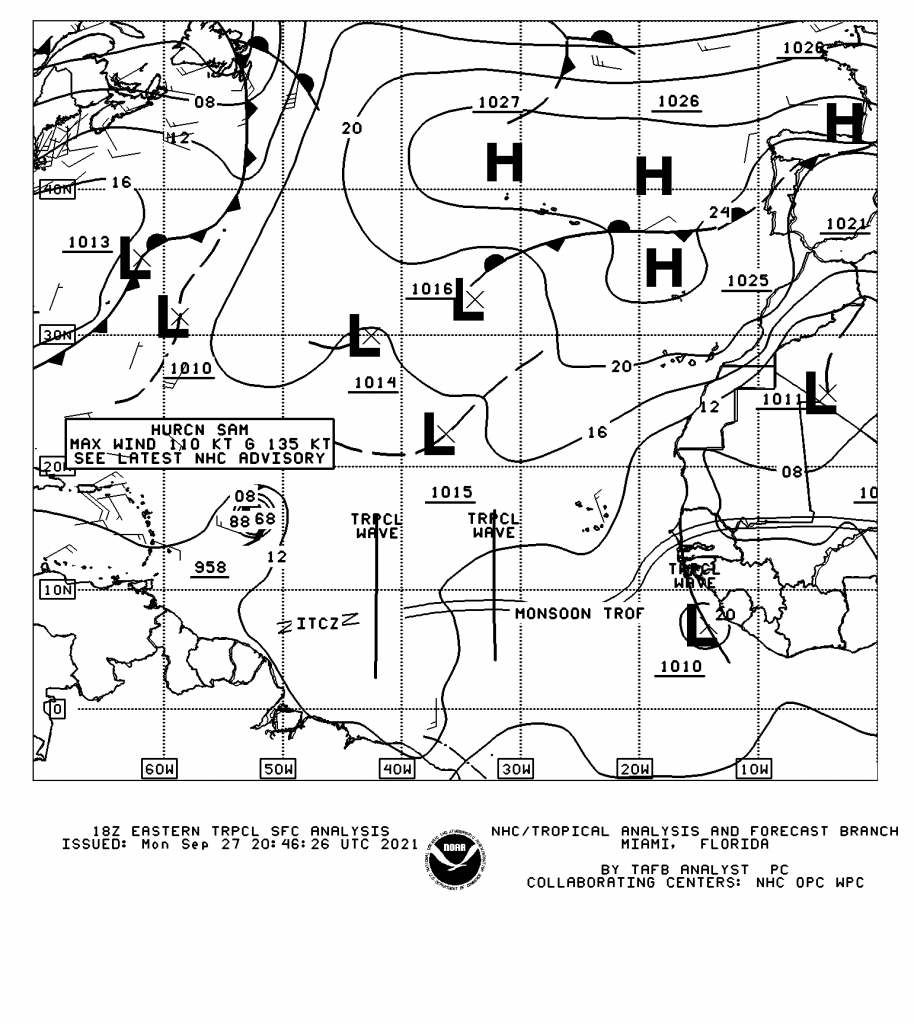 Over the last few days, our dominant wind regime (winds from the east to west) has been light to non-existent and mostly sunny skies due to the presence of Hurricane Sam to the north and east of the Lesser Antilles. A surface to mid-level trough has extended southwestward from the center of Sam, causing showers and cloudiness across Tobago and extending northeastward. This trough has eroded the usual pressure gradient across T&T and the Windwards. In addition, abundant atmospheric moisture has been present across Trinidad and Tobago.
Sunny skies, strong daytime heating, and sea breeze convergence triggered showers and thunderstorm development, particularly across the Western half of Trinidad and along hilly areas. You can see the wind regime in the below satellite imagery, with winds from the southeast gradually shifting to winds coming from the west and south through the afternoon.
This is not unusual for this time of year as these heat-driven showers and thunderstorm activity can become quite intense, typically producing localized street/flash flooding and gusty winds. (Note that through the remainder of the week, this weather pattern will remain mostly unchanged.)
When calm to light winds are ongoing, strong to severe afternoon thunderstorms can produce funnel clouds, frequent lightning, hail, flooding, and gusty winds.
More video of the hail in Arouca following a severe afternoon thunderstorm.https://t.co/j1VTQakwIB pic.twitter.com/sU5ejo1h0f

— TTWeatherCenter (@TTWeatherCenter) September 27, 2021
However, Monday's atmosphere had substantial energy and instability available to developing showers and thunderstorms. Meteorologists measure this using CAPE or Convective Available Potential Energy. CAPE is the amount of fuel available to a developing thunderstorm. More specifically, it describes the instability of the atmosphere and provides an approximation of updraft strength within a thunderstorm. A higher value of CAPE means the atmosphere is more unstable and would therefore produce a stronger updraft.
While this is just one part of the puzzle, several other factors (seen by the many, many indices on the right of the below graph) play a role in the development of a thunderstorm. On Monday, the CAPE across Trinidad and Tobago was above 2,000 – much above average for the country.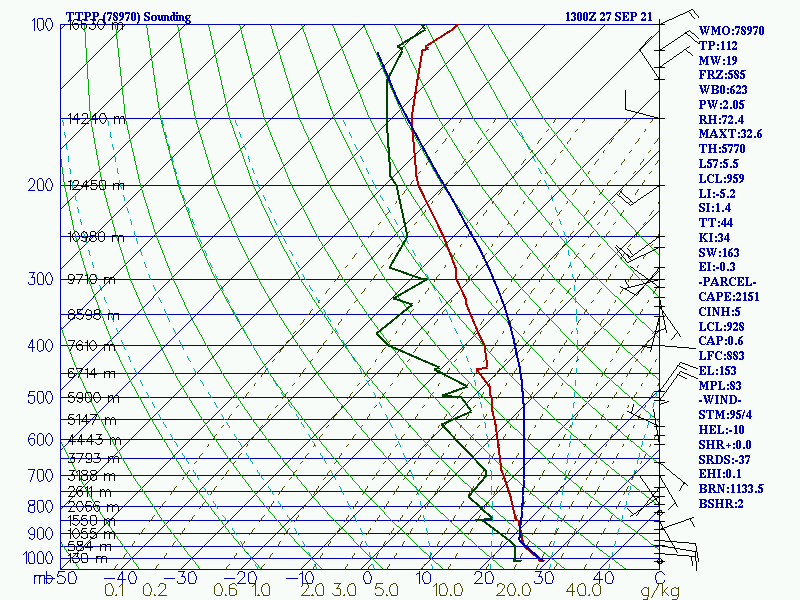 The affected areas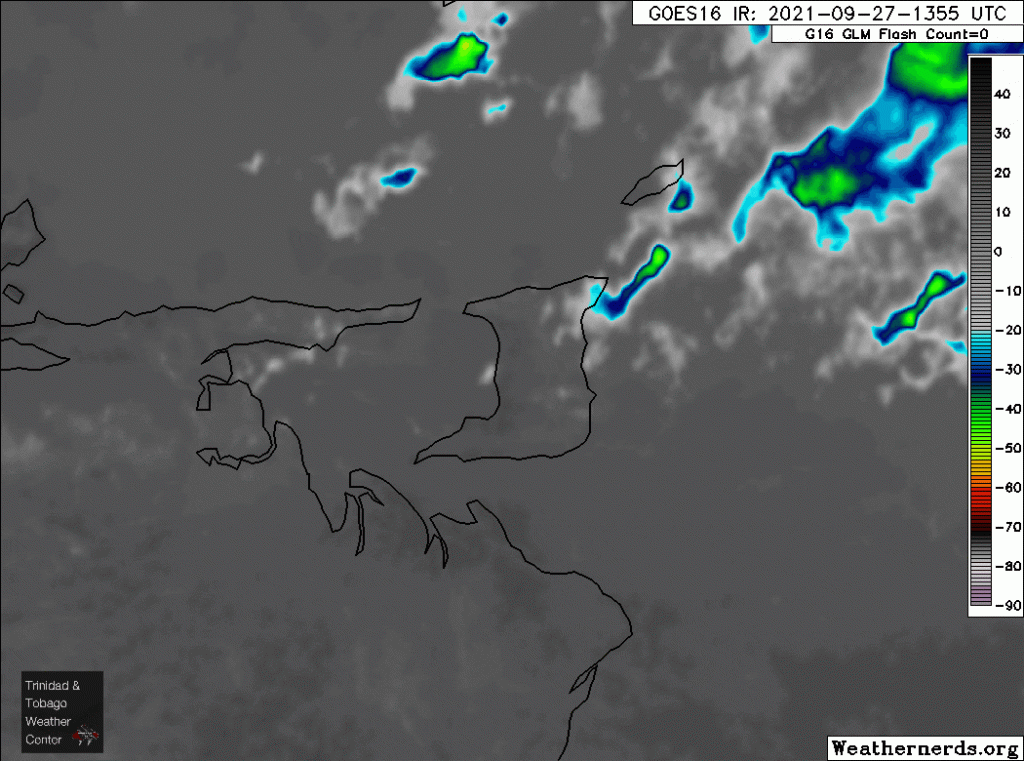 Between 1:30 PM and 2:00 PM, residents of north-central Trinidad reported pea-sized to quarter-sized hail falling. Note that in these areas, temperatures near the surface were between 32°C and 35°C based on weather stations in the area. With temperatures this high, no accumulation was anticipated.
How hot did it get in T&T today? Even with today's thunderstorms, maximum high temperatures were as high as 38°C but in some places, it felt as hot as 50°C!

More hot temperatures, heavy afternoon showers & thunderstorms are forecast this week.https://t.co/0s5am9bXrc pic.twitter.com/vtZK6aw8QC

— TTWeatherCenter (@TTWeatherCenter) September 28, 2021
We've received reports, images, and videos of hail from Arouca, Tacarigua, Five Rivers, El Dorado, Cane Farm, and Dinsley Trincity. However, based on the thunderstorm's location and where reports were received, hail likely affected a larger area north of the Churchill Roosevelt Highway between Dinsley Trincity, Arouca, and Five Rivers to the east, extending westwards to Tunapuna.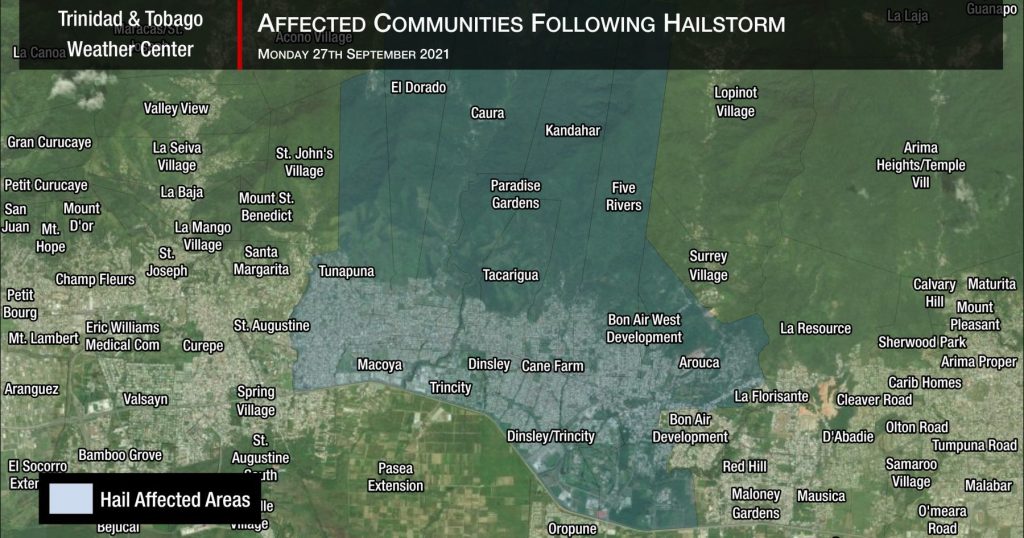 Hail in Trinidad is rare but not unprecedented. This marked the third time in the last year hail has been reported in Trinidad. The last documented hail occurrence in the country was on October 18th, 2020, but the most notable hailstorm was on August 12th, 1996, across Southern Trinidad.
More hail possible?
More video of the hail in Arouca following a severe afternoon thunderstorm.https://t.co/j1VTQakwIB pic.twitter.com/5F34wWwU1X

— TTWeatherCenter (@TTWeatherCenter) September 27, 2021
Through Wednesday, a similar weather pattern remains in place. Hurricane Sam continues its northwestward path, remaining safely east of the Lesser Antilles, but the surface to mid-level trough will continue to extend southwestward from the system. This trough will maintain light and variable winds across T&T and the Windward Islands, allowing for strong daytime heating and sea breeze convergence to dominate.
Another favorable factor will be a supportive upper-level atmosphere, enhancing showers and thunderstorms that do develop. As we progress through the week, increasing wind shear from the northwest should limit persisting showers and thunderstorms as they continue to develop during the afternoon.
What this means: After a very hot and sunny start to the day, heavy showers and possible severe thunderstorms are forecast to return mainly after midday through the afternoon, again favoring hilly and western areas of the country.